Ice, ice, baby!
Or rather, Iceland, Iceland, baby!
Want to come along?
Is this how you think Iceland looks? You are right – to an extent. This is Jökulsárlón, a big glacial lake at Vatnajökull, Iceland's largest (and Europe's second largest) ice cap. On the whole, though, Iceland is temperate. On the colder side of that scale, but temperate. I've laid on the grass in front of Hallgrímskirkja church with very little clothes more than once, and can testify that Icelandic summer is plenty warm.
So why is it called Iceland? Rumour has it that back in the (Viking) day, us Norwegians wanted the place to ourselves, so we named this green island Iceland, and sent everyone else off to the actual icy island next door, which we named Greenland.
There isn't much evidence to support that theory. Although…
Greenland was founded by Erik the Red, another compatriote of mine, only before my time, by about 1000 years. (You will have heard of his son, Leif Erikson, the first European to travel to America, about 500 years before Columbus.)
Erik moved to Iceland with his family when he was 10, as his father was kicked out of Norway over some killings. Like father, like son, Erik got in trouble himself; after a neighbour squabble, he killed Eyjólfr saurr. (The old norse word saurr sounds suspiciously like the modern Norse word sur, meaning sour – a word that is either used about someone in a bad mood or someone who smells sour.) Eyolf's clan called for Erik to be banished from the area. It was all sorted at the Althing (parliament), where Erik was handed a sentence of 3 years in exile.
Now, he wasn't about to just sit around, Erik wasn't. Instead, he used the opportunity to do a bit of sailing, and ended up on a huge island to the west: a great place for a settlement.
Erik set out to colonise the land, which he had discovered, and which he called Greenland, because, he said, men would be the more readily persuaded thither if the land had a good name.
Eiríks saga rauða (The Saga of Erik the Red)
After that digression, let's get back to Iceland. This part of the rumour is probably not true. There probably wasn't a plan to keep others away. A more likely scenario was that the first Norsemen to arrive simply came in winter, with snow on land and icebergs surrounding it. So Iceland it was. And Iceland it has remained.
Enough with the etymology. Let's get on with 11 cool things to see and do.
I've been meaning to road trip around Iceland, but haven't gotten around to it yet. However, I've been here a number of times, sometimes for work, sometimes for play, occasionally for both. So I thought I'd share 11 delicious bits you'll adore about this weird and wonderfully wacky country – they believe in elves and fairies, after all – and I'll get back to y'all with more, after that road trip. Vaccine depending, it will be this year. It.will.be.this.year.
1. Reykjavik
Ah, Reykjavik. A stylish capital. A chic capital. A small capital. With more than 50 bars. That gives you an initial idea.
One of Reykjavik's most famous landmarks, the tall Hallgrímskirkja – and the entire main pedestrian street all done up for Reykjavik Pride
But but… isn't alcohol crazy expensive in Iceland? Isn't it, in fact, a place where people get drunk at home BEFORE they go out to drink? And isn't it the country where they had beer prohibition until the late 80s?
Well yes, but fear not, you boozer you, I've got you (at least partially) covered. You see, last time I was in town, I learned all sorts of random tips and tricks and ways to save money from my inimitable guide, whose name I've sadly forgotten, so I'll just call him NC. Here you go:
Reykjavik money-savers
Slipbarinn down by the old harbour is the best bar in town, and – importantly – has happy hour between 15.00 and 18.00
Also in the harbour area is Kolaportið, a cool flea market, where you'll find vinyl records and other funky stuff. Cheaply.
One of Reykjavik's most popular eateries is the world famous hot dog stand, Bæjarins Beztu Pylsur, which has been open every day since 1937. The name means "the best hot dogs in town". Hot dogs are best served "eina með öllu" – with everything; everything including ketchup, mustard, onion (raw and fried – I mean, why settle for just one) and a mayo-based relish. I haven't tried this gastronomic highlight myself, but NC seemed very trustworthy, so next time…
Another cool & creative cuisine is Matbar, serving tapas, mix&match, etc. Again, next time…
Fish&chips in Iceland is in a class all its own, made with tempura batter, roasted chips rather than fried and Skyronnes as dipping sauce, made with Skyr.
Stay away from 10-eleven, a convenience store chain. Offerings are bad and prices beyond ridiculous.
If you want to meet people, Iceland's geothermal pools are the social hot spots, like churches in the US and pubs in the UK.
A citywalk tour of Reykjavik is available. Cost is donation only, so totally free if you're a cheapskate. (Hope you're not.)
Go to the top of the tower of Hallgrímskirkja for the best views in town. Tickets for sale in the church shop, but might as well not bother, as they are never checked. And no worries, the church doesn't pay taxes anyway.
Harpa concert hall is simply stunning, and entrance is free.
And, finally, you'll want to download Appyhour. This clever app lists happy hour everywhere in downtown Reykjavik.
(NC also mentioned that none of Reykjavik's delectables could hold a candle to the culinary cunning of his grandmother-in-law. Kinda hoping she'll have opened a home cooking cafe when I'm next in town.)
Cosy, colourful lunch spots in Reykjavik I've actually tested myself. In the red one the bill comes in an old audio cassette cover.
Other curiosities in the Icelandic capital:
The historic Höfdi House, where Mikhail Gorbachev and Ronald Reagan met in 1986; and thus began the end of the Cold War.
The, um… quirky Icelandic Phallological Museum, with the world's largest display of penises and adjoined bits. Whales, seal, walrus, polar bear, and many, many more, including humans. A man's world.
Colourful street art and sculptures abound in Reykjavik. Next to Sæbraut road in the city centre, looking out on the fjord is the most famous, the Sun Voyager. A dreamboat.
2. Bláa lónið, the Blue Lagoon
I mention the Blue Lagoon with mixed feelings. That's because when I was there (at the cusp of the last century, mind), it was a very cool spot, next to a geothermal plant. All smoke on the water. That was it. A natural swimming pool in industrial surrounds – with turbines. A pretty fab experience.
Today, it's a whole other story. The Blue Lagoon has become a spa, a commercial enterprise – and possibly less interesting. But I will give it a closer look sometime, all in the name of research. And a massage is never wrong, is it.
Thing with the Blue Lagoon, see, is, if you're flying trans-Atlantic on Icelandair, you can schedule a longer stop-over (say 5 hours), then take a taxi to the Blue Lagoon directly from the airport for a refreshing, relaxing swim so you'll sleep like a baby on the last leg of your flight. Perfect when you're travelling with children. Blue Lagoon is 20 km from Keflavik airport, and about one third of the way into Reykjavik.
3. Thingvellir
Spot the Icelandic flag here? From 930, Althing is the world's oldest parliament still in existence. They used to meet here at Thingvellir, about 45 km east of Reykjavik. Parliament has since moved into town – and indoors. But it was here at Thingvellir that the modern-day Republic of Iceland was established in 1944. Interesting place for a wander. More on the world's oldest parliament in this post.
4. Swim in the crack between Europe and America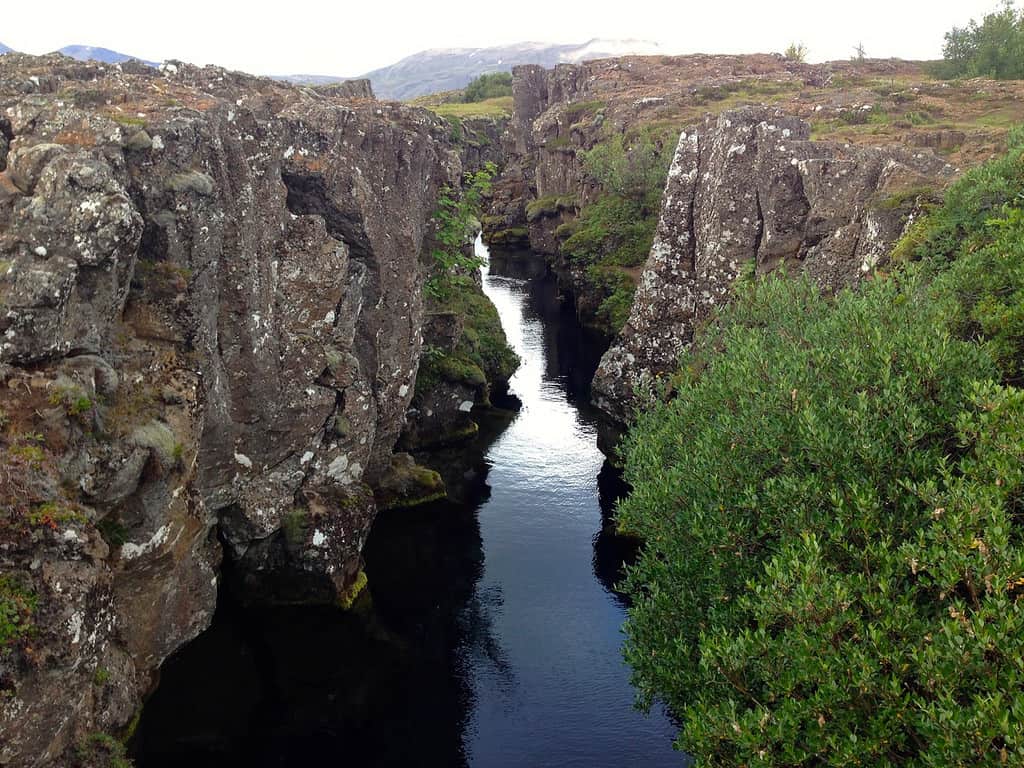 There's more than history and politics at Thingvellir. It is a national park, and while you're here, you may want to take a most unusual dip. Dive or snorkel (or just get a bit wet) in this rift between Europe and America. The Silfra fissure in the tectonic plates was formed in the late 18th century after an earthquake.
5. Waterfalls
While we're on the subject of getting wet – my favourite feature of Iceland, and pretty much anywhere – is waterfalls, and Iceland has some beauts. Skogafoss is pretty and has interesting landscape and hikes.
However, my favourite is Seljalandsfoss. Stunning! And you can walk behind it. More on these waterfalls in this post.
6. Vatnajökull
Stunning waterfalls notwithstanding, Iceland's most famous natural feature are jökulls, glaciers on top of volcanoes. There always seems to be one of those volcanoes going off. We all remember Eyafjallajökull, that left much of the world ash-trapped for seemingly an age back in 2010.
The largest glacier is Vatnajökull, which covers an area of 8 300 km2: smaller than Cyprus, but not a whole lot smaller. Boat trips and hiking trails galore. Maybe a trip in an amphibious boat on Jökulsárlón? More on Vatnajökull in this post.
7. Langjökull – walking inside the glacier
Vatnajökull gets all the attention, and it is indeed a fine jökull. But much like K2 is just as cool as Chomolungma (still better known as Mount Everest), Iceland's second largest glacier is just as cool as the largest. At Langjökull, you can ride this former mobile rocket launcher up the ice cap, and wander inside a glacier cave. Have to hurry, though. 2027 is estimated to be the final year this cave can remain open. More on Langjökull in this post.
8. Other jökulls
There are 269 glaciers in Iceland. The latest research shows that they have about 170 years left to live. Here is Svinafellsjökull, another victim to glacial shrinking as a result of global warming. More on that in this post.
9. Unusual (and scary) beaches
Next to Jökulsárlón is Diamond Beach. Can you see why? Icebergs are washed ashore, leaving glimmering little diamonds behind.
Other beaches are even more intriguing, and also terrifying: at Reynisfjara, the sneaker waves will drag you out to sea if you don't watch your back every second. More on beaches in this post.
10. Snorri Sturluson
The reason we know, well, pretty much anything, about the Vikings, is one man and one man only. Not a very sympathetic man, by the sound of it. Nevertheless, credit where credit is due. You can read more about Snorri Sturluson, his hot tub, and his unfortunate demise in this post.
11. Tall tales and spooky stories
Iceland bills itself the Saga Island, so naturally there are tales aplenty. You can read about the legend of Barnafoss in this short post.
Iceland on Sophie's World
There you have it. 11 things you'll love about Iceland. I'll get on with that road trip round the island soon and update y'all. I'll ride Icelandic horses on their home turf. I'll take a haunted walk, and hear more fab stories. I expect – or at least, hope – to meet otherworldly creatures; álfhól, little elf houses, are all over the place out in the country.
Also, out of those 50 bars in Reykjavik, I have been to exactly zero! Have some serious catching up to do. Meanwhile, here's a summary of Icelandic stories we've got on the blog so far: