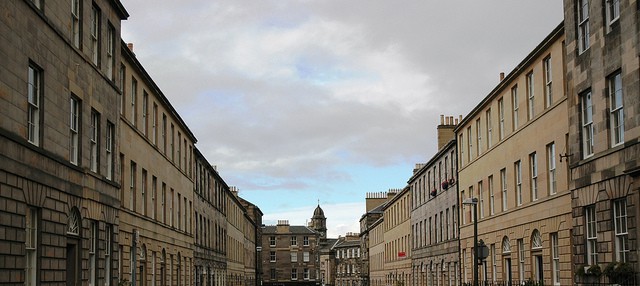 I may have told you before about my love affair with Alexander McCall Smith, or more specifically, his characters. The wise lady detective in Gaborone, the inimitable Edinburgh philosopher Isabel Dalhousie, the pompous Professor Dr Moritz-Maria von Igelfeld, the wonderfully quirky characters in 44 Scotland Street – I want to know them all. Just think of the dinner party discussions…

44 Scotland Street
Last time I was in Edinburgh, I wanted to have a look at Scotland Street, and dragged the girls along to New Town.
Have you read the series? It was first published as a serial novel in the Scotsman and is all about the slightly dysfunctional residents of 44 Scotland Street and their joys and tribulations: there's sweet, 6-year-old Bertie with his pretentious and unsympathetic mother Irene. There's the formidable anthropologist Domenica McDonald and her friend-later-fiancé, poet and painter Angus Lordie and his beer-lapping dog Cyril. There's the conceited building surveyor Bruce, Pat, the student on her second gap year, the kind and awkward gallery owner Matthew and many more. Their lives intersect in weird and wonderful ways.
While there is no number 44, there is a Scotland Street. I can easily picture any of the characters running up the stairs and unlocking a heavy wooden door in this street.
Interestingly, bricked up spaces replace windows here and there. This, I've been told, is because of an ancient window tax. In 17th century Britain, property taxes were paid depending upon the number of windows. The tax was repealed in the mid-19th century. Yet, more then 150 years later, windows are still missing.
Nearby, is the elegant Drummond Place – and a gated garden. Little Bertie hides from his mum here, dreaming of being a normal boy and not take any more forced saxophone or Italian lessons, or yet another completely unnecessary session with the psychiatrist. Peeking into the pretty garden, I can almost see him.
Many of the characters in Scotland Street frequent Big Lou's and sometimes the Cumberland Bar. Big Lou's is fictional, the Cumberland Bar is real. I had expected a sleek, modern bar; the real Cumberland Bar is more of a neighbourhood pub. Makes sense, I suppose. A sleek, modern bar probably wouldn't allow a dog having a dish of beer under the table.
On a freezing, rainy day, Cat and I ducked in to Valvona & Crolla, a favourite of Irene's (and Bertie's). This is Edinburgh's oldest Italian deli/restaurant. In my mind's eye, I had pictured a spacious, high-ceilinged room with large windows, facing a busy street. In the real Valvona & Crolla, the restaurant is at the back of the deli, rather low-ceilinged, and with no windows. The deli shop, on the other hand, has a huge, delectable selection of cured meats, cheeses, olives, all sorts of Italian goodies.
When next I read about Bertie and his mum having cappuccinos, I'll see them at a table in the real Valvona & Crolla, Bruce will be doing business dealings in the real Cumberland Bar, and all the characters will come and go through the doors of a real Scotland Street Georgian house. Bricked up windows and all.
The Georgian New Town is part of the UNESCO World Heritage site Old and New Towns of Edinburgh.
Here are more UNESCO World Heritage sites around the world.
Do books inspire your travels?