Well, hello there! I'm Sophie. Wonderer, wanderer, storyteller, wave maker/negotiator, mum/dad, whichever is needed.
Ever since I was a child, I've enjoyed writing. Every job I've had has included a fair share of it – from speech writing for government ministers to random scribbles.
I've worked with Scandinavian and English media, including Fodor's Travel Guides, National Geographic Traveller, UNESCO, Prospect Magazine, various inflight mags, and more.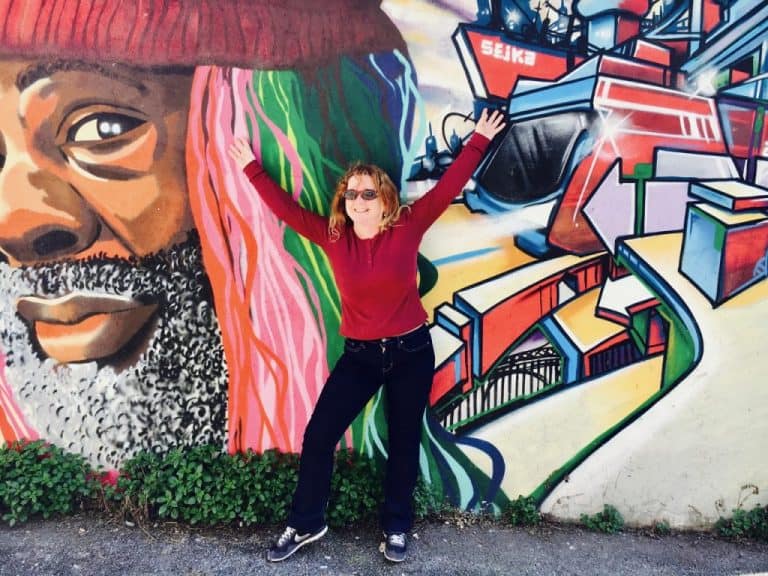 And travelling? There's little I enjoy more than hopping off a train in a new city, not knowing what's around the corner. I've lived in New Zealand, Norway and the USA and have visited well over 100 of the UN member countries. Or, depending on how you count a country, 160+ countries and territories. Do I think that's fun? I kinda do.
High on my travel wish list are Pitcairn, Afghanistan and Tristan da Cunha. We dream of taking the Royal Mail Ship to St Helena. Well…, I dream of that. The kids aren't that thrilled about the prospect of the 31-day journey from Europe (or even the 11-day round trip from Cape Town). Antarctica is another dream – along with South Georgia and the mysterious Bouvetøya, possibly the most remote place on Earth. When we go, I'll be sure to let you know here.
But that doesn't mean we don't enjoy the world's more familiar places. We love Singapore, San Francisco and Sydney. We adore London, Paris and Brussels, too. Whenever possible, we try to see these places with fresh eyes. A visit to London often includes a stroll through Hyde Park and seeing Big Ben. But even better is a thrilling historical walk through 700 years of murder and mayhem. You can travel in the Caribbean on a cruise ship. Or you can choose a deliciously slow sail among near-deserted islands in a 30 ft sailboat.
I was first on an airplane when I was 11 years old. In contrast, my oldest daughter took her first flight at 11 weeks. How things have changed! These days, changes are even more apparent. I didn't see many families travelling with children outside of charter groups back in the early 90s. My then toddler raised curiosity everywhere; she is the strange foreign kid in at least 100 family photos around South-East Asia. Today, European children are no longer a rare sight in other corners of the world.
In 2002, I adopted my youngest daughter from China. Her first flight was on her first birthday, going from Fuzhou to Beijing; the first leg of her journey home. The memory of that trip still brings happy tears to my eyes. China – and most especially the province of Fujian – will forever hold a special place in my heart.
Random facts:
After high school, I turned down a job as a piano player on an Alaskan cruise ship. (Still haven't made it to Alaska). I adore Black Adder and have had a crush on Michael Palin ever since I bumped into him in a book shop in Takapuna (New Zealand).
Sophie's World

127 UN countries (66%) out of 193.
What they say
Over the past few years, Sophie has worked on several travel feature assignments for Oryx. She is a conscientious and talented writer who consistently delivers to deadline, and never fails to engage readers with her descriptive narrative style. It is an absolute pleasure to work with Sophie and I would have no hesitation in recommending her writing skills to others.
Lindy Polmeer
Account Director
Agency Fish Ltd
It was great to follow Sophie's journey to different UNESCO sites in Germany, all of which were very well presented on her blog and on social media. The German Tourist Office organised the trip and Sophie was a reliable and pleasant partner. We hope to see more German journeys on her blog in the future.
Sabine Koch
Head of Marketing and Sales
German Tourist Office