One of the most famous novels in Norway is called Gift (meaning Poison. Oddly, it also means 'married'). It was written in 1883 by Alexander Kielland and is a deeply critical social commentary on the educational system. Cramming and memorising was the order of the day, and not necessarily topics relevant to real life. Students were expected to recite text books; there wasn't much room for independent thought.
In Poison, the teachers are spiteful and mean; they humiliate children who answer questions incorrectly. Unless their parents are wealthy and important citizens, of course. Marius, one of the protagonists, is exceptionally good at reciting Latin grammar, but rather lacking in all other subjects. He is also an illegitimate son of a single mother. An easy target for cruel teachers.
Thankfully, things have changed. Today, students are taught to understand – and challenge traditional wisdom, not just recite. They're asked to discuss a subject and provide their own point of view.
Any other towns in Belgium?
Hmm, you might be thinking, that's all well and good. But what does it have to do with Antwerp? I apologise for the rather long, rambling introduction, but you see, in Poison, the students are expected to reel off cities and towns in Belgium. Today, the phrase 'any other towns in Belgium?' is commonly used as a way of saying 'what else?', even in creative brain storming sessions. I think Marius might have appreciated that.
But what about you? How would you have fared at Marius' school? Which cities and towns in Belgium do you know?
There's Brussels, of course; capital of Europe – or, at least, capital of the European Union. Then, there's Bruges, known for its charming historic centre, and Colin Farrell. Maybe you're familiar with Ghent? Bruges and Ghent are often compared. Which is best? It seems it's considered more fashionable among travellers to prefer the latter, probably because Ghent isn't quite as famous, and thus less touristy.
What else? Any other towns in Belgium? Waterloo, perhaps – site of what is possibly the most famous battle in history. And if you're interested in World War I, you know Ypres and the fields of Flanders.
Antwerp pictures
But what about Antwerp? Surprisingly, Belgium's second city is often overlooked. Possibly because many seem to think Antwerp is in the Netherlands. Well, it isn't.
When you think of Antwerp, perhaps diamonds are what first come to mind. You'd be right. Antwerp handles the majority of the world's rough diamonds. It's the diamond capital of the world. However, this post isn't about diamonds. Instead, I'll take you on a walk along the streets of Antwerp and show you just a wee bit of what this Flemish city has to offer. It's beautiful, quaint, and full of surprises.
As you hop off the train in Antwerp, the first thing you'll notice is, well, the railway station. Antwerpen-Centraal is frequently listed among the great train stations of the world. Inside the massive dome, it's lofty, light and airy. Outside, it's a monumental structure in a bygone era sort of way.
Leaving the station, you'll notice doors: elaborate, gorgeous doors along the main street.
I'm sure you won't be surprised to hear I'm here in search of World Heritage sites. Antwerp has two. Almost three.
Museum Plantin-Moretus: 16th century amazon.com
The first one – and my first stop – is Museum Plantin-Moretus, a 16th century printing shop, publishing house and residence. Here's the back garden.
Next, I stroll to the heart of the city, the Grand Market Square. Although, we're in Flanders, so the Flemish name is the proper one. On Grote Markt, you'll find the colourful 16th century Stadhuis van Antwerpen, the city hall.
The Renaissance city hall forms part of the serial heritage inscription Belfries of Belgium and France, along with the beautiful bell tower of the Onze-Lieve-Vrouwekathedraal (Cathedral of Our Lady, featured in the photo at the very top of this post), also on Grote Markt.
Outside the cathedral, I stop to admire the intricately carved sculptures in the wall.
I pass by lovely little squares and sweet little streets…
street corners reminding me to look up, and old-fashioned bicycles…
curious shop signs about an evil spirit called Bob…
and great big murals with ubiquitous Belgian cartoon characters. It's not all Tin-Tin, you know.
Remember I said Antwerp has almost three world heritage sites? I was thinking of the Begijnhof.
A begijnhof – or beguinage – was once a unique form of enclosed community housing for devout, single and widowed women. There are 17 beguinages in Flanders: 13 of them are part of the serial site Flemish beguinages. As far as I understand, this one in Antwerp is not among the 13, though I'm not sure why.
It's certainly as pretty, and as architecturally interesting as the others I've seen…
with a lovely, tranquil garden. It's a wonderful place to escape city noise for a bit.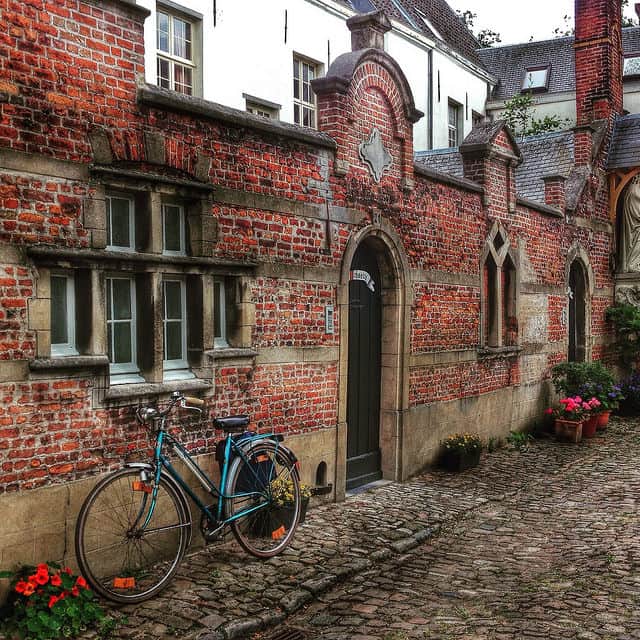 I've been in Antwerp a few times before. That was back in my uni days, when I was more interested in bars and shopping. Plenty of that in Antwerp. In fact, the pedestrianised Meir is the biggest shopping area in all of Belgium and there's no less than 18 Michelin star restaurants. Not bad for a city of less than half a million residents.
In short, whether you prefer world heritage, architecture, history, art, culture, fine dining, bar hopping or shopping, you'll find heaps to keep you interested here in the capital of Flanders.
Have you been in Antwerp?
Disclosure? Nope, nothing to disclose on this trip. Nada. Niets. Other than my own slightly obsessive hunt for World Heritage sites. But you knew that already, didn't you?
PS Spoiler alert: In case you were curious about the fate of little Marius, I'm afraid it didn't go so well. He catches a fever, and dies while frenetically reciting Latin. Mensa rotunda, he said, as he drew his last breath.
Other posts from the Flanders region:
Plantin-Moretus House-Workshops-Museum Complex and Belfries of Belgium and France are both UNESCO World Heritage sites.
Here are more UNESCO World Heritage sites from around the world.