High in the Alps, way up in the north-western corner of Italy, you will find a secret. A stunning valley, home to some of the most famous mountains on earth. You will have heard of Mont Blanc and Matterhorn, of course. But have you heard of Monte Bianco? How about Monte Cervino? Same two mountains, just the other side of the respective borders. Together with Monte Rosa, all well above 4,000 metres high, the three are known as the Giants of the Alps.
Before travelling to this hidden corner of Italy, I did an informal survey amongst colleagues, friends, acquaintances, even the occasional random person on the train. (The weird stranger that talks to you, unsolicited? That could very well be me.)
'Tell me what you know about the Aosta Valley,' I said.
Not much, it turned out. In fact, only skiing aficionados and people who are particularly enthralled by La Bella Italia had heard about it at all. My college buddy Tim (both Italophile and avid downhiller) fondly remembered skiing holidays in the valley when he was a young'un living in Milan.
Well, if you are amongst the Aosta-unaware majority, fear not. After reading this post, you will know much more. And if I do my job properly, you will want to get on a plane, sooner rather than later, and explore this Italian delight yourself.
Welcome to The Aosta Valley: Italy's biggest secret
The valley comprises several smaller tributary valleys, as you can see on the map here.
Wondering about all the French names on the map here? Aren't we in Italy? The Aosta Valley is a bilingual province. Multilingual, actually. But Italian and French are the official languages.
So as not to wear you out all in one go, I'll cover the Aosta Valley in three parts. In Part I, I took you to the slopes of Monte Bianco and up to Helbronner, as high as you get in Italy. In this post, we will explore the Gressoney Valley, one of the two glacial U-shaped valleys climbing towards the mighty Monte Rosa. (The other is Ayas Valley.) In the third and final episode, we'll visit the regional capital Aosta, as well as Cogne and Gran Paradiso National Park.
I'm adding boxes here and there, for those of you who like back stories – or just stories. If you only want to read about the places and experiences you can have here, feel free to skip those geeky bits.
Gressoney Valley: e-cars, hiking, castles
We are seven Nordic journos flying in from various parts of the globe. Andrea meets us in the little arrival hall at Turin airport. He owns and runs Eco Wellness Notre Maison in Cogne, and has very kindly travelled all the way to welcome us to the valley. We'll get back to Cogne – and Andrea and his family – in part III.
In the valley, we will be driving e-BMWs. Let's go get them and get the show on the road.
The little e-cars will come in handy, as the mountain roads can be very narrow. Also, I've spent a bit of time in Italy this year, and it is my impression that Italians drive a bit… shall we say, nonchalantly? Yes, I think that's a fair statement. As for the e-part: I'm a big fan of electric cars; after getting one a year ago, it wouldn't occur to me to buy a fossil-car ever again.
Right! Off we go, up and into the valley. Our goal for the day is the little village Gressoney-la-Trinité. En route, I spot signs for Monte Bianco. The road to Western Europe's highest mountain. I'm delighted already.
Along the steep mountain roads and hairpin turns, we occasionally pass shepherds rounding up long-horned Valdostana rams.
Gressoney-la-Trinité
Then, before we know it, our home for the coming days appears. At the foot of Monte Rosa, Gressoney-la-Trinité is a beaut.
A river runs through it
Anna Maria Corsico welcomes us to Romantik Jolanda Sport, a cosy and comfortable family-run hotel.
The Jolanda is charming on the outside – 
– and Romantik inside.
Hotels and resorts in the Alps are open November – April, when the ski lifts are open, then close in May, so those who work there can get a well-deserved holiday – and get ready for the summer season. During our visit, Jolanda has not yet opened for the summer, which means we will have the hotel to ourselves for our stay.
In fact, we're getting a season preview of what the Monte Rosa area offers in summer, and it is a lot: hiking, climbing, biking, canyoning… the list of challenging activities goes on. Less strenuous offerings include golf, game fishing, walking, horse riding, climbing walls and an adventure park.
Food and wine in Gressoney
A short walk from the Jolanda is Wongade, our eatery for the night. (Not that anything is far away in Gressoney-la-Trinité. The village is small and absurdly scenic.)
For antipasto, we're served cured meats and cheeses. Primo is Polenta, an Aosta Valley classic, made with milk, butter and Fontina cheese in addition to the polenta (corn meal). Meat is often added, like bits of bacon. We will try various versions of this hearty fare during our stay in the valley. Secondo is tender pork fillet in a delicious blue cheese sauce. Everything is accompanied by local Aosta wines.
Wongade delights
Italian meals usually have 4 courses:
antipasto: starter/appetiser
primo: typically pasta, risotto or soup
secondo: mains
dolce (meaning sweet): dessert
Traditionally, secondo has included meat or fish, but it can also be vegetarian. Apparently, the number of vegetarians and vegans in Italy has risen dramatically the last few years, and the country has the highest numbers of vegetarians in the EU. Not unexpectedly (and as in many other countries), they meet a bit of resistance from traditionalists, industry and restaurateurs who see this as a threat rather than an opportunity to expand.
Wongade offers a promising start to our culinary experience of the Aosta Valley.
Hiking in Gressoney
After a delicious breakfast spread laid out by the inimitable Anna Maria, followed by coffee on the balcony, we set off.
Mountain guides Giovanna and Marco meet us in the village. We'll have an easy walk, we've heard – thinking this will be a little saunter, 45 minutes or so. Turns out, an easy walk means something rather different in the Aosta Valley. Just as well we don't know beforehand.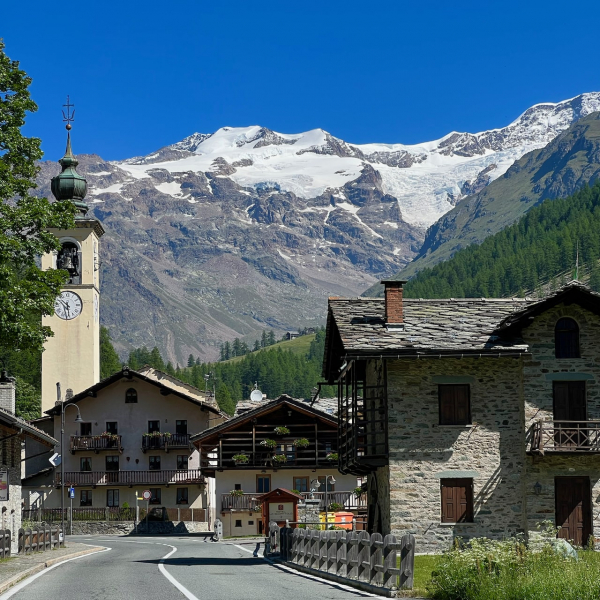 Here she is: our first giant – and a lucky sight, it turns out. Just like the Matterhorn, Monte Rosa is often covered in clouds.
As you can see, Monte Rosa is not a single mountain, but a group of mountains, known as a massif. At 4,634 metres, Dufourspitze is the highest peak in the massif. If you are relatively fit, you can join a 4-day guided climb to the top, starting here in Gressoney.
Gressoney-la-Trinité
Back to our hike, it begins easy. Strolling around the village, we explore the little parish church and cemetery.
Then, it's time to get serious. Giovanna points to our route:
Gressoney-la-Trinité – Léckò Albezò – Alpenzu – Gressoney-St-Jean
We are getting a first inkling this will be a bit more challenging than we thought. But Giovanna's enthusiasm for the valley shines through and wins us over. So does the tranquil landscape. And the promise of the spa back at Jolanda.
Here we are; Giovanna and Marco to the right.
Up, up, up!
Beginning near the church, we follow path W through the steep coniferous forest, until we reach Léckò Albezò, also known as Alpenzu Piccolo (Little Alpenzu). At nearly 1,800 metres height, this tiny Walser farming village was founded in 1728, here at the edge of the glacial mountain side, along an ancient mule track leading across the Alpine pass.
Léckò Albezò, with Gressoney-Saint-Jean at the bottom of the valley
The Walser were a Germanic people migrating from Wallis in Switzerland to the Aosta Valley in the 12
th
and 13
th
centuries. Walser villages, like Léckò Albezò, were self-sufficient, based on agriculture and farming. In the early 1900s nine families of farmers and breeders were still living permanently in the village.
Even today, the Walser culture is very noticeable in Gressoney: the simple, functional wooden houses known as stadel, their food, traditions and customs. Titsch, their Germanic dialect, is still taught in schools. Guete Tag!
At the Walser Ecomuseum in the village, you can learn more about Walser life.
The photo doesn't really show how steep the landscape is, so you'll have to take my word for it. It's a wonder the cows don't slide down the mountainside.
Alpenzu
Onwards! We traverse a large meadow, then cross a bridge over a little stream. The landscape is more level, so this part is an easy hike. At a crossroads, we take the path towards Grosso Albezò (Alpenzu), another Walser village, and home to a rifugio. And we are just in time for lunch, starting with the charcuterie board, deliciously laid out by Valentina Rial.  This time, the polenta is prettily decorated with violets, and we are served an assortment of delicate cakes for dessert.
The lovely Valentina (who, by the way, is recently back from skiing in Arctic Lyngen in Norway! Warms my heart.)
Rifugi in the Aosta Valley
The Aosta Valley is dotted with rifugi – wanderers' huts. This place mat from Alpenzu gives you an idea of their prevalence.
These rifugi offer accommodations and meals to hikers.
Down, down, down!
Going up the mountain is hard and sweaty work, no doubt. But as long as you remember to breathe properly, that is all it is. Doable for most.
Coming down the mountain, however, turns out to be a bit more challenging. Wear proper hiking boots, preferably waterproof, as you'll walk through patches of wetland.
Gressoney-Saint-Jean
Back down in the valley, we are now in the neighbouring village Gressoney-Saint-Jean. Larger than tiny Gressoney-la-Trinité, it has a church, a market square, pretty flower gardens and a restaurant curiously named Nordkapp, meaning North Cape. In Norwegian!
Oceans of flowers in Gressoney-St-Jean, and the San Giovanni Church with its famous 13th century wooden crucifix
Remember the presumed 45-minute hike? Well, it turned out to be a 7-hour affair. Wandering through the village, we think we have finished walking for the day. Not so. Off we go, toward Castel Savoia. Practically just around the corner, we hear. 45 minutes later, we arrive. Walking on paved roads feels very different from the rocky, grassy paths.
The day may have been tougher than expected, but for all we have seen, heard, smelled, tasted, felt and experienced, we have no complaints. Just the opposite. In addition, we are left with a sense of accomplishment. And the step counter has gotten a proper workout.
Castel Savoia
Back in the day, Gressoney was a royal favourite; several castles dot the valley. Margherita, Queen of Savoy, was particularly fond of this area and decided to build a second home here (or possible third or fourth or…).
The Queen and the Chef
Queen Margherita has left her mark on Gressoney in more ways than one. In fact, she has left her mark on the Aosta Valley, on Italy and the world.
Her name looks familiar, doesn't it? Where have you seen it before? On menus everywhere, that's where.
Let me take you back to 1861. We are in Naples, and Queen Margherita is bored with French food; that was all they ate in royal circles in those days.
'Bring me something exciting,' said queenie.
Chef Raffaele Esposito took on the challenge, and made her a flat pie with heaps of cheesy, saucy, basil-y goodness. And so Pizza Margherita was born. The simple, delicious dish has become the benchmark of Italian eateries. If you can get a Margherita right, you can do anything and everything.
Here is Margherita's holiday home:
Castel Savoia – or Château Savoie. We're in the bilingual Aosta Valley, remember.
Entering the castle, the first thing I spot is this staircase:
Stunning, isn't it?
And here is Marge in hiking gear. Not exactly ultralight kit, is it?
But then she didn't exactly hike. Rather, she and her friends were pushed and pulled –
– in this sledge.
The Red Skirt
Before we leave Castel Savoia, take another look at Queen Margherita. She liked to dress in traditional Gressoney garb. Here is the story behind the red skirt:
Gressoney women normally wore black dresses. Then, one day, a woman tried to save a child from falling into the canyon. But sadly, she fell in herself, staining her dress red with blood. In honour of her memory, the women of the valley from then on began wearing red skirts and dresses.
What happened to the child, you ask? As far as I know, the legend doesn't say, so we don't know. Either way, I think we can all agree the woman was a true hero.
Swimming pools, saunas and starry skies
After a long day of mountains, hiking and castles, we get to enjoy the amenities of our temporary home, specifically the spa!
The Jolanda's wellness centre has two swimming pools, both with jacuzzis. Then there is a traditional Finnish sauna, a Turkish bath, a scented hammam, a salt bath, and a balmy bio sauna, smelling of herbs and with a delightful starry sky ceiling.
The hammam and the salt bath
There is also a gym, and masseurs are on hand to perform miracles on weary hiking legs. Sadly, I don't have time to try everything, but I do my best. A quick dip in the pool, testing the water jets and the whirlpool, is followed by sauna. All the saunas! My favourite is the bio, where the stars in the sky change colours about every minute. Red – blue – green – yellow… hypnotising!
Zzz!
Oops, I nearly fell asleep. No time for that. There is wine to be tried.
Food and wine again – or rather, wine and food
We're in for a treat: a wine tasting. Aostan wines. At Castore e Polluce. This restaurant/bar/chill-out spot in Gressoney-la-Trinité is owned and run by Paolo Viganò. 20 years ago, at the ripe young age of 18, he left Milan for more peaceful surroundings in the mountains.
Paolo is also chef and sommelier. He talks passionately about local wines and invites us to taste. He also shares a few tips: Drink red wine with fish, is one. Surprising to the others, but in Norway, we already know this: cod and red wine is typical Christmas fare.
There is more cured meats and cheeses to be eaten. Really, this could probably be an everyday thing. That's how delicious it is. Then there is Polenta, and Chnéffléne, a Walser speciality consisting of small dumplings made with eggs and flour, in a delicious sauce, made with local Toma cheese.
Saluti!
Wondering about the name of the restaurant? Next to the Monte Rosa massif is another mountain range: the Breithorn. Between the two are several 4,000m+ peaks, including Castor and Pollux, or Castore e Polluce here in Italy. The twin peaks are named after the twins of Greek mythology, who had the same mother but different fathers. Castor was the son of the King of Sparta, while his twin was the result of their mother, Leda, being seduced (or possibly raped, accounts vary) by Zeus, cleverly camouflaged as a swan. (That is actually possible. Not that a god disguised as a bird can impregnate a human – but about twins having different fathers. The phenomenon is known as
heteropaternal superfecundation
. But I digress.)
If you're intrigued by the idea of climbing a mountain in the Alps, and you don't have much mountaineering experience, reaching the top of Castor (4,223 metres high) is achievable. It is not a technically difficult climb, and a guide will be on hand to help you.
Goodbye Gressoney
The next morning we leave Gressoney Valley. It's hard to say goodbye to the hospitable Corsico family, our very comfortable home for the last few days – and to big baby Melampo.
One final look at the little village – and a glance at Alpenzu high up on the mountain side.
Disclosure: I was in the Aosta Valley as a guest of Valle d'Aosta. All words, pictures and sassy opinions are mine and mine alone. Complete editorial control of all content, as always here on Sophie's World.