It was oddly difficult to decide how to headline this post. The 11 things you'll love-series: a tried and trusted format. Transfixed in Turkmenistan: so fitting. As usual when I can't decide, I choose both. Always works out, somehow. But enough of that; let's get on with this most peculiar of lands. Or rather, of stans.
Where to even begin? As strange a country as North Korea – and even harder to get permission to visit. The last of the Soviet dictatorships (although Belarus is a close contender). The third most censored country in the world.
It simply begs the question why! Why on earth would you want to go there? Why would anyone? I don't know about anyone, dear reader, but here in Sophie's World, it's about the unusual. About experiencing the world's curious – and often unsung – corners. And this is about as curious as it gets. And unsung.
Should it be sung? (Is that even a word?). Well, it should at least be acknowledged as the peculiar country it is, good and bad, light and dark, interesting and downright weird. With Turkmenistan, 'off the beaten track' takes on a whole new meaning.
A little digression (you know me…)
My first ever encounter with Turkmenistan was a weird one. (Seems just the order of things now): 
In North Korea, you have very little access to the outside world; no Internet, no mobile coverage. Your only option is to call from the hotel (most likely the Yanggakdo) when operators are on duty.
I tried calling home many times, for many days – and to about 8 different people – without getting through. Finally, Ali picks up, getting ready to give an earful (she does that exceedingly well).
Surprise surprise, it wasn't someone from 'Microsoft' telling her something was wrong with her laptop, but her mother calling from Pyongyang. 'But, but… it says here this is a call from Turkmenistan…?'
Never got a satisfactory answer (or any answer, really) as to why calls from North Korea somehow seem to be routed through Turkmenistan. 
They can come to Ashgabat: a brief background
After the dissolution of the Soviet Union in 1991, 15 separate countries emerged. Five of these are in Central Asia, and often tagged the Stans. Which, by the way, is a Persian word, meaning country. Simple as that. Same as we use the suffix land. England, Thailand, Greenland…
We've covered Kazakhstan, Kyrgyzstan and Tajikistan here on the blog. Uzbekistan is coming up. That leaves Turkmenistan. Turkmenland.
Saparmurat Atayevich Niyazov, better known by his self-bestowed title Turkmenbashi (Father of the Turkmen) was the first president of the new country. President for life, no less. I'm mentioning him here because, as you'll soon see, he has left his marks on the country. The capital Ashgabat is in many ways a shrine to this man.
While we're talking curious (cause we really are), here are a few of Turkmenbashi's laws and decrees:
No lip syncing at public concerts (it has a negative effect on musical arts)
No dogs allowed in the capital (on account of their unappealing odour)
No opera or ballet (un-Turkmen. Is that anything like un-American…?)
No beards or long hair on young men (no reasoning given for this one)
Moving right along Wacky Way, Turkmenbashi replaced the word for bread with his mother's name (Gurbansoltan). He also replaced the names of months and days of the week with names of his family members. Have a look at April. Something to be said for being devoted to your mum. But we're not finished yet. Turkmenbashi discouraged the use of gold teeth, and instead, encouraged chewing on bones:
"I watched young dogs when I was young. They were given bones to gnaw. Those of you whose teeth have fallen out did not gnaw on bones. This is my advice."
More seriously, he closed down all hospitals outside the capital. The country isn't exactly tiny; at 500 000 km², it's about the size of California (imagine, if you will, the only hospitals in the state being in Sacramento), and more than half the population live in rural areas.
"Why do we need such hospitals? If people are ill, they can come to Ashgabat."
Turkmenbashi died in 2006, and his successor and current president, Gurbanguly Mälikgulyýewiç Berdimuhamedow, has reversed some of his more eccentric decisions. April is now back to Aprel, you'll be relieved to know. But Gurbanguly is not exactly uncontroversial either. To the country's credit (and unlike California), Turkmenistan does not practice capital punishment. However, the situation is otherwise pretty dire. According to Amnesty International's latest report.
The right to freedom of expression remained severely restricted. Torture and other ill-treatment was committed in pre-trial detention and prisons, sometimes resulting in death. There was no attempt to address enforced disappearances and incommunicado detention. The right to housing was widely violated. Consensual same-sex relations between men remained a criminal offence
Gurby also likes to entertain with his musical talents. Here he is, rapping with his grandson.  And opera appears to be back on, but not ballet. Dogs, sadly, fare no better. And on that cheery note, let's get on to more practical things.
How to get to Turkmenistan: the dreaded LOI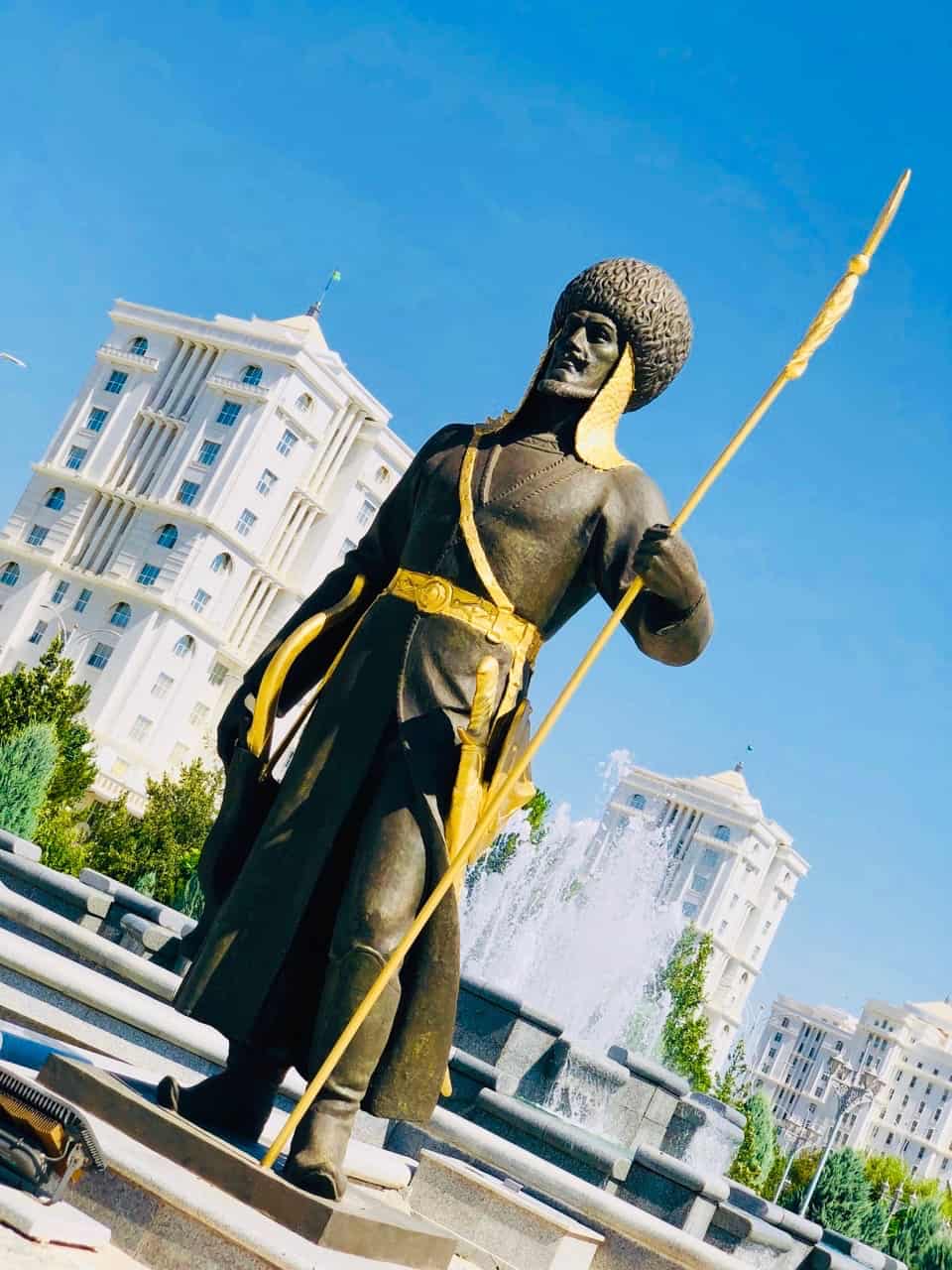 Let's start with the bit you may not like: You have to take a tour. Sort of. But, unlike its sister-in-weird, North Korea, you're allowed to roam around the capital on your own – night and day, without babysitters of any kind. That's at least something.
As for tours, you can join a group, or arrange a private tour, as we did. We looked into several tour companies, local and international. They all appeared legit, and price differences weren't enormous. However, we settled on the one I used in North Korea, and liked.
Now, visas are a story all on their own. The Turkmeni visa always seems to figure on lists over the hardest to get. Some would say it's the most difficult of all. It was certainly our most difficult one (to date.)
…the Turkmen visa office is renowned for their strictness. If you have a job in media or local government, or are suspected of being able to speak Russian, or have a beard, or…well you get the picture.
The visa process is explained in more detail here.
As part of the cost, the tour companies take on the task of procuring an LOI (letter of invitation) for you from the Turkmen Ministry of Foreign Affairs. Once you have this, the rest is easy. You can get the visa at a Turkmen embassy, or easiest, do as we did: present the LOI on arrival at the airport, pay the fee (USD 57 in July 2019) and hey presto: your visa is quickly stamped in your passport.
Getting the LOI, however, is no easy task. LOIs are refused seemingly random, without any reason given. But what's fairly certain, is anyone working in media will be scrutinised, i.e. denied. I spoke with a blogger who had his application rejected 6 times, before finally being approved. If at first you don't succeed…
But this humble blog?
You never know, we were told, again and again. And as we didn't have the luxury of unlimited time – or times – for holiday, something had to be done.
You can apply max 3 months before your date of entry into the country. During the months before that, well, I lost count of all the hours I spent disassociating myself from this blog and on social media. Which means I've practically haemorrhaged visitors, both here and there. I discussed the risks with other bloggers and SoMe experts, and ultimately decided it was worth it. But then I don't rely on Sophie's World to make a living. So if you're a blogger reading this, with a hankering to visit the world's more unusual places – and you rely on the numbers… maybe wait until things change in Turkmenistan. Chances are, they will.
Meanwhile, North Korea is much easier (there's a sentence you thought you'd never read, eh?), and on par in the weirdness category.
Our itinerary
When we received an email from our tour organisers, with the headline APPROVED!!!! – well, I don't mind telling you, I jumped up and down on the sofa for quite a while, all 4 exclamation points worth. Much to the joy of the dogs who joined in.
LOI in hand, we booked flights. We live in different European cities, so we met in Frankfurt and continued to Ashgabat together. (Since then, Lufthansa has discontinued its route to Ashgabat. From Europe, Turkish Airlines via Istanbul now seems to be the best bet.)
Flowers by the Independence Monument.
This was our original itinerary, approved by the Turkmen government:
Day 1 Arrive Ashgabat just before midnight. Meet driver at airport; transfer to Ak-Altyn Hotel.
Day 2 Driving tour of Ashgabat's main sites. Afternoon free. Ashgabat by night. Overnight at Ak-Altyn.
Day 3 Leave early for UNESCO-listed Nisa, then Kipchak, Kow-Ata underground lake, on to Nokhur village, visit cemetery. Overnight with local family in Nokhur.
Day 4 Visit Russian bazaar, Walk of Health. Overnight at Hotel Yyldyz.
Day 5 Morning free to roam. Collect lunch and food for dinner. In the afternoon, drive 250km to Darvaza gas crater. Watch sunset over fiery crater. Overnight in tent near the crater.
Day 6 Darvaza to UNESCO-listed ruins at Konya Urgench. Cross border into Uzbekistan.
As it turned out, our itinerary fortunately wasn't set in stone. A sudden bout of Montezuma's Revenge/Delhi Belly (or…, what shall we call it here: Turkmenbashi's Turbulence, perhaps?) meant we had to spend an extra night at Yyldyz rather than under the stars at Darvaza gas crater. This was no problem at all for Turkmen authorities. Not for us either, really, except for the ill. For the rest of us, working on a tan by Yyldyz' pool wasn't a huge problem either.
Note: There's more to see in Turkmenistan, of course. Another option we considered was visiting Merv, the oldest oasis city along the Silk Road (and yet another UNESCO World Heritage site.) Also, flying to Turkmenbashi on the Caspian coast and spend a couple of days at a seaside resort in Avaza would have been interesting. But with limited time… 
Is Ashgabat the quirkiest capital city on earth?
What to see and do in this enigmatic country? While researching the capital city, I jotted down these notes:
Ashgabat sounds like Astana, with a pinch of Baku and a touch of Pyongyang thrown in. Huge white marble buildings, wide boulevards, lots of space, lots of biggest-something-in-the-world stuff. Technicolour neon at night. Some say they were the only foreigners in the whole city. Conflicting info on what's there. Clearly a blog post is needed. For the world at large.
And indeed, much was confirmed at the scene. My first thought on seeing Ashgabat was how much it reminded me of Astana (now Nursultan). Wide avenues, futuristic architecture, lit up in every colour of the rainbow at night. Endless rows of marble and gold.
In fact, Guinness World Records has listed Ashgabat as having the highest density of white marble. If you're a numbers geek (and who isn't?), a 22 km² area of Ashgabat has 543 buildings clad with more than 4,513,584 m² of marble! More Ashgabat marbly numbers here.
Also, not many people out and about. To be fair, though, this was July, with temps well above 40°C, so that may be part of the reason. But just like Nursultan – and most US cities, Ashgabat isn't really made for walking about. Unlike most US cities, though, there weren't many cars about either. Driving along those avenues, we often saw only one or two other cars at a time. Most of them shiny new and white. So what to do in this curious capital? What to see?
11 things to do in Ashgabat
1. The Giant Ruhnama – a monument to a fictitious book
We've heard about the Ruhnama, so of course we have to see it. This is not just any book, you see, but the Book of the Soul, aka Turkmenbashi's autobiography and ponderings. Every night at 20.00 hrs, the cover opens and a recording from the book is played. Sadly, we missed that.
You'll find the Ruhnama in places of worship, ready for your (not optional) kiss. It's also compulsory reading in schools. And have you ever considered applying for a job with the Turkmen government? No? I haven't either, but if I did, I'd better get ready to be tested on the Ruhnama at the job interview. Getting a driving licence? Yep, part of the test. Might look something like this, I'm guessing:
Q1: When are ABS-brakes most effective?
Q2: How can you use your vehicle's engine to control your speed?
Q3: Which book is the centre of the universe?
Q4: Traffic signs giving orders are generally which shape?
Did someone say surreal?
2. State Circus
This UFO-like structure from Soviet times (white marble, natch) looks like it just landed across from Ak-Altyn hotel when I glance through the window the first morning in Ashgabat. As we're not keen on performing animals, we're satisfied with seeing this cool structure from the outside.
3. Independence Monument
The Independence Monument, all gold and white marble.
Lots of symbolism here, connected to Turkmen Independence, 27 October 1991. The tower is 91 metres tall, with a 27 metre-tall golden spire, the surrounding terrace is 10 metres in diametre, and there are 27 Men in Black (i.e. Turkmen heroes) lining the avenue up to – you guessed it: Turkmenbashi, in all his golden glory. #Prez4Lyfe
The shape of the Independence Monument is based on the design of a traditional Turkmen tent. However, a monument wouldn't be the same without an irreverent nickname, would it? Come on, take a wild guess…
…oh all right, I'll tell you: the toilet plunger!
Here it is again, in chromatic night lights. My favourite is the purple. Though I like the green as well. Hm… maybe the red, too. Hard to decide. But then I don't have to. All I have to do is just wait a minute.
Moving right along, we go through the universe – or rather, to the universe:
4. Alem, the world's largest indoor ferris wheel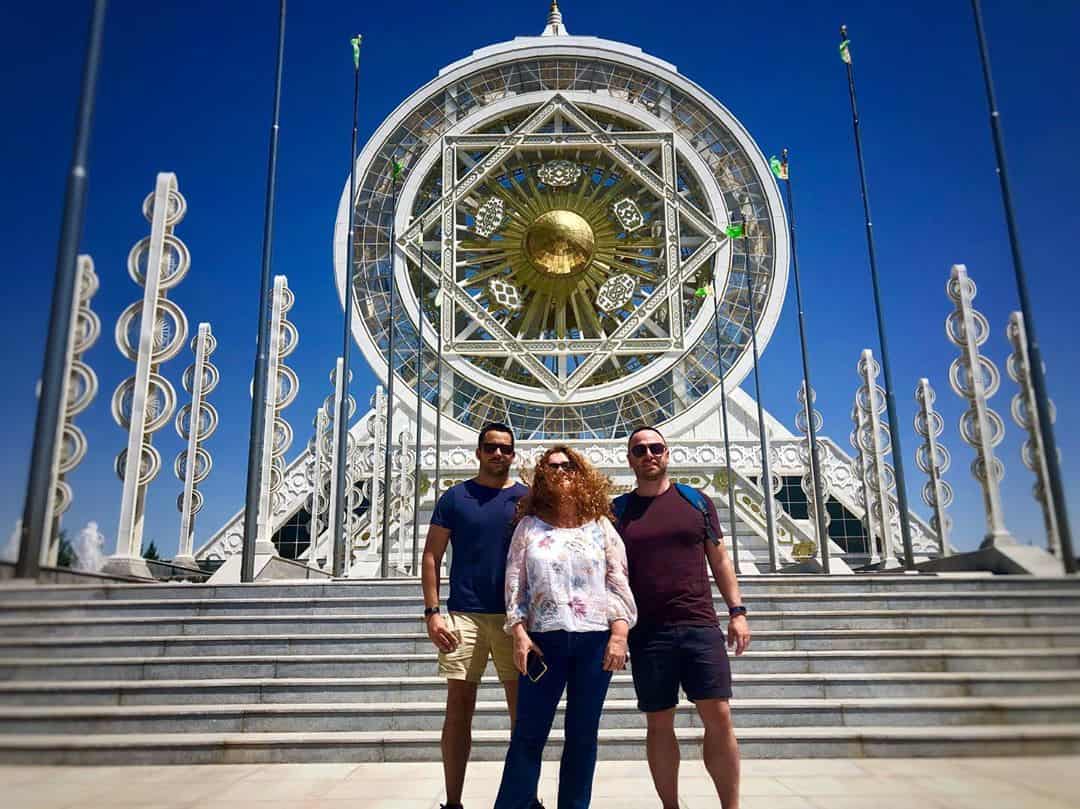 Alem (meaning The Universe) is a cultural/entertainment centre, with bowling, a cinema, a restaurant, and a planetarium. But most of all, it is the Wheel of Enlightenment, inside yet another marble and gold construction.
Why an indoor ferris wheel? And do you in fact see anything? As to the first, your guess is as good as mine. I'll just casually mention that Guinness World Records lists Alem as the world's tallest Ferris wheel in an enclosed space. As to the second question, yes, you actually do. Turkmen landscape as far as the eye can see. A buck a ride.
5. Monument of Neutrality
Continuing our journey through far-out Ashgabat we've come to this tripod, marking Turkmenistan as the world's first neutral country. What does that mean? Serdar, our trusty driver, explains that Turkmenistan is permanently neutral, as recognised by UN resolution 50/80. Sounds like Sweden. Without further comparison. Or at least, not much.
Bet you've spotted the shining chap way up on top there. Who that is? You get three guesses, and the first two don't count.
Used to be, all 12 golden metres of him rotated 360°, so the sun was always in his face. In an effort to clear away some of Turkmenbashi's excesses, Gurby had the monument moved from Ashgabat and out in the suburbs. And apparently, it no longer rotates. We didn't stay long enough to verify. Sorry. Neither did we take one of the elevators (in the legs) up to the viewing platform. But you can.
6. Palace of Happiness
Getting married? Then why not do it in Turkmenistan? With the wedding night under the stars by a burning gas crater, perhaps? Chances are you'd be the only ones amongst your friends.
This could be your venue: the Palace of Happiness, also known as the Wedding Palace. It's all white marble  (do I even need to say that anymore?), with a huge disco ball – or actually a golden globe featuring an equally golden Turkmenistan map, framed by 8-pointed Turkmen stars. Inside are banquet rooms, cafes, shops (36 of 'em!) providing everything you need for that special day: dress, deco, jewellery, photo studio, hair and makeup, and a hotel and car rental.
If you're not quite ready to get hitched yourself, you could see a wedding (possibly a mock one). We settled for seeing the building from the outside.
7. Lenin
Did you think we've had enough of statues and monuments? Mais non.
There's Lenin, you see. And we have fun checking out Lenin wherever he is left standing, whether in Osh, in Murghab, in Yerevan (although 'left standing' is a debatable description for that particular one), in an abandoned Russian settlement on Svalbard, and basically, all over the place. So can't skip Lenin in Ashgabat. And here he is, a bit small up there on the huge base; can't really make out his features from below. He has good views, though.
8. Soviet chic
Comfortably close to Lenin is the former Communist Party Archives: brutalism at its finest.
9. Fifth highest flagpole in the world
We've seen the second (Baku) and third (Dushanbe) tallest flag poles in the world. And here I thought this 133-metre-high one was the fourth. But it appears North Korea has a taller one.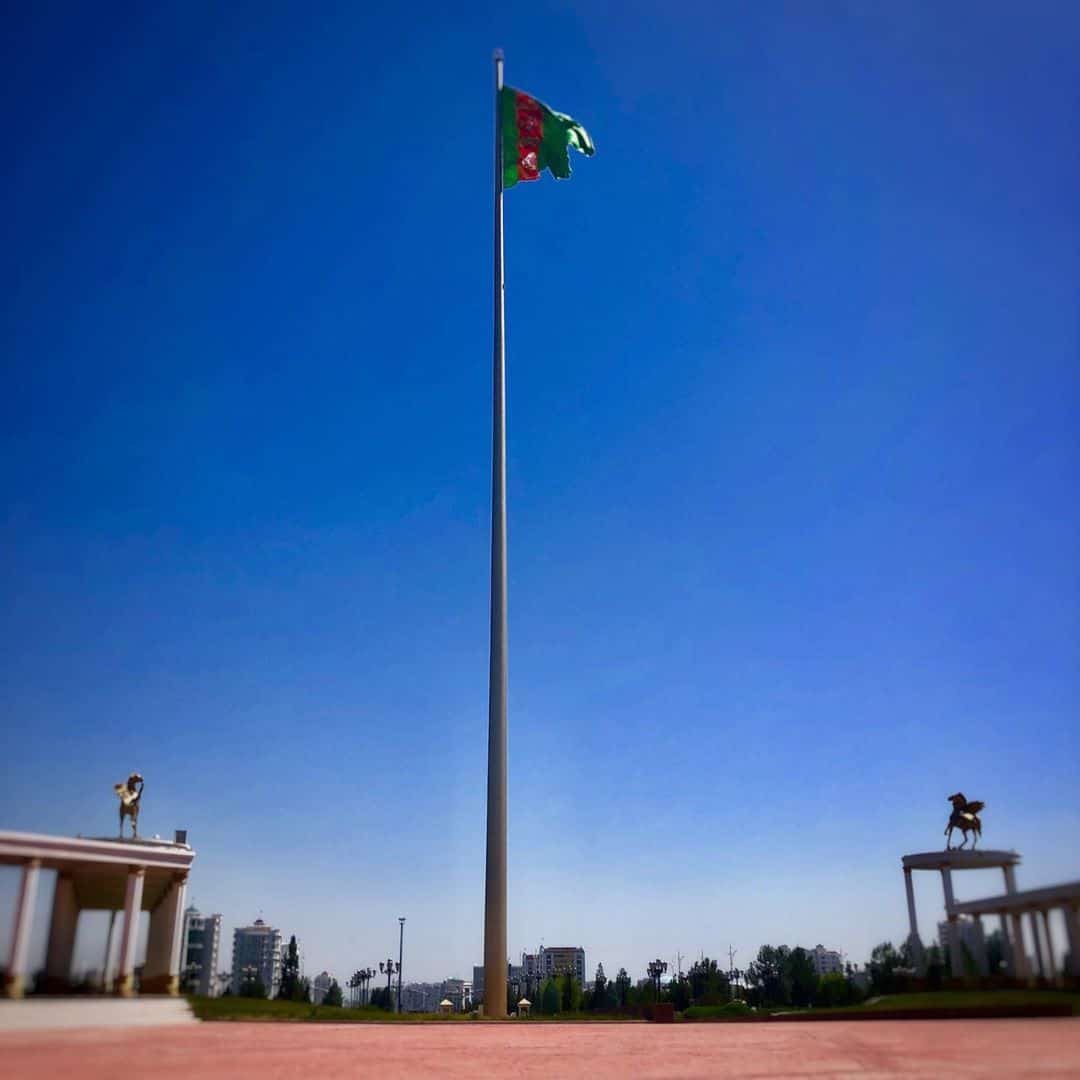 For the sake of good order, Jeddah should probably be added to the travel list, to see the tallest of them all (170 metres). Surprised Dubai hasn't picked up the glove actually, and built one as tall as Burj Khalifa. Though 828 metres; I don't know…
10. Altyn Asyr, the world's largest carpet
Strangely fascinated by all these weird world records, we enter this door here –
– to see the world's largest carpet. Or so we think.
Serdar tells us the Altyn Asyr (meaning Golden Age) carpet is 301 m2, weighs nearly 1.5 tonnes, has 120 million knots, and was handwoven by 40 women in 7 months. An impressive effort, to be sure. It is also recognised by Guinness as the world's largest hand-woven carpet. Or was. It appears Abu Dhabi has it beat. 2000 times over!! Damn those Emiratis and their megalomania, I imagine Gurby must think…
11. University bookstore
And here he is!
For something pleasantly low-key, have a browse through this slightly dusty bookstore, where you can get posters and postcards (we love them). And for that driving test, pick up a copy of the highway code. NB: Don't forget the Ruhnama. Part of the test, remember.
So that's 11 things you'll love about Ashgabat. But y'know what?  I'm gonna pop in a couple extras for you this time, cause I'm in a good mood.
12. Yyldyz, the vowel-less hotel
As a splurge, and also, because some of us had their birthday(s), we decide to upgrade to Yyldyz hotel.
The building reminds me of Dubai's Burj al-Arab; not only is it the fanciest hotel in town, it's also one of Ashgabat's iconic, futuristic structures.
On the outskirts of town, there's nothing to complain about at Yyldyz. But that's to be expected; it's a luxury hotel, after all. Nothing other than my personal views, which you likely won't share. Here goes: it's simply too quiet (although oddly appropriate in Ashgabat). Also, huge rooms and suites, much too huge for me. I just feel lonely in all that space. Other than that, nice views, good service, nice restaurant on the top floor, with good food. And can't fault the pools; the outdoors one appears to be where locals come to enjoy sunning and swimming on hot summer days. That's sympathetic, I think.
Before the hordes invades – and view from the tread mill
 What's more, it looks cool all lit up. Which leads me to…
13. Forget Vegas
The Turkmen capital by night is nothing short of spectacular. Only one thing to say, really: if you're going to see one city extravagantly and unsustainably lit in technicolour megawatt at night, forget Vegas, see Ashgabat.
Coming up
The plan was to cover our entire Turkmenistan journey in one post. But as I'm already at 3439 words… don't want to wear you out all in one go.
Next we'll get out of town and into the countryside of this wacky nation. Stay tuned for UNESCO-listed ruins, a swim in an underground lake with bats hanging from above, Turkmenbashi's mausoleum mosque, and a night on the living room floor in a remote village in the Kopet Dag mountains near the Iranian border. Oh, and the Gates of Hell. You've seen photos of that crazy place, so I know you're looking forward to that.
All photos by Andrew Morland, Tom Brothwell and myself – and occasionally by our eminent driver, Serdar. Check out Andrew's fab Insta feed for some snazzy snaps of sweet, sexy Soviet stuff in Turkmenistan and beyond.