I've just returned from a short road trip in Greece. It was a much-needed break, an opportunity to see my fave travel mates, and, as an added bonus, a chance to celebrate my birthday in another country. That's a 3-in-1 Kinderegg right there!
We spent a gorgeous few days in the country, weaving our way from Athens to Thessaloniki, up in the mountains and along the Aegean coast. We had so much delicious Greek food and wine, I can't decide whether I'm getting hungry or feeling really full just thinking about it. We scrambled up to a monastery perched high on a crazy crag, watched the sun set over Acropolis, over mysterious cliffs and over brilliant oceans, and we relaxed by a lovely rooftop pool for an entire day. Bliss!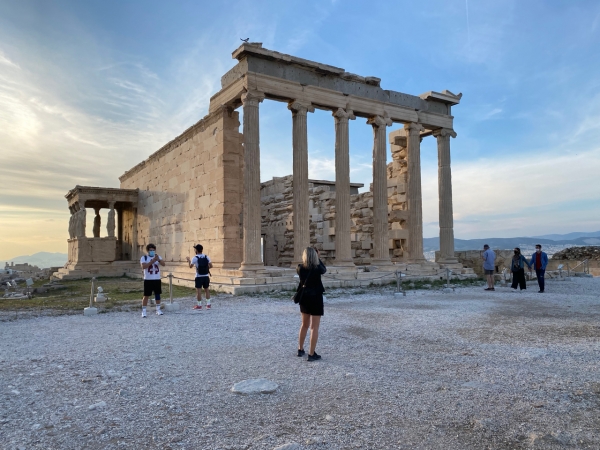 Covid-quiet Acropolis
I'm aware travelling just now is controversial. There's a delicate balance between doing our (tiny little) bit to keep the travel business afloat, and doing our best to keep people safe; ourselves, our families and friends, and strangers. After some serious deliberations, we decided we'd go, making sure to adhere to the strictest guidelines at all times: frequent, thorough hand washing and cleansing, wearing face masks everywhere, and keeping our distance.
In Greece in October 2020, we had no issues. Quarantine was not required. Neither was a negative corona test, but visitors were randomly picked out for testing on arrival at the airport. One of us were. This has since changed. As of 11 November 2020, all passengers coming from foreign countries are required to document a negative PCR test for Covid-19, taken maximum 72 hours before arrival. Up-to-date information is available from the Greek government here.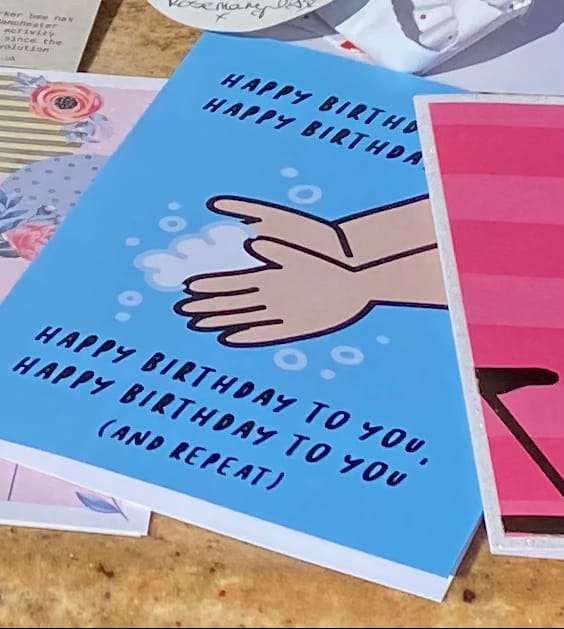 The best-laid plans…
Let's rewind for a moment. To January 2020. There, in my living room, planning an October road trip from Benin to Côte d'Ivoire, little did we know the world would be in turmoil just two months later.
A tiny microbe causing a seemingly forever-lasting global pandemic. It's the stuff scary movies are made of.
When Covid-19 hit with full force, we quickly realised West Africa would be an unlikely destination for us this year. But come October, with holiday time already set aside, and the urge to move ever stronger, we decided we WILL meet somewhere. Anywhere!
But where? There were several issues to consider: were there any countries we could visit without having to quarantine? There – or when coming back home? Norway has been comparatively lucky (so far), meaning I could travel to most countries without needing proof of recent testing or quarantine. On the other hand, travelling anywhere (except to a few regions in Finland) would mean a 10-day quarantine at home, no two ways about it. Well, I can easily work from home – and quarantine does not mean full isolation. I decided it was a small price to pay.
Tom and Andrew live in Britain, a country harder hit. A pre-travel test wouldn't be a problem. But which countries would open their arms to all three of us, without needing to quarantine 10 – 14 days before we could enjoy the scenery?
As autumn progressed, the list became increasingly shorter. And by the time we were ready to go, we were left with Sweden and Greece. Nothing wrong with my eastern neighbour there, but as this is late autumn, the choice was easy.
Greece: getting there and getting around
First, flights; currently more limited than usual. Getting to Athens is easy, but going home is a bit more iffy. We end up booking OSL/MAN – ATH and SKG – OSL/MAN flights, leaving on one of the last days of October, and returning 5 days later. As it turns out, fate is on our side; we're just in time.
ATH is logical. But SKG, you ask? Why, you mean you can't immediately rattle off all the world's IATA airport codes? No worries, neither can I. SKG is Thessaloniki, Greece's second city and capital of Macedonia. Greek Macedonia, that is. (If you're into curious stuff, I covered the Macedonian naming dispute in this post. But that was 11 years ago, mind. The dispute was solved in 2019, proving that where there's a will, there's a way. Even in international politics.)
Neither of us has been in Thessaloniki. A new city: always exciting. Now, how to get from one to the other? We have 4 options:
flight (ca 50 min)
train (ca 4 hours 15 min)
bus (ca 6 hours)
car (ca 5 hours, or as long as we want)
We like the idea of avoiding public transport at this time, and want to see a bit more of Greece, so it's a no-brainer. We hire a car: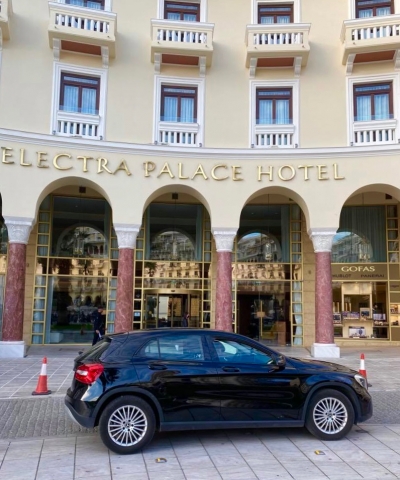 this baby
Two nights in Athens then, and two in Thessaloniki. And one night somewhere along the way. That somewhere, we quickly decide, will be Meteora. Neither of us has seen this spectacular landscape with the legendary sunsets. And we'll see mountainous Greece, as well as the coastal highway. City, mountains, coast. Another Kinder Surprise.
And that's not all. Acropolis, Meteora and the monuments of Thessaloniki are all UNESCO World Heritage sites, and you know that makes me geek out a little.
3 friends, 3 good reasons to go, 3 places to visit, 3 different landscapes, and 3 World Heritage sites to explore.
Here we go

OSL in the wee hours, barely awake
Day 1: Athens
I've been in Athens before. Twice – though less than a day each time. When Ali was but a young 'un, we took the boat across from Skiathos one day to see Acropolis. Then, in 2016, I spent a couple of weeks working at Camp Sounio with Dråpen i Havet (and you can, too). On the way home, I had 5 hours in Athens before my flight. Back to Acropolis. But – due to a malfunctioning phone, all photos vanished.
(Brief detour: I'm reminded I haven't written about Camp Sounio here on Sophie's World, just briefly on social media at the time. Sadly, most photos from the camp vanished, too. I may have salvaged enough to give you a "better than nothing, better late than never"-glimpse. Watch this space.)
1997: renegade child and Parthenon, 2020: renegade mamma and Parthenon
Andrew and Tom have been in Athens before, much longer than 5 hours. They have seen it all. As luck has it, I land a few hours before them, and have plenty of time for another look at this marvel from the heyday of Greek Antiquity. Perfect timing, yet again! I'm careful to save photos immediately this time.
Follow the signs
The road to Acropolis, bit of a maze
up narrow steps, round corners, past houses –
– and past cats. Many, many cats!
Acropolis: democracy, thought and art
Acropolis simply means highest point in the city, and there are several acropolises scattered about Greece. However, this one in Athens is by far the most famous, so much so, it's usually referred to as The Acropolis. And Parthenon (see pics further up) is the most famous structure.
Democracy! How often that word has been thrown around, tossed about, used and abused, this year. Well, Athens is where it all began. About 2,500 years ago, after winning a war against the Persians, the city-state became a leading power in the ancient world. Democracy was established. No representative democracy here, but as direct as it gets. Common people rule. Dēmos kratos.
Along with democracy, came thought. And art. Pericles, influential statesman of that golden age of Athens, was ambitious, and is responsible for this hilltop compound, built as a monument to thought and to art.
But enough history (and politics) for now. Let's watch the sun set, then get on with things.
First sunset, view from the steps of Acropolis
Meanwhile, 10,000 metres above me, someone is about to land.
Waltzing back from Acropolis to the hotel, I get lost (not for the first time). Suddenly, I'm on a major street. Sex shops and adult entertainment centres abound. And Avis, so at least I know where we're picking up the car later. As it happens, I've walked the exact opposite direction of what I should have. But all is well. I get there in the end, and we meet on the rooftop terrace. A quick beer, an almost full moon, Acropolis at night… then… no time to lose. There's a curfew and there's food to be had. Greek food. I want souvlaki.

Delish! Just as I remember it.
Day 2: Poolside birthday
We have found a fabulous hotel in the centre of Athens – The Electra Palace –  with a rooftop terrace overlooking Acropolis. And there's a lovely pool! Bit of a splurge. Worth every penny.
How great is this view
It's Halloween. My birthday. Been a long time since I've celebrated abroad. Actually, it has been a long time since I've properly celebrated at all. Sometime in the last century it must have been. I'm being rather offhand about it. Birthday schmirthday. No big deal. But someone will have none of that.
Tom has cheekily notified the hotels where we are staying. Every.single.one! And every eatery (and drinkery) is duly advised, too, apparently. There is fruit. And wine. And cake. So much cake.
I'm loving it all. So maybe it is sort of a big deal, after all. Just a wee bit of a big deal. The tiiiiniest bit of a big deal.
(PS Don't tell him I said that.)
How great is this view, part II
Since it is my birthday, I get to choose what we do all day long. Breakfast outdoors, cards, presents, the sun, the pool, the view, the yummy drinks to try, the books to browse, the talks to talk – being right here is all I want to do. All day long.
From the rooftop, we see the sun set over the Acropolis.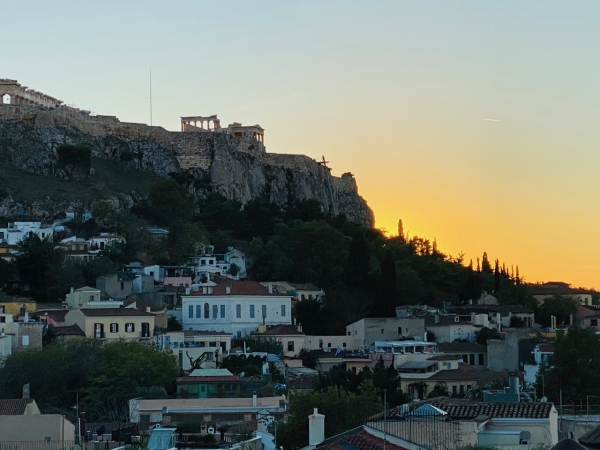 Second sunset, view from rooftop terrace
At night, Acropolis is beautifully lit up. And just behind us, the moon is perfectly full. In fact, it's all perfect!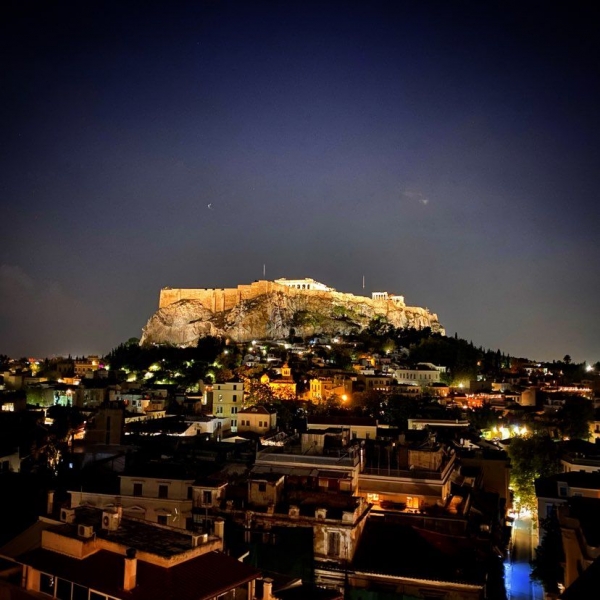 Athens by night, rooftop views
Mindful of the corona curfew at midnight, we explore the narrow streets.
Looking a bit dangerous with those face masks. Rather enjoying the cat burglar feel.
This restaurant is next to partially excavated ruins.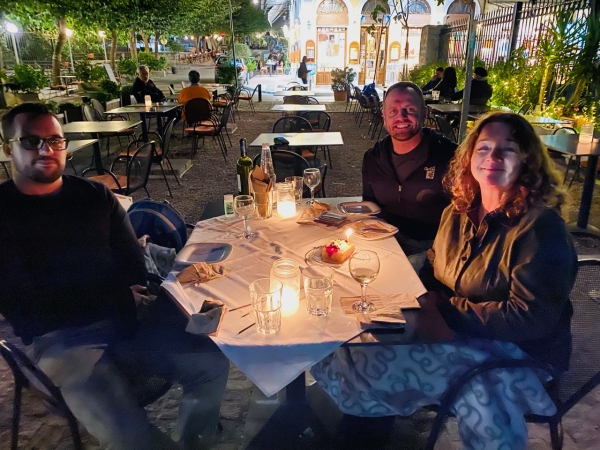 Bit chilly when the sun's down.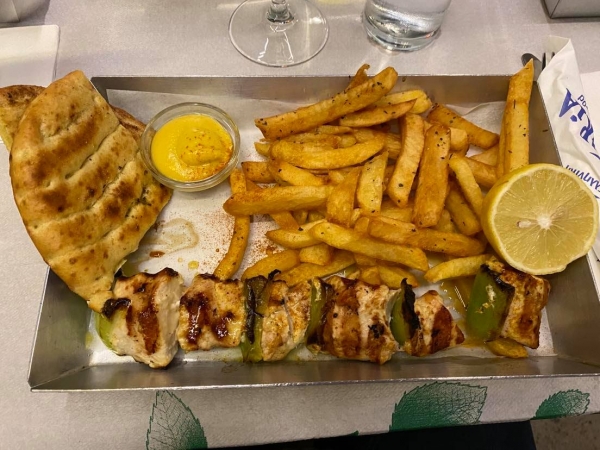 Souvlaki again. I'm easy like that.
There's cake… great, big slab of cake
And more cake… not… small
Day 3: Driving to Meteora
Next morning, we pick up the hire car downtown, and set off towards Meteora. I have driven in Greece before, and faced a most serious accusation. "You drive like a man. A Greek man," I was told. By a Greek man. I'm not quite sure what to make of that statement, considering most of them drive like they do in Beirut, where 3 lanes often become 5.
We take turns driving. Tom gets the difficult part, getting out of town, crazy Athens traffic and not exactly clearly identifiable roads. Driving on the right side of the road, no less. I mean, he is used to the wrong side, after all.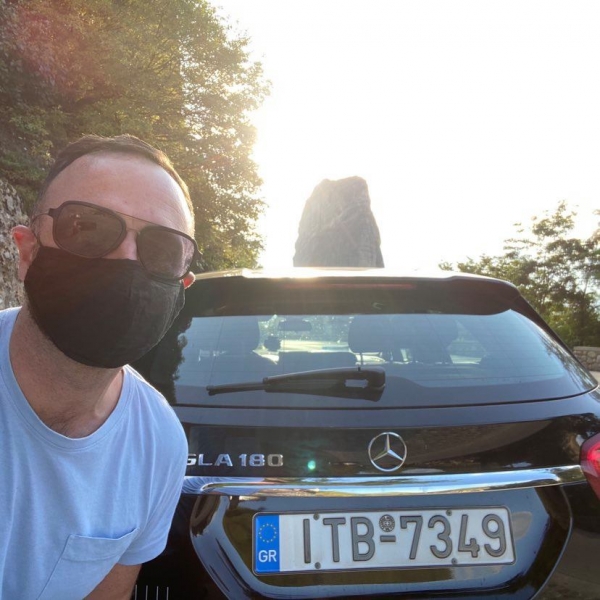 Meteora: suspended in air
Love this photo: the composition, the light! Meteora in a nutshell. Perfect capture, Andrew.
Two little towns lie at the foothills of the cliffs at Meteora, about 2 km apart: Kalabaka (sometimes spelled Kalambaka) and Kastraki. We stay in Kalabaka, at Alsos Hotel, which feels more like a cosy, rambling guesthouse. We have a large terrace all to ourselves, with this view straight ahead:
And this view to the side:
The monasteries close fairly early, some as early as 14.00. By the time we arrive in town, none are open. No worries, we'll see them from the outside, and enjoy the landscape and the sunset. And we have tomorrow.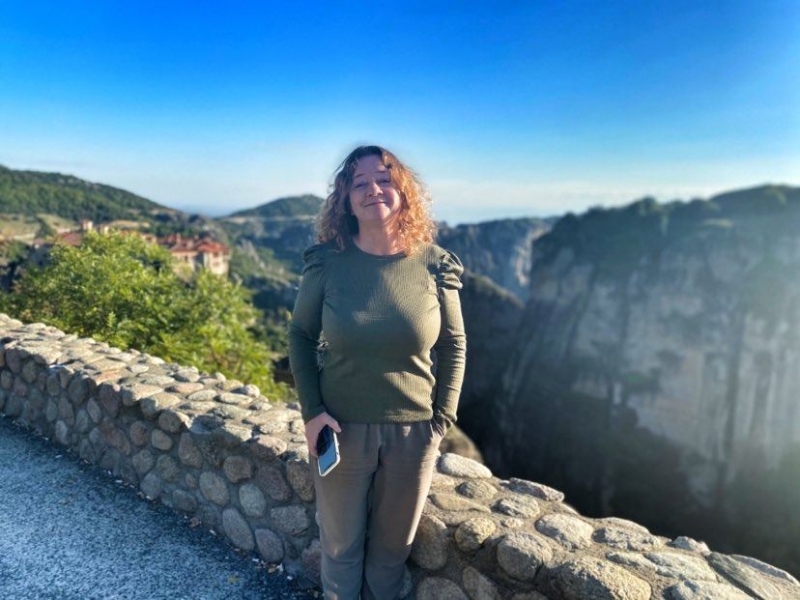 Monastery and me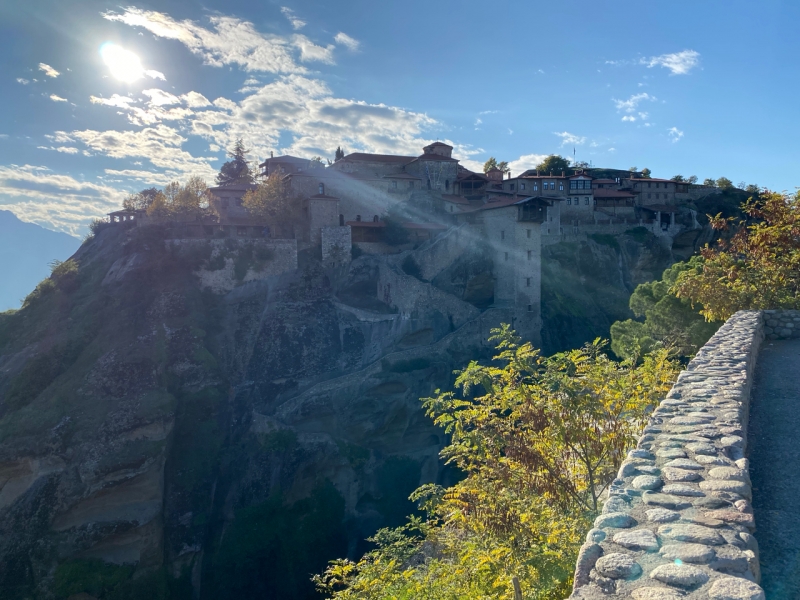 The holy monastery of Grand Meteoron, the largest and oldest of the lot. Currently, 3 monks are in residence, making social distancing a breeze, I imagine.
Varlaam and Roussanou monasteries. The latter has been taken over by women. 13 nuns in residence. 
Meteora means suspended in air. Monasteries, built on imposing sandstone pinnacles, as if they have grown out of the rock itself. That, and the Pindas Mountains as backdrop, makes this site oh so photogenic! I've never seen anything like it. And that's saying something.
Before the monasteries, there were caves, inhabited as far back as 50,000 years ago. And before that, some 60 million years ago, erosion and earthquakes created the sandstone pillars. 59,990,000 years later, (i.e. ca. 11th century), hermits settled here and eventually decided to build monasteries on top of these peaks, to ensure solitude to contemplate matters of the non-earthbound existence, I'm guessing. Retreat, meditation, prayer. Like Garbo, they wanted to be alone.
Over the next couple of centuries 24 of them were built, of which 6 are still in function (though there are rumours of a 7th). Architectural masterpieces. Technological masterpieces. Human ingenuity, in a time where everything was done with manpower alone. Everything. Without so much as an access road.
That said, it's the unique landscape that appeals to me the most. Unless you have a particular interest in Byzantine frescos – or enjoy climbing long, steep stair- and pathways, going inside just one will probably be enough to give you an impression of medieval, monastic Meteora living.
Liking these snapping snaps
Sunset over scenic spires
Meteora is famous for the technicolour sunsets over the cliffs. We climb a bit and find a good spot to wait for this spectacle of nature. Slowly, Alectrona dips behind the cliffs. (Greek goddess of the sun, I like the name).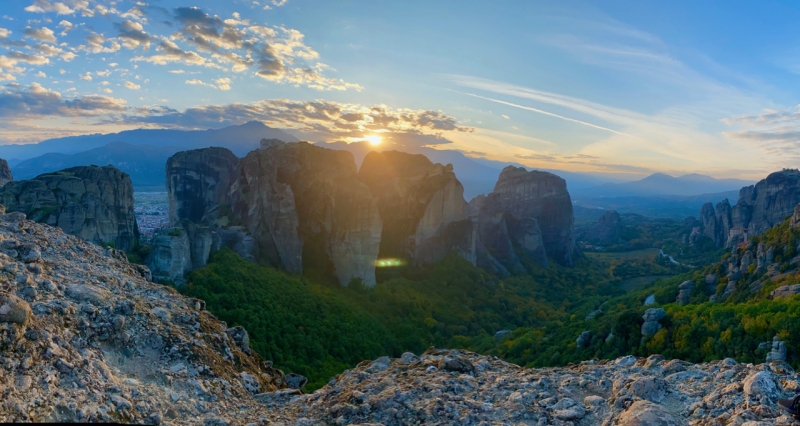 Third sunset, Meteora. 
We have an early dinner. By now, you know what souvlaki looks like, so we'll move right along, to discover Kalabaka's nightlife – which we find most satisfactory, at the lively Feel the Rocks.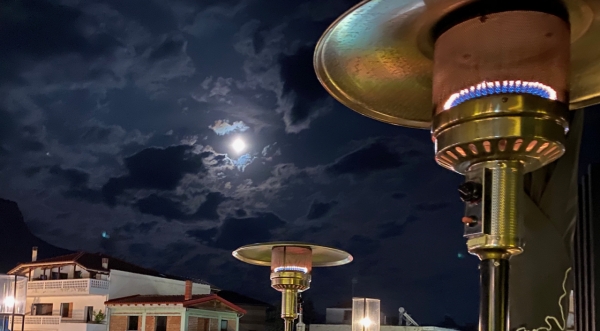 Feeling the cool vibes @ Feel the Rocks – and the moon is almost full still
Another rooftop terrace, another starry night with the moon shining above. Also, an amazing DJ, delicious drinks, and scrumptious, substantial snacks; they come free with our drinks.
How to become famous in Kalabaka
Midnight is about to strike, and we stumble back to our guest house. Only to discover I have lost the room key. Yep, I lose things. Always have. Keys, money, myself… Might as well own it.
To be fair, it was a very small key. Hoping against hope, I run back to Feel the Rocks, just as they're about to close. All staff gathered downstairs, looking on as I desperately pull at the door. Staring me up and down, one says: "Key?"
Yeeees! They have found it. Minor humiliation is quickly replaced with major exhilaration. I would have done a cartwheel, if I knew how. Instead, I bounce about a bit, arms in the air, punch punch, you know… Can't be helped.
Rush back, holding on to tiny key for dear life, a quick comfort wine party on the terrace, then bed, cause sunrise is at 07.03.
Day 4: Meteora to Thessaloniki
Sunrise, sunset… (but no fiddler on any of the roofs)
07.03 am: Kitty and I, only ones up.
Much later: Brunch. Feel the Rocks once again, because that rooftop terrace! As we sit down, the waiter gleefully asks, wasn't I the one who lost the key last night? Despite that impertinence (or possibly because of it), they get a yes from me.
Then, stamps, because we're postcard-sending folks. Finding a post office is a bit of a challenge, but Andrew ain't no quitter. Then we're ready to climb a few stairs.
For your eyes only
I mentioned the monasteries are accessible by stairs or pathways. This one is also accessible another way. See the faint line going from the platform on the left across to the monastery?
That's right: a cable car, though not for the average tourist.
We're at the Monastery of the Holy Trinity, Agia Triada. Since we're seeing just one of these architectural marvels up close, we've chosen the one that is hardest to reach (though not intentionally): down a cobbled hill to the foot of the rock, then up 200 steep steps. The stairway was built about 100 years ago; must have been a bit of a trek without them.
Not that many steps, really. Yet, my thighs feel pretty wobbly those last few. Once, I easily climbed 3,800 steps up to the Jain temples at Palitana. OK, so that's 20 years ago, but still… I'm gonna blame the face mask.
On top is a 15th century cathedral, and up those stairs there, is an absurdly beautiful little circular rock-hewn chapel with equally beautiful 17th century frescos. Sadly, photography is not allowed in the chapel, and we obey.
But the view, y'all. The view!
Once, 50 monks lived here at Holy Trinity, but already 120 years ago, that number had dwindled down to just 5.
On a more secular note, this is where the avenging Melina Havelock wielded a crossbow like a boss, in For Your Eyes Only. This excites me more than it does the others. I do enjoy watching James Bond films, (sexist, misogynist dinosaur though he is).
And there's Tintin: a travelling, exploring journalist always stumbling into adventures. My favourite comic book character! Tintin and the Golden Fleece was filmed here at Holy Trinity.
Thankfully, going down is easier
Thessaloniki
In Thessaloniki, we're staying at another Electra Palace. On the city's main agora, Aristoteles Square, it's a beautiful building – and one of the most famous images of the city.
Left: Electra Palace, right: view from room
Thessaloniki is a port city, and this image of the Aegean is what first meets us on a walk along the promenade. What is it with water that just invites pondering? It's a liquid, a solid and a gas. It has shaped this planet, it's the prerequisite for any life, and our human form consist of 60% water.  And importantly just now: looking at it is enigmatic, energising and easing, all at the same time.
We wander along the harbour front, towards the cylindrical White Tower, emblem of the city.
Thessaloniki is a city with a brutal history. Captured and sacked by the Ottomans in 1430, many of the inhabitants were enslaved. The Ottomans constructed this tower 100 years later, using it first as a fort, then a prison. Mass executions frequently caused the façade to be covered in blood, earning it the moniker Red Tower. Nearly 500 years later, when Greece gained control of Thessaloniki after the First Balkan War, the tower was symbolically whitewashed.
Remember I briefly mentioned the Macedonian naming dispute further up? After the break-up of Yugoslavia, confrontational nationalists in the newly independent nation of Macedonia (today North Macedonia) printed bank notes with pictures of the White Tower and other Greek Macedonian monuments. The notes were never legal tender, but even so, it did nothing to ease relations between the Macedonias.
Today, the White Tower is a museum of the city's history. Sadly, we can't go inside. We've arrived in Thessaloniki just as Greece locks down, so we can't go inside anywhere.
Fourth sunset, Thessaloniki harbour
Watching the sun set over the Aegean, we discuss our plans for the next day, our one full day in Thessaloniki. With full lockdown, we'll have to do all our exploring outdoors. And lunch will have to be takeaway in a park. Rain is forecasted, but no matter. We can do it. And our hotel will have the restaurant open for guests, so at least dinner can be dry.
Wine in paper coffee cups: take-away drinks.
Back at the hotel, we receive texts from the airlines about our flights being cancelled. Hectic phone and online activity ensue. Starting on our planned departure day, flights are cancelled all over the place. After a bit of scrambling, we get seats on flights out the next day. Just in time! Got timing down to a tee by now!
xxxxxxx
The monuments inscribed on the World Heritage list comprise religious, secular, and military buildings and structures, including 4 kilometres of city walls. The White Tower is the only part I get a look at, and only from outside. I decide it counts, but only just.
Thessaloniki is a very walkable city, known for Byzantine architecture, shopping, and a cuisine influenced by Turkey, Arabia and Armenia. That will all have to wait for another time, in a post-corona world. (Ideally, combined with a visit to Mount Athos. Though that will be a challenge, considering people with female bodies aren't allowed within 500 metres of the coast there. Hm, how to dance around that…)
3 ½ eventful and relaxing days in Greece, even with restrictions = a giant dose of vitamins for the soul, to sustain us when winter sets in.
I'll leave you with another look at that Aegean sunset.
All photos by Andrew Morland, Tom Brothwell and myself.
Acropolis, Athens, Meteora and Paleochristian and Byzantine Monuments of Thessalonika are UNESCO World Heritage sites.
Here are more UNESCO World Heritage sites around the world.