Barentsburg, you say? Where on earth… ?
The Svalbard archipelago has four settlements of significant size, one of them is Russian. Norway has sovereignty over the archipelago, but the Treaty of Svalbard ensures all parties equal access to scientific and economic activities in the islands.
Enter the Soviet Union. Since 1932, Russian company Trust Arktikugol has run coal mines on Svalbard. Once, they had four settlements in the archipelago. Today, you can visit two of these. Pyramiden is abandoned, slightly spooky and very interesting (more on that in a later post). Barentsburg (named for Dutch polar explorer Willem Barentz) is Russia's last remaining settlement in the Arctic.
Arriving by boat, the M/S Polar Girl of Longyearbyen, this is my first impression of the little mining community:
Oleg, a Ukrainian, greets us as we dock. The town itself is 254 steps up; not a place for the physically challenged. But once you're up, most things are located along Main Street, ulitsa Ivana Starostina.
Formerly a colony of about 3 000, this chilly Arctic community provides economically attractive employment. 5 000 Norwegian kroner (about 600 EUR/900 USD) is the monthly salary. Barentsburg is also a non-monetary community. Whatever the residents use in the cafeteria, shop or bar, is subtracted from their accounts. The remaining salary is then paid on return to the motherland after the 2-year-contract is up.
Today, Barentsburg is home to 300 Russian and Ukrainian miners, wives and children. Or 1 000, according to other sources. Let's go with Oleg's estimate: 550 – a happy medium. At any rate, the number is decreasing. With a nearly empty mine and a dwindling population, the Russians must devise new plans to keep the place alive.
As we saw a few years ago, the Russians will hardly give up their presence in the Arctic. What will they do – apart from planting Russian flags underground? Five years ago, plans were afoot to recreate the little Arctic community into an environmental flagship. So far, not much has happened.
Near these houses is a statue of Lenin. Can't believe I didn't photograph it. Instead, enjoy this example of… shall we call it development in architectural styles.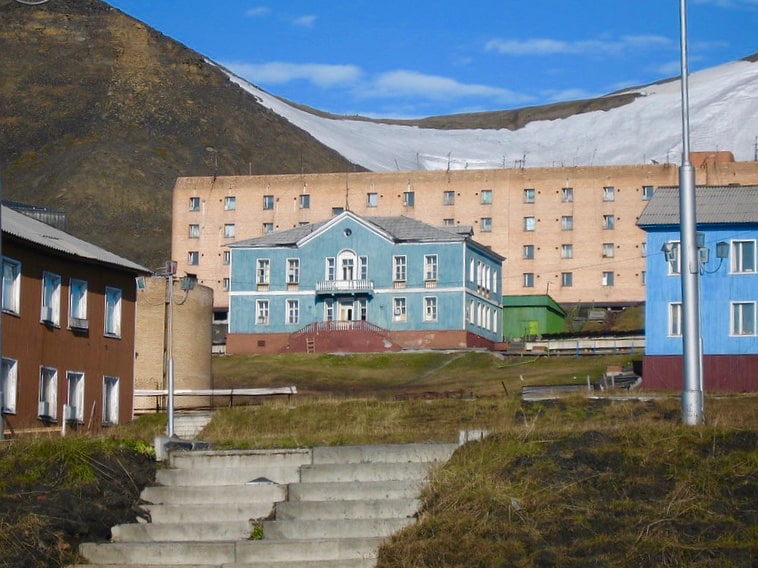 Old and new… well, new-ish… Barentsburg houses
The world's northernmost Russian-Orthodox chapel was built in memory of 141 people who died in a 1996 plane crash and 23 miners who perished in a mine explosion a year later.

The world's northernmost Russian Orthodox chapel – probably the world's northernmost chapel of any religion
The Pomor Museum is a tribute to the staunch people who first explored these northern shores. It also features interesting archaeological and zoological displays, including a dinosaur footprint from the area. We spend a good hour here.
My eyes keep reverting to a low flimsy tent and a thin sleeping bag, trying to imagine shivering through freezing Arctic winter nights in one. Apsley Cherry-Garrard comes to mind, one of Scott's men in that fateful Antarctic expedition 100 years ago. In his book The Worst Journey in the World, Apsley describes a winter journey to collect emperor penguin eggs. When telling of freezing in temperatures of 70 degrees below zero, he describes it as a succession of shivering fits taking possession of his body for many minutes at a time, until he thought his back would break from the strain.
Practicals
Several roads lead from Longyearbyen to Barentsburg. Or rather, several means of transportation will get you there. In winter, i.e. for most of the year, you can choose a dog sled, a snowmobile, skis or even a helicopter, if you're on official business. In summer, it's a leisurely boat trip away or a 2-day hike. Remember to bring a rifle for polar bear protection. Rifles can be hired in Longyearbyen if you can prove you know how to use one.
You can sleep at Hotel Barentsburg. It's fairly simple. And fairly reasonable (certainly compared to Longyearbyen hotels). Book by phone + 47 79 02 18 14.

A Barentsburg family enjoying a Sunday walk
Food, vodka and entertainment in the hotel bar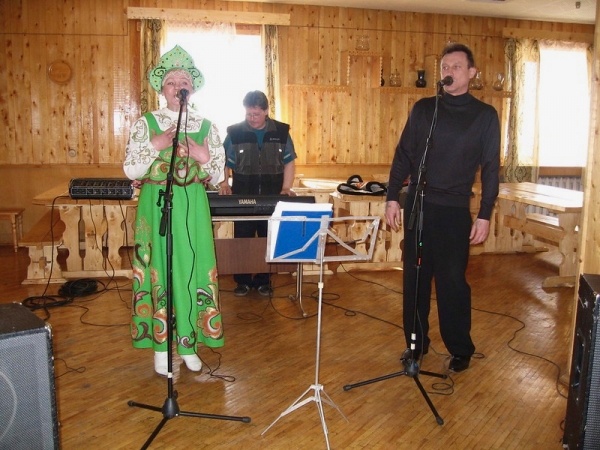 …then perhaps more vodka at the Cafe Bar 78 parallel?
Send a postcard home from Barentsburg post office. It's a branch of Longyearbyen post office, thus stamps will be Norwegian. But there's a special Barentsburg postmark.
Get your Soviet kitsch at the cultural centre and only shop in town, Polar Star. I bought Glacial El Dorado Spitsbergen, a gorgeous photo book with English and Russian texts for 100 kroner, a bargain.

Strapping young Soviets adorn the cultural centre
For a longer narrative on Barentsburg, have a look at my article on Boots'n'All, The Last Remaining Russian Settlement on Svalbard. If you would like to be informed of updates to this blog please sign up via Feedburner here.