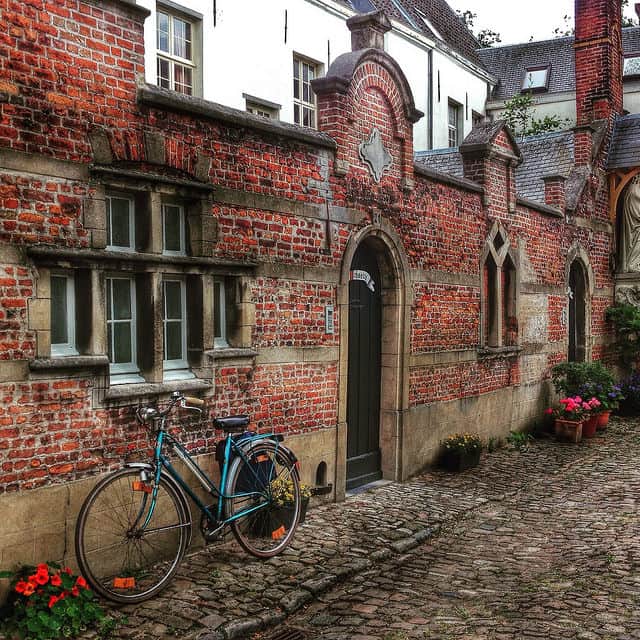 A béguinage, what is that? Well, let's begin with a béguine (come on, that was funny…)
A béguine is, or rather was, a woman who dedicated her life to her god – but didn't necessarily want to take a vow, or withdraw from the world.
Who were these women? According to one theory, wars and crusades left a surplus of women. More recent theories refute this, saying instead single women moved to the cities to find work.
We're in the 1200s in Flanders, and these devout single women – either widows or ones who decide marriage can wait, perhaps forever – need somewhere to live; preferably somewhere their social, economic and spiritual needs will be met, as well as their need for independence. A 13th century women's movement, you might say. Where the women make up their own support network, rather than relying on the church.
And so they build communities, a bit like enclosed compounds, known as béguinages. Inside the compound, houses surround a courtyard. There's a chapel, and more useful buildings such as bakeries, breweries, farm houses, and often an infirmery as well. On the perimeter, protective moats or walls, with gates open during the day and locked at night.
Presently, the béguinages are mostly homes, and as a visitor, be sure to treat it as such. Also in the present, i.e. in 1998, 13 (out of 29 in Belgium) of these medieval béguinages were found to have outstanding universal value, and added to the ever expanding list of world heritage, afforded special protection for future generations. According to UNESCO, the béguinages…
… are a fascinating reminder of the tradition of the Béguines that developed in north-western Europe in the Middle Ages.
Furthermore,…
The béguinages constitute an outstanding example of an architectural ensemble associated with a religious movement characteristic of the Middle Ages, associating both secular and conventual values.
The 13 listed béguinages are spread out over Flanders. If you're ever in Dendermonde, Diest, Hoogstraten, Kortrijk, Lier, Sint-Amandsberg, Sint-Truiden, Turnhout, Leuven, Tongeren, Mechelen, Ghent or Bruges, stop by for a look at one of these peaceful havens.
Béguinage in Bruges
Ten Wijngaerde (Vineyard) is the béguinage in Bruges. Today, it serves as a convent for Benedictine nuns. A sign at the entrance tells us to be quiet.
The whitewashed houses surround a central courtyard, a village green. Notice how the tall poplars all lean the same way? Perhaps one could say it's symbolic of life in the béguinage; everyone leaning one way; their own way.
Béguinage in Antwerp
If you're interested in experiencing a béguinage, and don't care whether or not it's part of the world heritage listing, I'd recommend the one in Antwerp. Why it isn't listed, I couldn't tell you. It's as pretty and architecturally interesting as others I've seen. It's not the first time I'm not understanding UNESCO's reasoning.
On Rodestraat 39, at first the red brick walls seem a bit foreboding. But once you enter that tranquil garden, you'll find a wonderful place to escape city noise for a bit. About 100 residents live here today, mostly elderly women. Anyone can rent an apartment here. Or so they say. But the owner is the Catholic church, and if you're young, free and single, chances are you'll be elderly before you get in.
I sit down in the garden. Just me, a wandering tabby cat on the bench beside me, birds chirping, fountains rustling, and the scent of honeysuckle pervading the air. For a good while, I just sit there, doing nothing. Soaking up quietness. Bliss.
World at a Glance is a series of short articles here on Sophie's World, with a single photo (I should really stop saying that – more often than not it's more), portraying curious, evocative, happy, sad, wondrous or unexpected encounters.
Flemish beguinages is a UNESCO World Heritage site.
Here are more UNESCO World Heritage sites around the world.
Disclosure: I've been in Belgium a gazillion times, whether in Brussels, Bruges or Antwerp, whether for work or pleasure; sometimes on my own accord, and sometimes at the invitation of others. No matter who foots the bill, I always retain the right to write whatever I want, or even nothing at all. My bit of cyberspace, my rules. Otherwise, this would make no sense.