Most people come to Kyrgyzstan for the majestic mountains and superb scenery. To hike and ride horses and sleep in yurts by high altitude lakes. To begin – or end – that mother of all road trips, along the Pamir Highway.
But at some point in your journey, you will find yourself with a day or two in the capital Bishkek, and it's a nice little city to explore. Here are 11 things to see and do when you're in town, with a focus on Soviet times.
1. Ala-Too Square
Ala-Too Square is the central spot in Bishkek. It used to be called Lenin Square and have a 10-metre high statue of Vladimir himself as the centrepiece, but no more. Nowadays, the focal point is Manas, hero of an 18th century Kyrgyz legend told in the form of a poem, with half a million lines. Half a million!
Meanwhile good ol' Vladimir has been moved. We'll get back to that.
Czechoslovakia had its Velvet Revolution (non-violent), Georgia had the Rose Revolution (also non-violent), and Ukraine had the Orange Revolution (not quite as non-violent). Kyrgyzstan got in with the flower theme with the Tulip Revolution that ended with First President of Kyrgyzstan, Askar Akayev, being overthrown and fleeing to Vladimir Putin. Ala-Too Square was the major venue for the massive protests those March days in 2005.
Today, the square is the place to see Soviet realism architecture (and who doesn't love that), flower beds, and musical fountains lit up at night. Most of all, it is the place to see and be seen in Bishkek. Although as tourists, I suppose it's more about seeing than being seen. People watching.
And Ala-Too? It means Great Mountain – the mountains surrounding the city.
The iconic arched building on Ala-Too Square
2. Historical Museum and Manas
At one end of Ala-Too Square is the imposing Kyrgyz State Historical Museum, covering the country's history from the Bronze Age to Soviet times, with cave sculptures, a yurt, and much more. Manas stands proudly in front, 17 metres above ground, all clad in scaffolding (this was in 2016, that area may be more accessible now.)
Let's walk around the museum, to the back. Maybe we'll run into someone famous.
3. Vladimir Ilyich Ulyanov
It has become a bit of a quest, finding Lenin in the oddest places. I think my favourite is the large Lenin head laying about, seemingly haphazardly, on a playground in Yerevan, next to a swing.
And here he is in Bishkek, moved from the front of the grandiose historical museum to the back of the building.
Still… he wasn't moved to an obscure sculpture park as in many other former Soviet republics. Just to a lesser place on a lesser square. Surrounded by trees and flowers; all in all not too shabby. And it's not as if he hadn't been moved before. Read on.
Vlad reaching out an arm pointing to the happy future ahead. A century later, and another Vlad is busy following in his annexing footsteps.
3. Ala-Too Cinema
I love the building that houses Bishkek's most popular cinema, the cool curved facade and the mosaics of cosmonauts from Soviet times. There is a similar eye-catching Soviet cinema building in Yerevan – and in Tallinn.
Ghostbusters was on.
4. The White House
Another cool building is the White House; all Stalinist modern style, modelled on the Duma in Moscow. During Soviet times, the building was HQ of the Central Committee of the Communist Party. Today, it houses the offices of the president.
5. The People's Friendship Monument
We're not done with remnants of the Soviet Union yet. Near the White House and Ala-Too Square, the People's Friendship Monument is a huge structure. The two marble pylons are ca. 28 metres high, surrounded by 13 people in stone. In 1876, Russia annexed Kyrgyzstan. Or Kyrgyzstan acceded voluntarily. Whichever version you subscribe to, this sculpture was erected for the 100th anniversary of that event, as a symbol of the connection between Kyrgyzstan and Mother Russia. If you're guessing it's a controversial monument, you'd be right. But here it still stands. Seems the Kyrgyz are a pragmatic bunch.
6. Victory Monument on Victory Square
The Victory Monument honour those who died in World War II. 3 arches form a yurt, the national symbol of Kyrgyzstan, with a funeral wreath on top. The woman in the middle is every soldier's mother, stoically awaiting her son's return from war. An eternal flame is burning at the foot of the sculpture. The monument was erected in 1985, 40 years after the end of the war. Or as Stalin would have said: 40 years after the Soviet Union's victory in the Great Patriotic War.
7. Martyrs of the Revolution
Martyrs of the Revolution was created in 1978 and shows a woman with a socialist army behind her that died at the hands of the bourgeoisie.
8. Kurmajan Datka
While we're on the subject of powerful women…
… and leaving the Soviet aspect, here is Kurmajan Datka, first female leader of Kyrgyzstan. A highly respected 19th century  politician, she was known as The Tsaritsa of Alai.
Also, this is where our friend Vlad stood until 1984, when he was moved to Lenin (Ala-Too) Square.
9. Monument to those who died for freedom
Also from more modern times, this contemporary monument memorialises the Second Kyrgyz Revolution in 2010. The one that toppled a corrupt regime and sent president Kurmanbek Bakiyev in exile in Minsk. Any fruits or flowers associated with this revolution, you ask? Why yes, indeed there is. This was the Melon Revolution.
The white marble is the new, the future – pushing against the black, the old.
Art – and life imitating art: Pushing back
🙃
All these power monuments and remembrances of the past… kinda takes your breath away, doesn't it?
10. Zhirgal Banya
Find your breath again in the banya.
Good thing then, that we have the banya to rejuvenate our heads and our weary muscles. Zhirgal Banya is Bishkek's largest public bath. I missed out on this myself, but I am assured it is a relaxing experience. Also, I have it on good authority there is a little cafe at the back of the men's side, where you might encounter a father and son drinking kumis (fermented horse milk, healthy local fare). Also, don't be surprised if the server in the cafe on the men's side is a woman.
11. Sierra Coffee
I've spent a few productive hours in Sierra Coffee and you can, too. Or just come to chill. Fresh, locally roasted coffee, friendly folks, cheerful and relaxing atmosphere. And if you're American and craving Mexican food, this is the place to go.
12. Metro Pub
No getting around it, seems we cannot be in Bishkek without stopping at Metro. Lots to look at (model planes in the ceiling, old clocks, cameras and various kitsch memorabilia), atmospheric, good mojitos, live music, dancing.
A bit road weary after driving the Pamir Highway
Outside Bishkek
If you have several days in Bishkek, you might want to venture out of town for a bit. Here are a few suggestions relatively close to town.
13. Burana Tower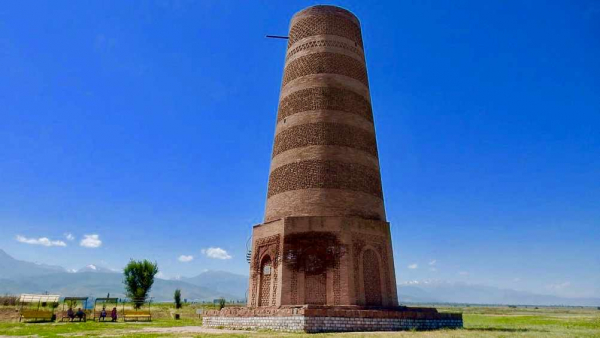 About 1.5 hours from Bishkek is a 25-metre high minaret, all that remains of the ancient city of Alasagun along the Silk Road. The 11th century Burana Tower is one of 33 sites along the UNESCO-listed Chang'an-Tianshan Corridor.
14. TokMok
15 km from Burana, on the way to Bishkek, is Tokmok. Once a military outpost, a highlight is this fabulous plane sculpture.
15. Lake Issyk Kul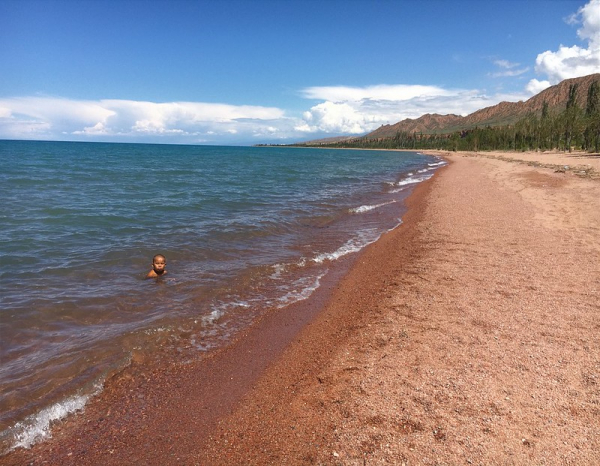 Finally, if on a lovely summer day, you might fancy a dip, make it in the Lake Issyk-Kul. All the way up at 1,600 metres above sea level, this is the 7th deepest lake in the world. 2.5 hours from Bishkek by car.
OK, so we've got a few more than 11. Again. Call it a bonus. There is even more to Bishkek, of course: Osh Bazaar, markets, museums, street art, parks, shops and, not least, Central Asian staple feed, including (but not limited to) lagman, manti, plov, and shashlik. I'll come back with that next time I'm in this neck of the woods. Which is bound to happen sooner or later.
Photos by Andrew Morland, Tom Brothwell, myself and an enlisted bystander at Metro Pub.
Silk Roads: the Routes Network of Chang'an-Tianshan Corridor is a UNESCO World Heritage site.
Here are more UNESCO World Heritage sites around the world.
Disclosure: I have visited Bishkek twice, once in private capacity, and once in part sponsored by G Adventures. As always, as ever, editorial control remains mine, all mine.