Tuesday 8 January 2008
It's early morning on the Nile. The girls are still asleep. I'm alone on deck. Going down river (north) is windier. The pages of my note pad is blowing fiercly, at times lightly whipping my face. In my imagination, I'm boating the Nile in 1879.
Our Nile ship, the M/S Helio, is a medium-sized vessel. According to my book Up the Nile – a photographic excursion 1839 – 1898, Lloyd's guidebook advised that
life on a Nile bark has a charm which seldom fails to operate even on the most inert mind.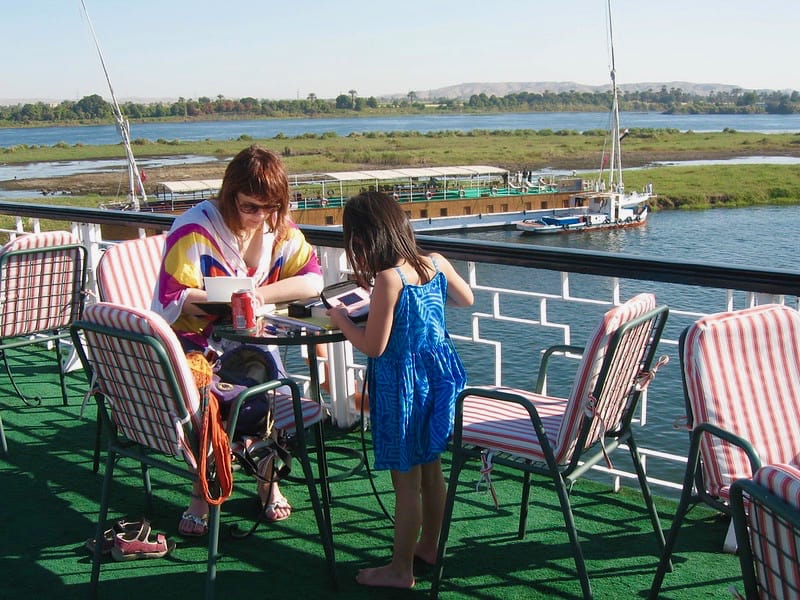 It has that! Despite air condition and mobile phones, it feels like we have been transported to another era.
In the 1800s, there were three basic modes of transport on the Nile: the sailing boat known as a dahabiya, the smaller sail boat cange and the steamer. If time was of the essence, the steamer was the answer. Travellers with time and money (such luxurious creatures they must have been) sailed by dahabiya.
Dahabiya and steamer
Looking up, I spot a dahabiya. I expect this one has more mod-cons than the one pictured in my book. The old photo of the inside of a dahabiyah in 1879 looks irresistibly romantic, though. To hire one, Lloyd's recommended securing the services of a respectable dragoman,
charging him with the responsibility of providing everything needed, such as a cook, a man servant, and an assistant to wash and clean the travelers' apartments.
Boating the Nile today
Back in the present – 129 years later – Agatha has joined me on deck. I've never spoken with her. Gnarled with arthritis, she has white hair, white clothes, white shoes, white handbag. Only in my mind do I call her Agatha. Seems appropriate. The Nile continues to be fertile grounds for the imagination. Impudently, I stare as she gazes at the meandering river and the occasional rusty boat floating past. What's her story, I wonder? I know she's German and she looks 85 – 90. I picture her as a young girl during the war, with high wavy hair, in a dress. Her features indicate she must have been a pretty young lass.

Ida is next on deck. She's a sprightly 80-something Dane who has visited Egypt more than 40 times. Normally, she travels with a friend. But this friend has decided to limit her travels to once a year and that simply will not do! Recently, Ida hired a car and drove through all of Egypt by herself. She is fiercely independent and really cool. My kids adore her!

More and more people mill out on deck. We're a multifarious lot. A sweet Swedish couple has brought their son and granddaughter along. She's 13, but looks 18: blonde, heavily made-up eye lids, yet so shy, she can barely whisper her name in introduction. Apart from my daughters, she is the only other kid onboard. Daddy is about 35, big, bald, tattooed and wears a jacket saying "See you in hell".
Two middle-aged Danish couples are rowdy and annoying. "To beer or not to beer", they repeat to the joy of no one but themselves. Then there's Yvonne, also travelling on her own. Her birthday was yesterday and she had to endure drums and off-key singing from the crew at dinner.
Bread and circus. Food and entertainment. And a whirling dervish. Natch.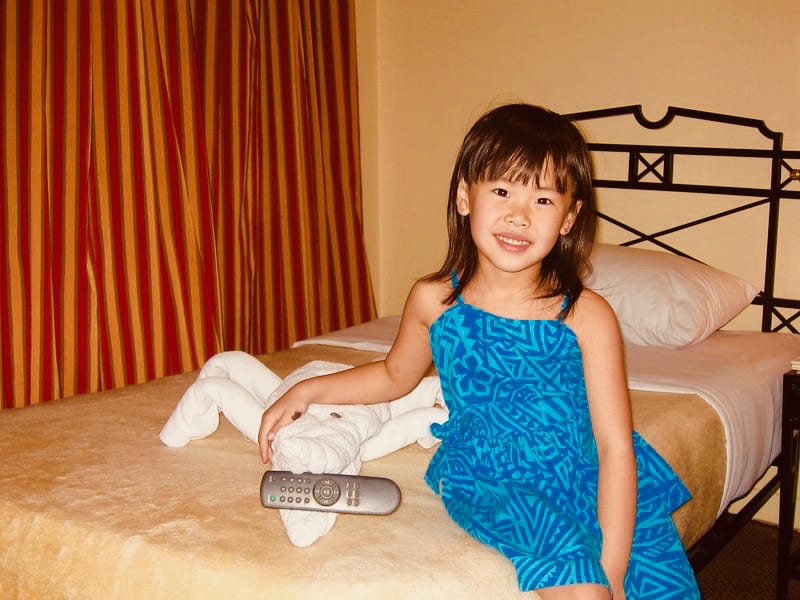 And yes. Towel animals. Really.
The only child onboard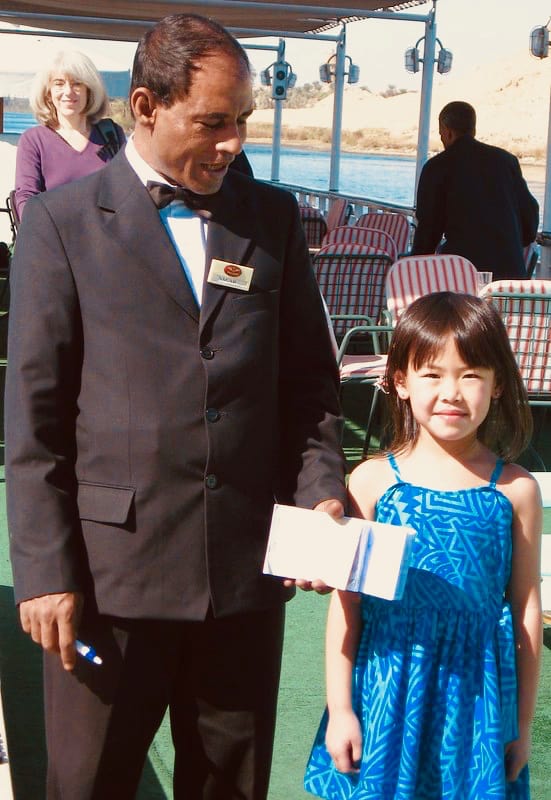 One evening, there's a galabiyah-party on board. For me, a black galabiyah-ish top suffices as fancy dress. The girls are dressed up in silken skirts with all sorts of jingly bits. Alex even sports a black close skull cap with even more jingle-jangle.
Cat is the youngest on board – the only child – and everyone's pet. For most of the journey, she is the only child on board. The crew adore waiting on her: she is always served first and they play and joke with her all the time. And she adores the attention.
At the evening's tombola raffle, the crew makes sure she wins a prize – a stuffed little camel singing an annoying tune.
After the raffle and group photography, it's time for rowdier games. Good thing Cat's tired. Those things can be a bit of an embarrassment and it's nice to have an excuse to back out. Who said travelling with children was inconvenient?
No Hercule Poirot, but…
Can't see anyone who'd likely commit a murder on board. No Mia Farrow or Simon MacCorkindale lookalikes. No one seems destined to end up in the pool, face down. Nor is there an Hercule Poirot, ready to solve a murder mystery. However…
Meanwhile, the Nile flows past, through the ancient landscape. As she has done for thousands of years.