Gaping holes, pitch black squares and rectangles, glare at me as I approach. And shades of grey. So many shades, many more than 50. Here and there interrupted by patches of rusty red. The abandoned, derelict ruin is all that is left of this once luxurious hotel at Bokor Hill Station.
When I hear the word hill station, my mind immediately leaps to Shimla and Darjeeling and Kashmir; Englishwomen in white chiffon dresses and men in white uniforms, seeking temperate mountain air as a respite from the heat and humidity of the subcontinent's hot, scurrying cities.
But the Brits weren't the only weather-sensitive European expats in this part of the world. Two hours from Phnom Penh, in the coastal province of Kampot, lies the misty and mystical Bokor Mountain. During the days of French Indochina, this was playground for colonialists and Khmer royals when Cambodia's capital city became too oppressive.
Misty, yes. But the colonialists might not have considered it mystical. That's perhaps an adjective better suited to describe the intriguing remains of Bokor Hill Station today.
In the 1920s, the French built a hotel, a casino, a church, a post office and a water tower here; much of which remains today. And Khmer royals, notably King Norodom Sihanouk, built palaces and villas on the mountain side. You can still see his Veang Khmao (Black Palace).
20 years later, during the First Indochina War, the French abandoned Bokor Hill, leaving it to be reclaimed by the jungle. In the 1970s, this area provided an ideal hideout for the Khmer Rouge during the Vietnamese invasion. We're close to the Vietnamese border here. Scars from bombing can still be seen and there are unexploded artillery shells.
It has been quite difficult to reach Bokor Mountain. Until 2011, a rough-hewn mountain road suitable only for walking, was the sole transport route up the mountain. Today, there's a proper road, National Highway 3, from Kampot to Bokor Hill Station.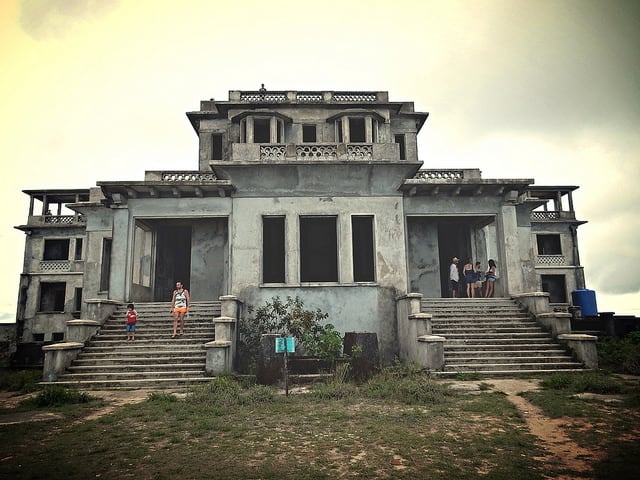 Bokor Palace Hotel seen from the backside
I'm drawn to the once elegant Bokor Palace Hotel. It's deliciously spooky, just begging me to step inside. Can you picture this room with art deco furniture and chandeliers? What might have happened here, do you think? In the corridors, in the halls, and on the winding stairs, almost 100 years ago? I try to get a feel for those that once wandered through these rooms. The ghosts of 1920s cocktail parties. And for a few minutes I think I can.
Fellow travellers lament that this remarkable structure isn't rehabilitated and brought back into use. They have a point, and the eerie hotel will probably be renovated, or worse, torn down to make way for new and glitzy. There's already a new casino nearby, part of a large-scale development project with golf courses and holiday homes.
But for now, the Bokor Palace Hotel is home to ghosts of a bygone era. Once a hive of activity, with noises, voices, and life, today just whispers of the past remain.
Are you weirdly drawn to abandoned places as well?
Disclosure: This time in Cambodia I was a guest of the country's Ministry of Tourism. Every word, every thought, every opinion are mine, all mine. As ever and always.