Do you keep up with World Heritage? If so, you will have noticed that the English Lake District was just added to the list this month. And deservedly so, in my not-so-humble opinion.
We arrive in Ambleside on a lovely April day. I simply plugged Waterhead into the GPS, and after leaving Manchester airport behind, we were led straight to it (always a nice surprise, as I always seem to get lost, even with a SatNav). Pulling in directly from the major road going through the district (A591), we enter the pleasant reception area.
We only have two nights in the Lake District, our first day is all planned out, with visits to the Lakes Distillery and what not. But first, afternoon tea. When in England…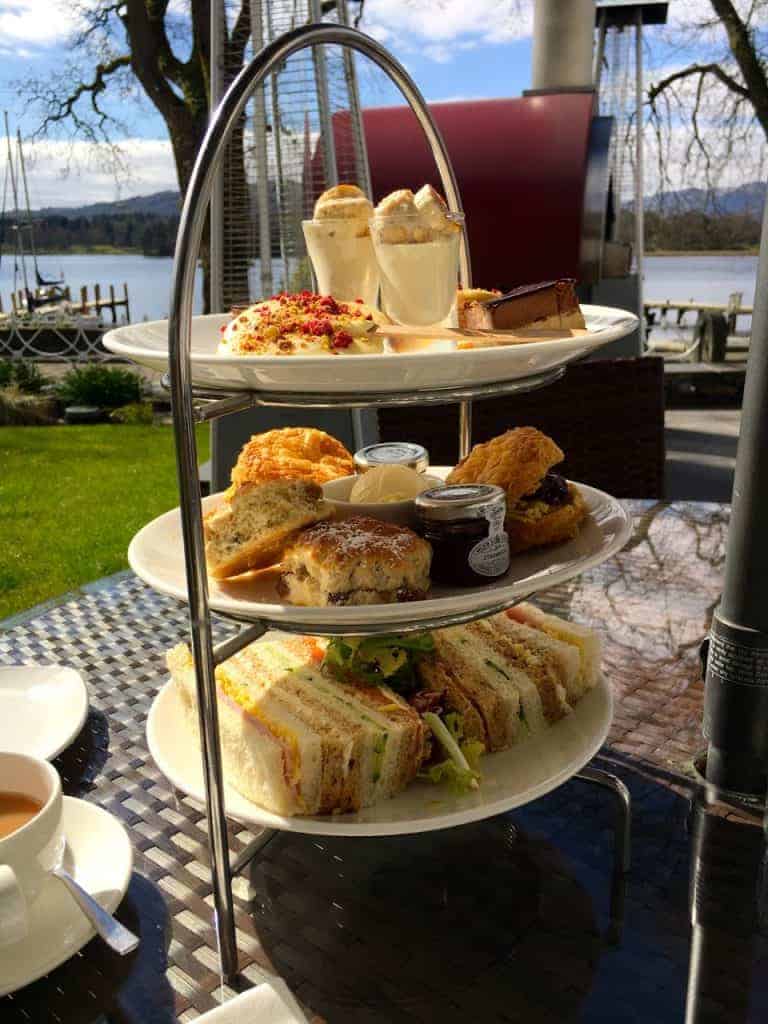 In the garden, looking out on Lake Windermere, we are served the delicious treats on a classic 3-tier stand, underneath a Union Jack rippling in the wind. There's even ice cream!
A Perfect Location in the English Lake District
The Lakeland-slate house fits perfectly in this tranquil waterfront setting.
Rooms at the Waterhead
We walk along an old-fashioned corridor, past rooms numbered 1, 2, 3, and so on. It's something delightfully old-world about sleeping in room number 5, rather than 9548.
Our room has two large beds, a desk, and a coffee table with two leather armchairs by the window overlooking the lake. It is spacious, yet cosy, with a complimentary fruit basket, lovely Grasmere gingerbread, coffee, and tea from Teapigs. Some rooms have a Nespresso machine and complimentary local gin!
The bathroom is equally spacious, with gorgeously scented toiletries from The White Company. And yes, you can buy more at reception to take home.
The Bar & Grill is the hotel restaurant, serving excellent breakfast. It's difficult to control yourself with this offering. And why should you? I had Eggs Florentine and a sinful little pain-au-chocolate on my first morning! Made up for it the next morning, though, with poached eggs and fresh fruit. If you prefer the more conventional full English breakfast – well then, say no more. Eggs, bacon, sausages, fried tomato, beans, toast… you name it – choose your main course from the breakfast menu, made to your specific order.
In addition to the afternoon tea, lunch and dinner is available. Be sure to make reservations for dinner, though, as the Bar & Grill is a popular spot for locals. We tried the Herb crusted fillet of salmon and the Pan seared breast of duck for dinner. Both divine.
The Waterhead Hotel in the English Lake District: the lowdown
What I particularly liked
This is England, so naturally dogs are welcome – anywhere but the restaurant. If you don't want to leave the pooch, eat at the bar instead.
Beatrix Potter audiobooks on a continual loop in the common area toilets make for longer than strictly necessary restroom breaks.
Wonderful location, right on lovely Lake Windermere, just by the pier. Ambleside town centre, with quaint little shops and cafes, is just a 10-15 minute walk away.
Large, comfortable king beds to roll around in.
A healthy, delectable breakfast buffet and mains cooked to order.
Free and easy wifi throughout.
Rooms with lake views!
DVD library for guests' use.
Pleasant staff throughout; service is attentive, but not intrusive.
What else?
No lifts, and quite a few steps going from reception to the restaurant as well as to the rooms: could be a challenge for disabled. Wheelchair accessible rooms are available.
The front of the hotel faces a busy road. Rooms are soundproofed, though (also the road is very quiet at night), so no worries if you're a light sleeper.
There isn't a gym in the hotel, but guests have complimentary use of the facilities at nearby Low Wood Bay Health Club. But do you really need a gym in the Lake District? Walking and biking trails are practically right outside the doorstep – and there are several lakes for a refreshing swim. Or, if you think a holiday should mean complete relaxation, just sit back and take in the pastoral landscape.
Specifics
Read the specs about the Waterhead here.
Disclosure: I was in the Lake District as part of a collaborative campaign with Visit Britain Norway and English Lakes Hotels. As ever, I retain the right to write anything I want – or nothing at all; my bit of cyberspace, my rules.