Hey there, folks!
Travelling is still off limits for most of us, so 2020 will be the year of bringing the world to us. Mohammed and the mountain, remember?
We've already talked about books and food. Today, I thought we'd play with puzzles. And UNESCO World Heritage sites.
I'm not talking about this puzzle, made of wood and just now sitting on my kitchen table, taking up space.
Instead, I've chosen 10 of my favourite photos from World Heritage sites around the world, and created digital puzzles for you to play with when days get too long – or you're just in a playful mood. And they take up only virtual space! Which we've got enough of.
Enjoy!
The observant reader will have noticed there are 11 puzzles here, not 10. I wanted to include an everyday scene close to home. Because, you know, I can. Here's the only non-UNESCO site of the bunch: an urban cityscape at Grünerløkka in Oslo.
The Vega Archipelago comprises more than 6 500 little islands, and is located just south of the Arctic Circle. People have lived here since the Stone Age, mostly living off nature. It's a rough environment, especially in winter – and it has been a frugal way of life, fishing and sustainable, cruelty-free eiderdown harvesting.
If this isn't the classic puzzle motif, what is? Park Musakowski – or Muskauer Park in German – is on the river Neisse. Remember the Oder/Neisse line from history lessons in school? At the Potsdam Conference after World War II, on Stalin's insistence, the rivers Oder and Neisse were set as the border between Poland and East Germany.
I got a kick out of going back and forth across the bridges in the park: Now I'm in Germany, now I'm in Poland. Poland – Germany, Germany – Poland… Life's simple pleasures. (What can I say, I'm easily amused.)
The Lake District National Park is 2 300 km². It has idyllic little villages, sloping hills and dales, rugged fells and crystal clear lakes; in short, an all-round beguiling vista. And it's just up the street from the vital, independent, slightly defiant city Manchester!
Içeri Şəhər, the walled old city of Baku, is a fascinating place to explore. Cobbled streets, narrow alleys and stairways turning this way and that, courtyards, small shops and taverns, little (almost indistinguishable) mosques, caravanserais, bathhouses and gardens. Yet the old town is very much living and breathing, with children playing, mothers hanging clothes to dry, grandfathers playing backgammon and dominoes in the shade.
In the hanseatic city of Wismar, the clouds and weather cooperated nicely a few years ago. On a corner of market square is Wasserkunst am Markt (Water art on the Square), a 16th century well that supplied water to the residents of Wismar for centuries, until 1897. Gorgeous, isn't it?
Cinque terre. Nuff said.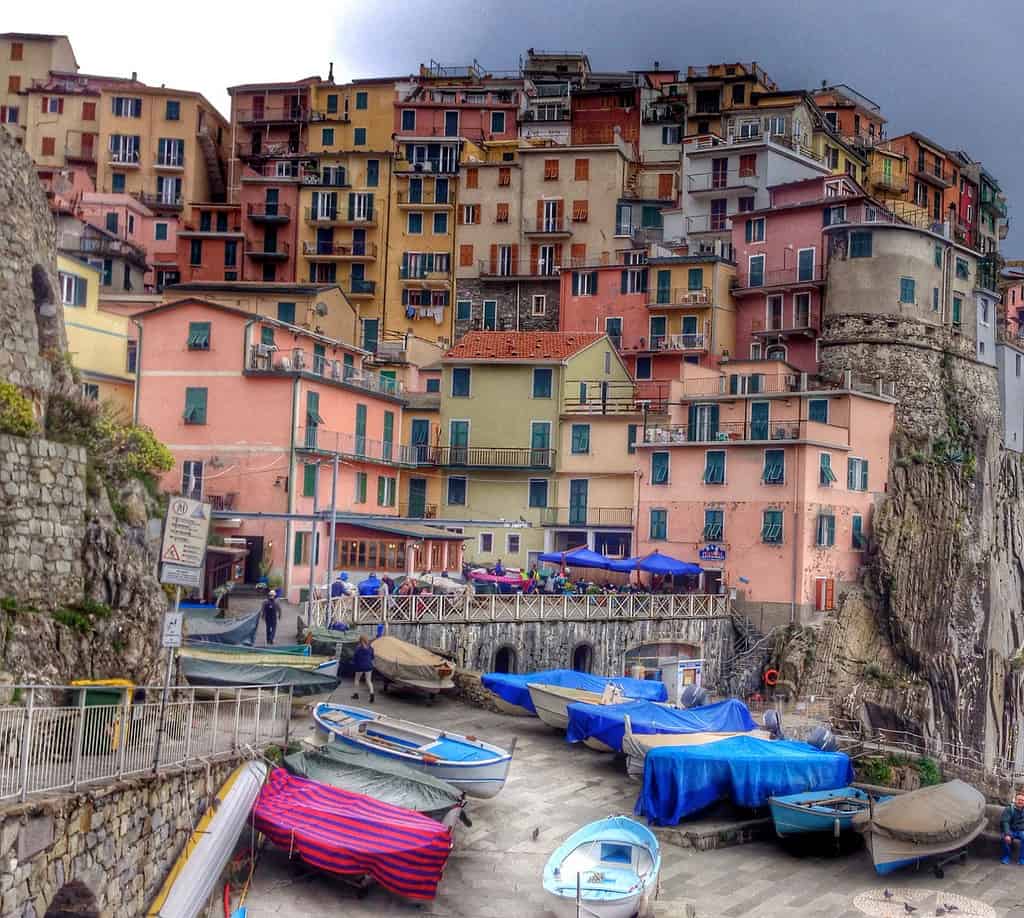 You'd like a stunning seaside town along the Dalmatian coast, you say? There are many of those. But you want calm and quiet, as well? In August, prime holiday season for weary Eurocrats and everyone else? Normally, we'd say 'ha!' right here, and deprive you of any such illusion. But then there is Šibenik.
Cobbled streets in the rain. So very Riga.
Qadisha Valley, with Lebanon's famous cedar trees. Cedars of the gods.
A hot July morning in the absurdly pretty village of Saint-Emilion, wine growing country extraordinaire.
Want more puzzles?
More over at JigsawPlanet, with even more being added. This is addictive! If that's not enough, head on over to Hecktic Travels. (Great minds, Dalene 🙂). Or you can create your own. Easy as pie.