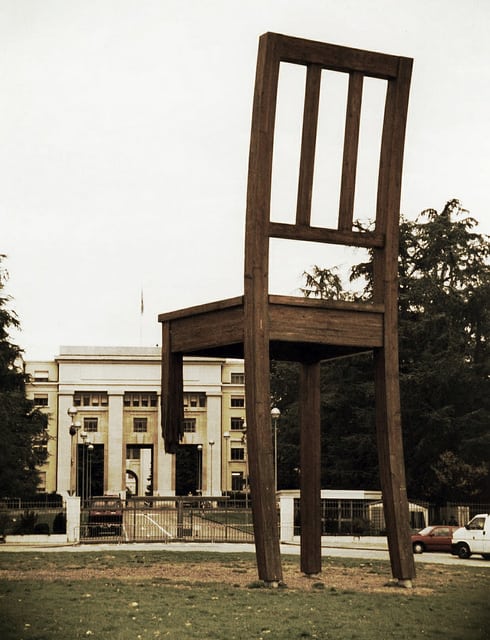 As this is published, I'm on my way to Geneva for a closer look at some of Switzerland's heritage sites. I haven't been in town for about four years now, but during my civil servant days, I was frequently in Geneva, participating in various UN committees. Then, on my way to work every morning, I'd stop and have a look at this broken chair across the street from the UN headquarters, Palais des Nations.
It's a substantial sculpture: 12 metres high and made of more than 5 tonnes of wood. It's also a sculpture fraught with symbolism, showing opposition to cluster bombs and land mines.
Originally set up in connection with the Ottawa Treaty on banning land mines in 1997, it was meant to remain in place for three months until the treaty was signed. Some countries have yet to sign the mine-ban treaty, including most of the permanent members of the Security Council.
The chair was taken down in 2005 for renovation works at the UN, but put back up two years later in connection with the convention on banning cluster bombs, signed in 2008 in Oslo. 84 countries are party to the convention, again (unsurprisingly perhaps) lacking some of the major players.
Sadly appropriate then, that the sculpture still stands.
World at a Glance is a series of short articles here on Sophie's World, with a single photo, portraying curious, evocative, happy, sad or wondrous unexpected little encounters.