Castletown was the first Manx capital. And where I finally had lunch.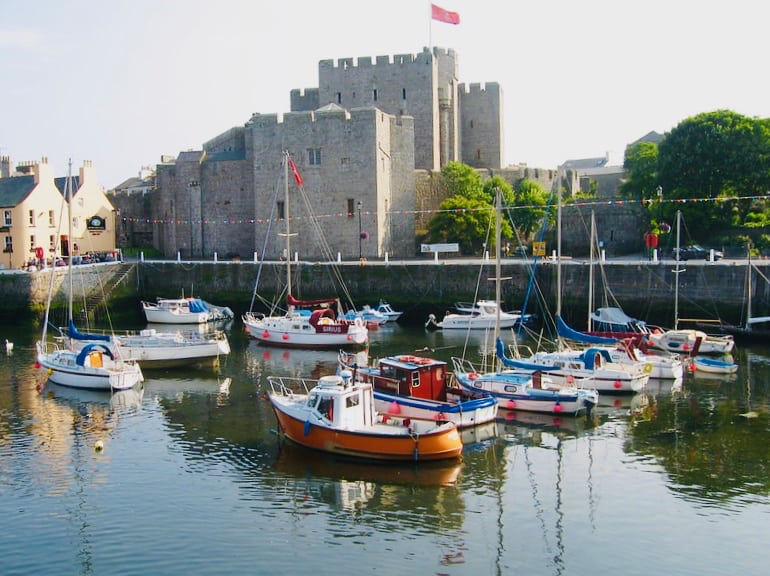 At about 5, I stopped at a cheerful pub called The Castle Arms that looked cosy in the late afternoon sunshine. Might they have some food and not just beer, I enquired. "Sorry, luv," the man said. "We finish serving food at 2. Try the Garrison or the Viking. The Viking serves pub meals from 6 o'clock." Then he went on to give detailed directions to the Viking – over the bridge, around-and-a-ways, next to the petrol station – clearly indicating, I think, which of the two alternatives he preferred.
I was hungry now however, so the Garrison it was. Looking at its menu, comprising wine and tapas, I could see how it might not offer ideal grub for a big, burly man. Anyway, he called me luv. A bit naff, I know, but I rather like it when big, burly men call me luv.
Castle Rushen – and a bit of Castletown history
Settling on chicken breast stuffed with smoked salmon (sounds odd but it works) followed by a ham, cheese and peach salad and a lovely glass of Italian red, I stared out the window at Castle Rushen – one of Europe's best kept medieval castles. I thought of Magnus Olafsson, my fellow countryman and the last Norse king to rule over Man. He died in Castle Rushen in 1265. The following year, another Magnus (Magnus Lagabøte – or Magnus the Law-mender in English) ceded the Isle of Man to the Scots at the Treaty of Perth. (Norway kept Shetland and the Orkneys for another couple of hundred years, until a king of Denmark-Norway pawned them (!) to pay for his daughter's dowry… but that's another story for another time).
A few minutes earlier, a guide was busy closing up shop at Castle Rushen. Her colleagues were soaking up the last rays of the setting sun, chatting and waiting for the remaining visitors to leave. None too happy with me showing up 4 minutes before closing time, they were reluctant to let me in. But I was firm, insisting it was 4.56, not yet 5. I showed them my 4-attractions-on-Man card (which I hadn't time to use, silly me for buying one), determined not to leave the island without at least using half of it.
Back at the Garrison, I was persuaded to try a dessert called Eton Mess. When I asked what on earth that was, the waitress just said: "It's gorgeous!", herself rather gorgeous – and slim. So I took my chances. Eton Mess is meringue, whipped cream and strawberries, all mixed together in a well… mess. Eton? I suppose this is what rich young boys like for pudding. Afterwards, I thought I was going to explode, that's how full I was.
Castletown Square has the imposing Castle Rushen on one side. On the other, the cerulean ocean peeked through an alley. Waiting for the bus back to Douglas, I reflected on, as I often do, the fact that I'd probably never see this square again. A pretty square in a pleasant town on an interesting island. Sadly, the world is full of places I haven't yet seen…
Tomorrow: some concluding thoughts and observations about the Isle of Man
Below: Castletown harbour. I do like sail boats.