As you may remember, I've decided to say yes to everything… well, at least most things. Here's the second episode in the sporadic series Sophie tries new things. Subtitle: Steam bath in a chicken coop. Outdoors. In 40° C. In a word: Awesome!
In the Bo Rai district of Trat province, in Thailand's southeast corner, next to the Cambodian border, you'll find the Chong Changtune Live Eco-museum.
A live museum, you ask? That's right. Part outdoor museum and part nature trail, this is more like a village, where I'm about to get a glimpse of the Chong way of life. The Chong are strongly connected to nature. Using ancient local traditions, the community here in Bo Rai has created an unusual spa experience, far off the beaten track. In every sense.
Arriving at the eco-museum, we're served lunch – delicious and simple Thai home cooking: spicy banana stalk chicken curry, fried salted pork, soup, a cucumber salad and leaf-wrapped coconut sticky rice (my fave!). Dessert is heaps of fresh pineapple (also my fave!)
Then it's time to test the Spa de Chong, a herbal steam bath in a deliciously bizarre chicken coop.
I undress and put on a colourful skirt I'm handed, pulling the elastic up under my arms. Then I'm sat on a low stool, next to a steam machine. The chicken coop/steam hut is then lowered over me, leaving only my head on the outside.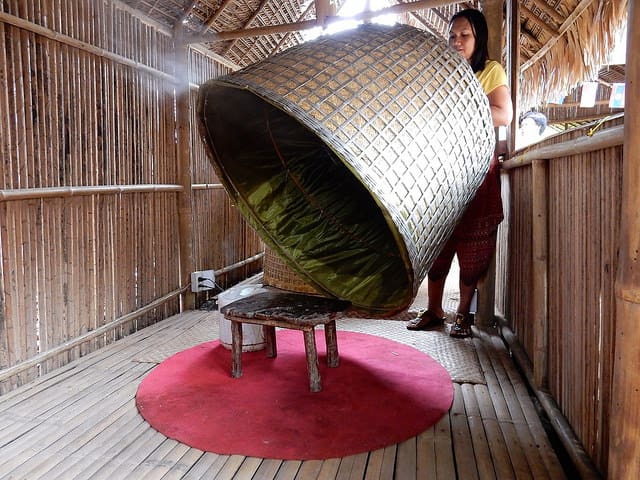 At first I'm wondering if 15 minutes in a steam bath is going to be unbearable in the heat. No worries; it's really just lovely. I'm told local women have used this as cleansing after childbirth. It makes sense. I'm feeling cleaner by the minute, and could easily have continued being cooped up (sorry, couldn't resist) for another 15 minutes.
But there's much to try here. My next treatment is 15 minutes of Thai massage in the open air, on show for any and all. (Shy? Get over it!) As for the massage, this time I know what I'm in for. I'm looking forward to it… with just a tiny flickr of trepidation.
Yin is the boss. She is 77, and has been working as a masseur since she was 15. Along with her two cousins and her apprentice teenage grand-daughter, she takes very good care of us.
Yin and her grand-daughter work on me. It's a very agreeable 4-handed massage and I'm about to fall asleep when Yin finds a spot in my lower back. Owww! She prods and pokes and I bite my lip to avoid screaming out loud. After a few minutes the excruciating pain is replaced with a feeling of warmth. Or maybe I've become numb, I don't know. Either way, Yin seems to intuitively know what I need, and the 15 allotted minutes become 30.
Next up is a white mud spa in the river. Transport is by sidecar and my co-passenger is one of the village dogs.
The motorcycle isn't a Norton, but riding along, I think it looks like Che Guevara might have ridden it through South America 60-odd years ago and tossed it by the wayside when it died, then had it resuscitated and taken to Thailand by way of the Pacific, underneath the sea. But don't judge a book by its cover – or a motorcycle by its appearance. It runs well, with no unexpected ticks or twists or turns. And it has that sweet vintage bike sound.
The driver runs well, too – no surprises there either. When he spots a snake slithering across the country road, he remains cool and just drives around it. Easy as pie. And the dog is loving it, standing there like BatDog, ears flapping in the cool breeze.
Down by the river I'm directed to a suitable rock. Four village girls paint my arms and legs with white, fragrant mud. As it dries, it looks as if I have some exotic skin affliction – yellow and white spots all over. Then I rinse off in the river, feeling even cleaner than before.
After this refreshing treatment it's time to pan for gems. This is ruby country. I'm confident I'll find a few little ones, but soon give up. I discover I just don't have the patience. I'd make a rotten gold digger. Glad I found that out now, and not in a few years, when time travel will be all the rage, and I've popped over to California Anno 1849.
Meanwhile, I'll settle for having cut and polished my own stone in Chanthaburi – a yellow sapphire. More on that later.
Soon I'm back on the sidecar, doggie included – and off we hustle back to the village. Just in time for tea and making my own little medicinal remedy consisting of various types of pepper, nutmeg, selinum, borneol, clove and camphor. It's a cure all. Have arthritis? Sore muscles? Stiff neck? A headache or a stuffy nose? Rub it on or inhale it, and you'll be right as rain.
Sadly, my half-day of spa indulgence is over much too soon. But at least I have my self-made herbal balm which will no doubt come in handy as winter returns (probably much too soon) in the northern world. In fact, I think I can feel a cold coming on. Best to have a sniff right now.
Changtune eco spa Thailand practicals
A few things on offer I didn't have time to sample is foot massage and a mud facial.
A complete spa package here at Changtune costs 800 baht, including all the various treatments as well as lunch. That's EUR 20 / USD 23, a very good deal. You can also get the treatments separately, for 150-200 bath each.
As this is a popular venue for locals looking for a bit of pampering, be sure to book in advance by telephone, +(66) 0824858338.
The eco-museum is located about 45 minutes from Trat town. Taxis are cheap.
Hardly anyone speaks English or any other European language, so either practice your body language skills – or ask your taxi driver to help you translate.
Note that this is a traditional spa experience. There's nothing fancy or pretentious here. On the contrary, this is about as close to unplugged as you'll ever be, in every sense. Conditions are rustic, facilities basic, everything is communal and utterly charming.
Disclosure: I was a guest of TAT, the Tourism Authority of Thailand. Every bit of pleasure and pain, every thought and opinion, are mine, all mine. As ever.