Reminiscing about a Christmas past today, a Christmas in India. You'll pardon the photos – they're from the days of 35 mm-film in rolls. Remember those?
We rarely travel over the holidays. It's a sacred time of sorts – not in the conventional meaning, but in the sense that it's home time. It takes a lot to beat Norwegian kos* for Christmas, and it has been particularly hard to drag the kids away. In fact, I've only succeeded once.
*Kos can be loosely translated as cosiness, but that's really much too limiting. Kos is about warmth and love and being with friends and family. It's about intimacy and candles and sitting in front of the fireplace at your mountain cabin. And much, much more.
Backpackers
When Alex was 9, I persuaded her to come along to India. The province of Gujarat was the destination, and we were with four other Scandinavian 9 – 11 year-olds travelling with their mother, grandmother or aunt.
We had an eventful Christmas in India in proper backpacker mode; sleeping on the beach, on hard seats in Indian trains, in the bed of a truck, in desert clay houses, on bales of hay in a stable, and on the floor in a pilgrims' hostel – a dharamsala – with Jain pilgrims.
Palitana
We climbed the 3950 steps up Shatrunjaya hill in the ancient city of Palitana.
Getting ready for the long trek to the top. And noticing that not everyone is allowed up.
The very old, very young or very lazy, can be carried in a doli
On top, we drank buffalo milk and gawked at 863 exquisitely carved marble temples and 27000 statues. It was absolutely worth the climb. Yet we only climbed once. Followers of the Jain religion make the climb 99 times, necessary to reach bhavya, their version of salvation. Over cooking fires at our dharamsala, we met quite a few happy pilgrims, enjoying an evening meal after having finished their 99th climb. Admirable dedication.
Diu, Pirotan Island and Sasan Gir National Park
We spent a few days on Diu Island, to relax at the beach and for the grown-ups to have wine with dinner. Diu is a former Portuguese colony, and the only place in Gujarat that isn't dry.
We slept on the beach on Pirotan Island, waking up to birds staring us in the face. A slight Hitchcock-feel that.
We visited gurus in Sasan Gir National Park, and hoped to spot the Asian lion, which can only be found here. No luck, sadly.
We listened to naked Jain monks (not a highlight for the children, it must be said) imparting timeless wisdom. Why naked? The idea behind Jainism is to conquer oneself; it's a very ascetic sect. Not only do these monks live naked (digambaras, 'clad in air'), they also only eat once a day, standing up. It's important that they not hurt any living thing, so they're strictly vegetarian and some even cover their mouth with a cloth to avoid swallowing an insect by accident.
Great Rann of Kutch
Still, the highlight of the trip was a camel trek into the Great Rann of Kutch in the Thar desert. For three days, we rode camels, or in camels carts, or walked through the desert.
Hasmukh, our guide, had secured permits from the police for us to visit and stay overnight in tribal villages along the way. This is a volatile area, near the Pakistani border. This is also an area famous for handicrafts and fabulous mud artwork. Sadly, much of this area was destroyed in the powerful earthquake in 2001, but much has been rebuilt.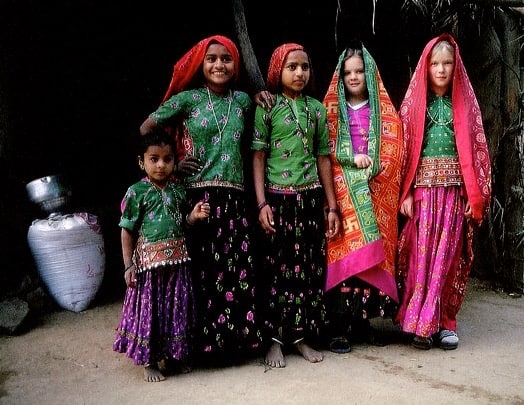 On 24 December, we reached Sumrasar village. The kids wasted no time finding local playmates and learned how to play with chickens and goats and buffalos.
That night, we slept on bales of hay in a stable. Next to us were loud but adorable newborn little lambs. It seemed somehow appropriate for Christmas Eve.
The next day, we continued to the village of Bhirendiara, where we stayed in the immaculately clean clay houses of the Banni people.
The adults, especially the women, were shy, but the children took care of that. Don't they always? Soon, we were all baking chapatti and making tea. Embroidery is a speciality of this village; we slept on layers of brightly coloured woven, embroidered blankets – right out of The Princess and the Pea.
Returning to Bhuj, the major city in the Kutch area, dirty, exhausted and happy. We were completely covered in sand, dust and probably substantial amounts of camel urine. I must have used half a bottle of conditioner just to get the tugs out of my hair.
Cow wandering the narrow streets of Bhuj
And look, new violin from a music shop in Mumbai on the way home. Our knowledgable local guide, Hasmukh, in the middle.
Gujarati girls
Have you visited Gujarat? Do you often travel over the Christmas holidays?