Portovenere
I know you're all waiting for Cinque Terre – and I'll get to that. But hold your horses, as the Yanks say. First, I'll show you a town at least as pretty (and even more interesting, I think). That's Portovenere, just a few kilometres away. I'd recommend staying here rather than in the five little villages, especially in summer, as with fame come the crowds.
Not only is Portovenere a lovely base for a visit to Cinque Terre; it's a very worthwhile destination in itself, with natural beauty, quirky, colourful Ligurian architecture, and fascinating stories to boot.
A place that inspires great works of art, to be sure. And no, I'm not talking about this little photo/write-up. Famous poet and diplomat Lord Byron lived in Portovenere, in a grotto it's said – and his friends Mary and Percy Shelley stayed in Lerici across the gulf, now named Golfo dei Poeti.
Don't know about you, but I've always had an image of the romantic poets as pale, weak, indoorsy kind of people. Not so. They were positively athletic. Byron swam across the gulf here to visit the Shelleys, a distance of 7.5 km.
That's not quite a marathon (which in the swimming world is at least 10 km), but pretty impressive all the same, especially considering the winds and waves. Here at Grotta Byron his feat is commemorated
the immortal poet who as a daring swimmer defied the waves of the sea from Portovenere to Lerici
Dramatically, on 8 July 1822, Percy Bysshe Shelly drowned when his sailing boat sank off the coast here, at the ripe young age of 29. Percy had staged a play in Livorno, and was on his way home to Lerici with two others. The bodies were washed ashore ten days later.
A storm was raging and their sailing skills were questionable. Yet speculations abounded: was this an accident, was it suicide, or was it perhaps a political murder? There was even talk of pirates. Conspiracy theories … nothing's new under the sun.
Apart from the poetic connections, Portovenere has crooked little alleys with brightly coloured houses, steep stairways, an impressive castle and the gothic Church of San Pietro precariously placed on a petrous promontory (sorry, couldn't resist).
Immediately in front of Portovenere are the islands of Palmaria, Tino and Tinetto. And just a few minutes out to sea, you'll find mysterious azure grottos.
Cinque Terre
Coming from Portovenere, Riomaggiore is the first of the five little villages. It's a distance of 14.6 km, a good hour's walk if you're up for it. However, to get that jaw-dropping first impression, that classic Cinque Terre photo op, approach from the water. Sadly, we didn't. The ferry was cancelled (rough waters), and I arrived by bus, not the most romantic way.
Cinque Terre, Portovenere and the islands together form a UNESCO World Heritage site, and it's easy to see why. When I imagine the terrain as is must have looked to the first human there, well, it can't have been the most welcoming of places. Manarola, for example, must have appeared a huge, dark crag. Building a house, a community, in this steep, rough terrain must have been incredibly challenging; especially considering the machinery available 1000 years ago. Yet the resulting landscape here along the jagged cliffs is exceptionally charming.
Hiking Cinque Terre
Continuing from Riomaggiore, you come to Manarola, either by the Cinque Terre Train that links the villages, or by foot along the romantically named Via dell' Amore. This is the easiest section of the trail: a good half hour hike, about 2 km long.
The three other towns in the protected Parco Nazionale delle Cinque Terre are Corniglia, Vernazza and Monterosso. Hiking between all five takes 5 – 7 hours, plus however long you want to stay in each. Be aware that sections of the trail are sometimes closed, as happened after the floods in 2011.
Even back streets and shabby stairways are ridiculously picturesque in Cinque Terre:
Tired after the hike? It might help to know this is wine growing country, with particularly tasty white wines on offer. I can recommend the Sciacchetrà Terra di Bargòn, known as a meditation wine. It comes in tall, slim bottles and goes particularly well with cheese and Genovese fruit cake.
We only had one day in Cinque Terre, covering Manarola and Riomaggiore, and with lots on the agenda. The hike is for next time. Already looking forward to meditative wine breaks along the way.

Can't have a picturesque village without a photogenic cat, the winery cat of Riomaggiore insisted.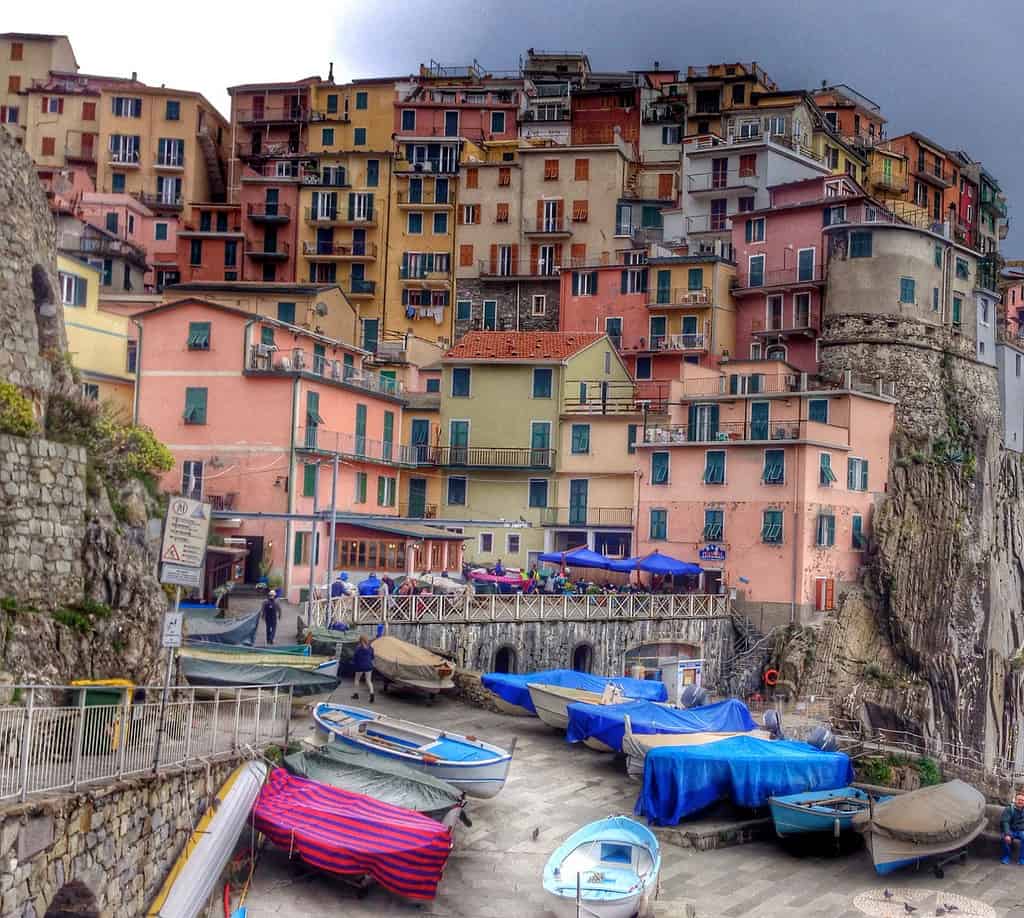 Portovenere, Cinque Terre, and the Islands (Palmaria, Tino and Tinetto) is a UNESCO World Heritage site. Here are heritage sites I've visted around the world.
Disclosure: I was invited to Italy as a guest of Turismo in Liguria. As always, I retain complete freedom to write about all or nothing, whatever takes my fancy, good or bad… you know.