What's the first thing that comes to mind when you think of Acapulco? Perhaps these crazy cliff divers?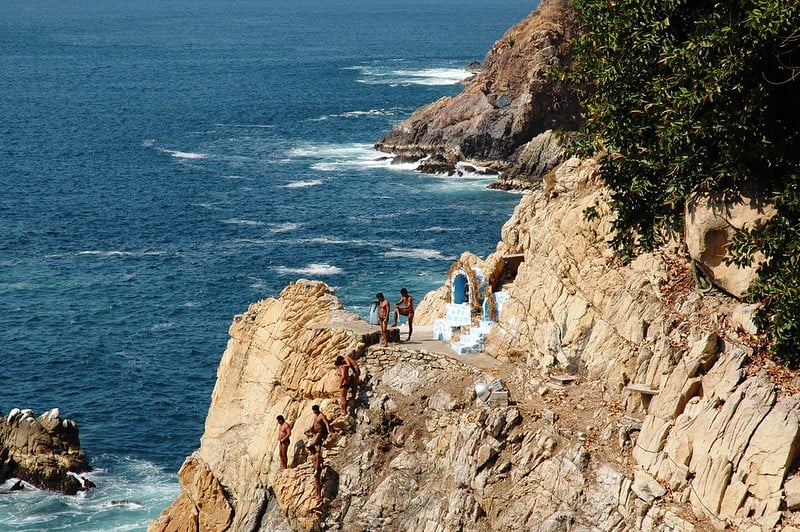 For nearly 100 years, divers have been flying off the cliffs at La Quebrada – extreme sport performers long before that was a common term. At first, it was boys playing. Then, in 1934, the manager of the nearby El Mirador Hotel turned them into a full-fledged attraction. La Quebrada Cliff Divers have been stars ever since. And several times a day, they dive head first off the dangerously jagged cliffs, into the narrow cove.
Notice the little temple on the platform? That's a shrine to the Virgin of Guadalupe, an important part of the divers' ritual.
Next comes timing. It's vital not to land in the shallows, so dives are carefully coordinated with the waves as they crash in. The horizontal distance have to be at least 10 metres away from the cliff face to avoid hitting the rocks below. Lots to keep in mind during the few seconds you're falling at 130 km/h.
At night, they dive with flaming petrol torches, we're told. Must be even more hold-your-breath spectacular.
Adventure travel is not merely for boys, neither is adventure sports. I ask whether there are any girl divers. Indeed there are. Iris Selene Alvarez, grand-daughter of one of the original divers, jumped off the cliff for the first time at age 12, the youngest person ever, according to Guinness World Records.
Ready, set, go:
Waiting to meet the fans and rake in a few pesos after: