Kölner Dom – Cologne Cathedral in English – is imposing. More than 600 years in the making, this structure was built to inspire awe. Awe of the Christian god. And of Prussian power.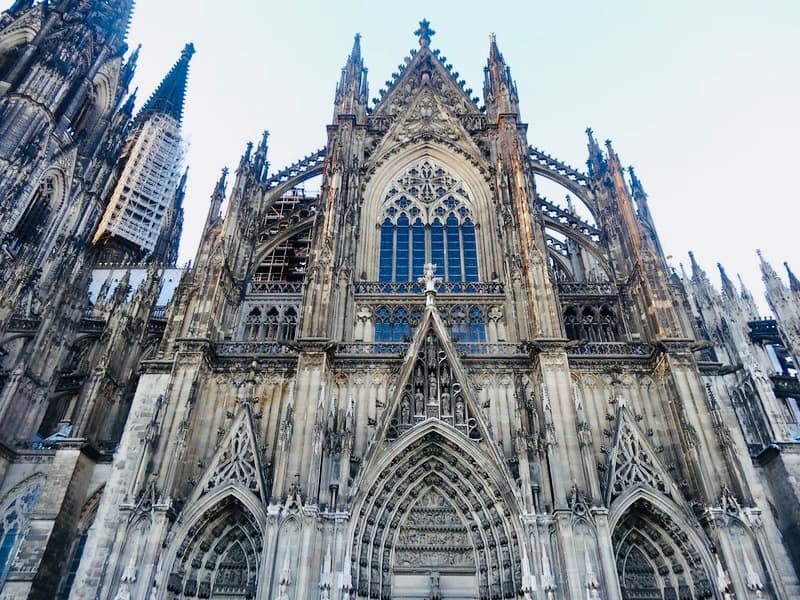 Some think the proximity of the railway station makes the cathedral – and indeed the city of Cologne – ugly. I don't. I rather like that juxtaposition of Gothic and contemporary. Perhaps because of my very first view.
I had taken the train from Brussels, just a quick day trip to explore an unknown city. Just as I exited the railway station, there it was. In my face! Dark, foreboding, massive, intriguing. All the more interesting, as it took me by surprise.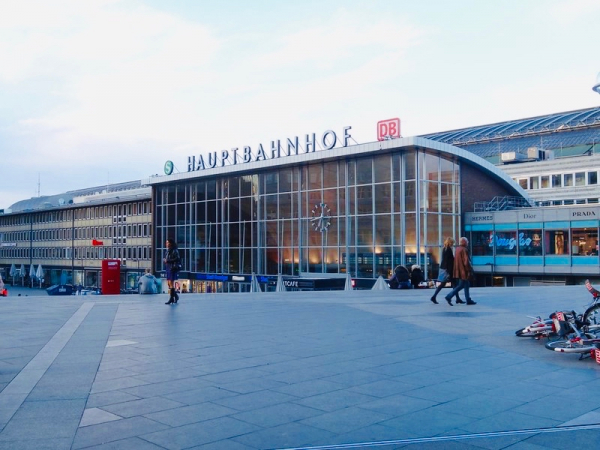 Walking around Cologne, you'll spot it again and again. But the best view is from across the Rhine River, so I suggest you cross Hohenzollernbrücke. You can't miss this bridge, even if you want to. It is laden with love locks, a staggering 40,000 of them – and I suppose there must be 40,000 tiny metal keys in the river beneath. I'm not a great fan of love locks. Not just because they add an extra two tonnes of weight (how long can this be sustainable?), but because I think love and lock are incompatible terms. Well, back to Kölner Dom before this becomes a rant.
Some say the cathedral was built to give people a sense of heaven. Inside and outside, everything draws your eyes upwards, in the most Gothic of ways. By the time it was finished – under Kaiser Wilhelm I – it also gave you a sense of mighty Prussia. According to UNESCO, it is
an exceptional work of human creative genius and a Gothic masterpiece.
Cologne Cathedral is the most famous structure in Germany. It would be fair to say it is one of the most iconic structures in all of Europe, too, instantly recognisable from postcards through time. Records abound – in fact, let's get that over with:
Third tallest church in the world
Highest twin-spired church in the world
World's largest church facade
When it was finished in 1880, it was the tallest building on the planet (until the Washington Monument came along 4 years later, and then the Eiffel tower 5 years after that)
Largest swinging bell in Europe
Second tallest church in Europe (interestingly, the tallest – Ulm Minster – is also in Germany)
In sheer mass, Cologne is second only to St. Peters in Rome.
Largest Gothic Church in Northern Europe
The Shrine of the Magi is the largest shrine in the western world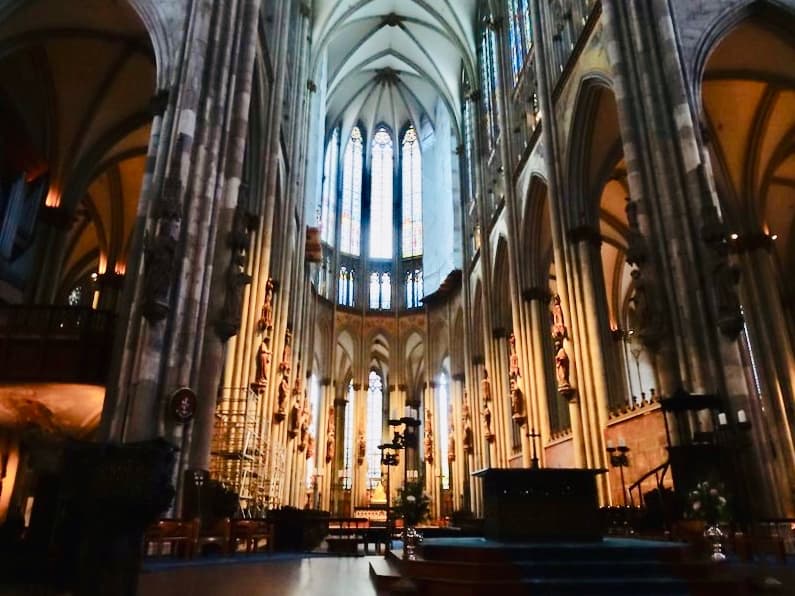 Kölner Dom has been here for 800 years, but pilgrims have visited for more than 1,000 years. Like Urnes Stave Church, two churches were here before the building of the massive cathedral you see today – the oldest from the 4th century and the other from the 9th. These days, ca. 20,000 visitors stop by daily.
And why – on a continent teeming with impressive cathedrals – is Kölner Dom so famous? I can think of many reasons.
1. It took 632 years to complete
Building a cathedral isn't done in a day, even now, so imagine the situation back in 1248, when construction was started. No electricity, no power tools, no cranes – that all meant lifting massive stones with manual power – much like the pyramids at Giza. Also, building a cathedral does not exactly come cheap. Insufficient funding and lack of public interest meant the work was halted in the 1500s, and it remained an unfinished project for more than 300 years. Then, in 1880, interest in the cathedral was renewed, two towers were added, and the Kölner Dom was finally complete. If you don't count the work that is being done on it. All.the.time.
2. Kölner Dom is massive – and not quite even
Here are the most impressive numbers:
144.58 metres long
86.25-metre wide
43.35-metre-high mid nave (inside)
For stats geeks, even more numbers are here.
Quirky fact: Measuring might not be such hard work today, but think back 800 years, and really, for the whole duration of the construction project. Not surprisingly, the twin towers of Cologne Cathedral are not even (but then, neither is my house, and that was built in 1990). The north tower is 157.18 metres high, while the south tower is 157.22 metres.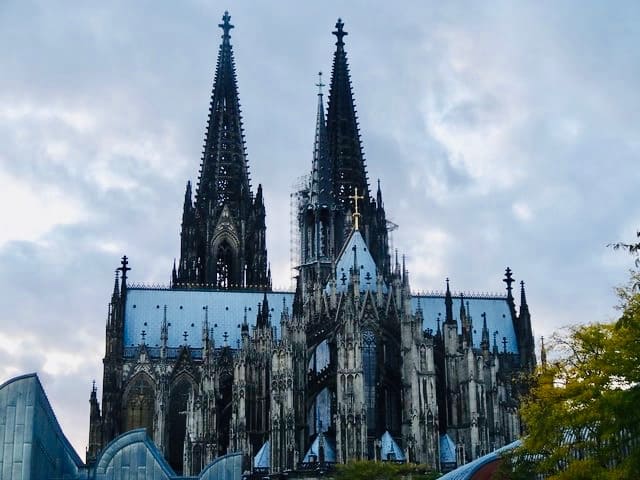 3. The three wise men are buried here
Melchior, Caspar and Balthazar are here – or their bones, rather – in the choir behind the High Altar, in a gilded shrine, known as the Shrine of the Magi. Those three guys are pretty much why the cathedral exists in the first place, so the legend goes. In medieval times, one Frederick Barbarossa brought their remains from Milan to Cologne (though how they travelled from Bethlehem to Milan is unclear). 'The 9th century church that was here wasn't fine enough to hold such important relics,' thought the church fathers of the time. 'We must build something grander.'
4. Tall gorgeous windows
Before the bombing of Cologne, someone had the wherewithal to remove the old stained glass windows, so we can still see their magnificence today. The windows are all different, from the 14th century ones to the newest one from 2007.
They are especially gorgeous in sunny weather; the whole church practically shines. Unfortunately, that's not all that often. Like Bergen and Manchester, rain seems to be default weather in Cologne.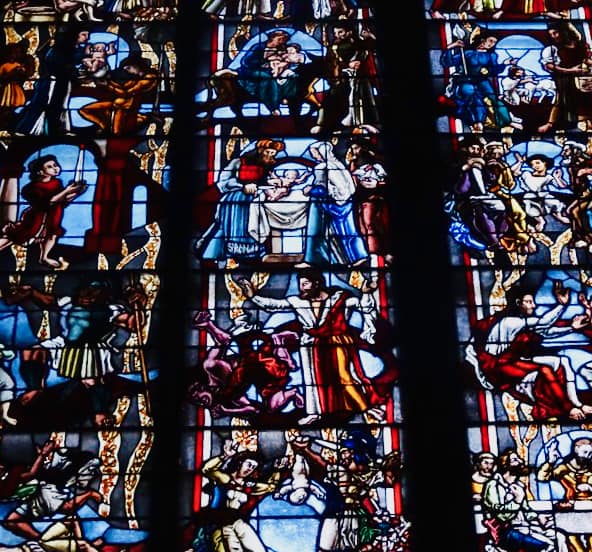 5. Tombs and other works of art
In the church, you can see the tombs of several archbishops from medieval times. The sarcophagus of Archbishop Gero gets a special mention, with the 1,000-year-old Gero Cross – all golden oak. The Domschatzkammer (Treasury) with even more relics and artwork is well worth the small entrance fee. Also, remember to look up (the height might make you dizzy) – and down, at the floor mosaics.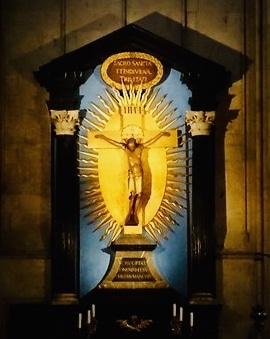 Gero-Kreuz
6. Bomb survivor
There's a rumour going about, that the cathedral wasn't hit during the allied air raid of Cologne. Not so. In fact, Kölner Dom was hit hard. No less than 14 bombs struck. Despite the heavy damages, it remained standing, in the midst of the rubble that was left of the city. A miracle? A sign from above?
7. It is very dark
Like many of the medieval cathedrals in France, Kölner Dom is built with porous sandstone. One drawback of that material is that it absorbs grime and impurities from the air. But those builders in the 13th century couldn't foresee the industrial revolution, could they.
Fast forward to the 19th century when heating with coal was all the rage, leading to a dramatic increase of sulphur content in the air. And then there was steam engines. The railway station is just here, remember – a few metres from the cathedral. Cleaners are at it constantly, and yet…
The sight of Cologne Cathedral at night, though: nothing short of stunning.
8. Swinging St Peter
There were bells, on a hill, but I never heard them ringing…
Not true here. There are bells – but they do ring, the eleven of them. The leader of the bunch is Fat Peter – Dicke Pitter in Kölsch, the local dialect. He only rings for special occasions: Christmas, New Years and the like. No wonder, as he is huge. 24 tonnes huge. He is in fact the biggest swinging bell in the Europe. (Some say in the world, but I have heard rumours of a 50-tonne swinging bell called Vox Patris, being built in Poland and sent to the Basilica of the Eternal Father in Trinidade in Brazil.)
9. Madonna of Milan
In 1290, a beautiful wooden statue of Mary and child was added, known as the Mailänder Madonna (Madonna of Milan). Naturally, she performs miracles and draws pilgrims.
10. Takes some upkeep
Construction seems to be going on here constantly, much like other Gothic churches (I've been back and forth in Barcelona since 1992, but still have not seen Sagrada Familia without scaffolding). Kölner Dom is a pretty complicated building; 80 people are employed to look after it. Not only cleaners, but stonemasons, roofers, painters, carpenters, scaffold makers, wood carvers, blacksmiths, locksmiths, electricians, glass restorers for the 8,000 m2 of stained glass windows, archaeologists (there's a dig underneath), and more – entire workshops, as has been the case all the 800 years it has existed. Price tag: 6 – 7 million EUR per year.
But maybe we shouldn't complain about the constant upkeep. In Cologne, the saying goes that when the cathedral is complete, the end of the world is coming.
Kölner Dom practicals
It is easy to visit Kölner Dom. It has generous opening hours – daily from 0600 to 2000, though be aware mass takes priority over touristic visits. Mid-week mornings is the best time to escape the crowds. It is also free. Though you must pay a small fee to visit the Treasury and to climb the 533 steps up the South Tower. Up-to-date info on prices and much more is here.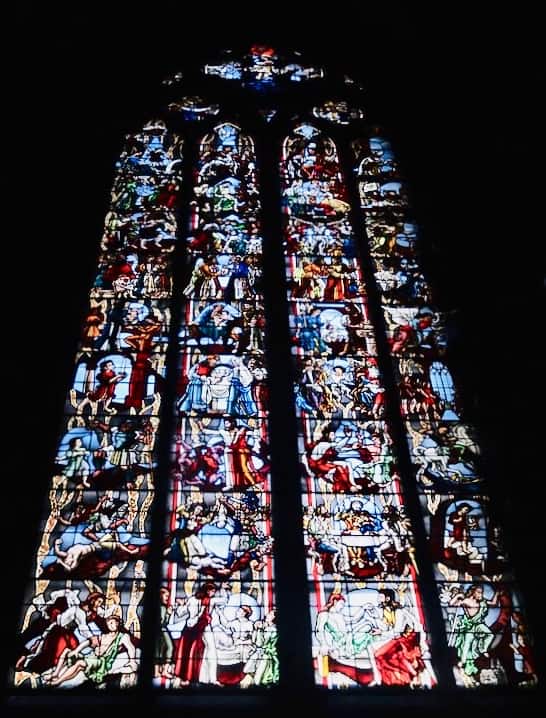 What else in town?
Cologne is a delightfully bohemian city, and has lots more to offer than the Kölner Dom. Here are a few things to see and do:
discover the interesting museums (including a chocolate museum and a perfume museum)
stop by more of the other lovely churches
explore cool street art in Ehrenfeld
Colonia Claudia Ara Agrippinensium was an important Roman town; see remains of the Roman walls, towers and the Roman museum
join Fastelovend, the famous carnival (in February)
join Cologne Gay Pride, (also known as CSD, Christopher Street Day), one of Europe's largest pride parades (18 June – 3 July in 2022)
enjoy Kölsch beer in 2dl cylindrical glasses (much more elegant – and much more manageable – than the 1-litre beer steins that seems to prevail in the rest of Germany.)
Oh all right, if you must: have a look at the massive wall of love locks on Hohenzollern Bridge.
Cologne Cathedral is a World Heritage site.
Here are more UNESCO World Heritage sites around the world.