As you may recall, we really like Antwerp here at Sophie's World. So we just had to return! Earlier, we've talked about the city's three World Heritage sites (three!). This time, I'll tell you about an unusual Antwerp brewery.
Sounds, well, not that exciting? That's what I thought, too. In fact, when I learned we had been invited for breakfast at a brewery, a slight case of FOLB set in – Fear of Liquid Breakfast. A dream for some, I gather. Not for me.
We quickly discover that the famous Antwerp city brewery isn't so much a brewery these days as a brewery experience centre. De Koninck was founded in 1833, just three years after Belgium was created. The actual brewing now takes place elsewhere.
Today, the old brewery buildings house little specialty shops focussing on local produce. When putting together the team of shopkeepers, what was important wasn't business experience, but rather passion and enthusiasm for their craft and their products. It seems to work very well. This Sunday morning is busy at the old brewery.
There's an artisanal baker, a chocolatier, a cheese monger/lunch bar, a butcher. Suddenly, my FOLB is quickly replaced with an FOMB – Fear of Meaty Breakfast. I know, I know…
There is a pub (of course), a gourmet restaurant, a bistro, as well as an open-air roof top resto/bar. Velodome has bicycles and food, and the museum gift shop stocks beer and skateboards!
Antwerp brewery experience
The fabulous museum of brewery history comprises 10 entirely interactive rooms. Inside a former beer tank, we see wonderful little films. In the old pub, members of the De Koninck family (dead and alive) are sharing tales in 3D. You can follow a bottle of beer from birth to consumer. Best of all, we get to take a little self-driven tour through Antwerp in a roller-coaster, disguised as an old-fashioned rickety van.
Still slightly hesitant about breakfast, though: Will it be meat? Beer? Both?
Well, I needn't have feared. Wim van Cappellen, our host, has done the rounds of the brewery craft shops, and sets out crusty bread, rolls, croissants, hams, jams, cheeses, coffee.
Breakfast turns out to be a cosy affair – around a communal table. Just like having a leisurely Sunday breakfast at home, in fact. With the same ingredients. Except here, there's also cakes and tarts. Dessert with breakfast! And all through, Wim regales us with Antwerp stories and tells all about the history of the famous Belgian Bolleke (pronounced in a way that makes our Brit blogger giggle).
A bolleke is originally the glass used for serving De Koninck's flagship beer. Nowadays, it's usually how you order a beer in bars.
No sooner have we finished breakfast and it's time for a beer tasting, then lunch! We pop up to the top floor, to the rooftop BBQ restaurant Black Smoke. Wow! Cool jazz, good vibes, comfy furniture, creative menu and creative bartenders. And the views!!
After the substantial breakfast, the Suicide Beef Burger seems a bit much. As does the Heart Stopper Éclair. The four of us settle for lighter stuff: Benedict Bastards, Smoked Goat (a salad), Overloaded Nacho Sharing Platter and liquid lunch. Espresso Martini! Colour me a convert.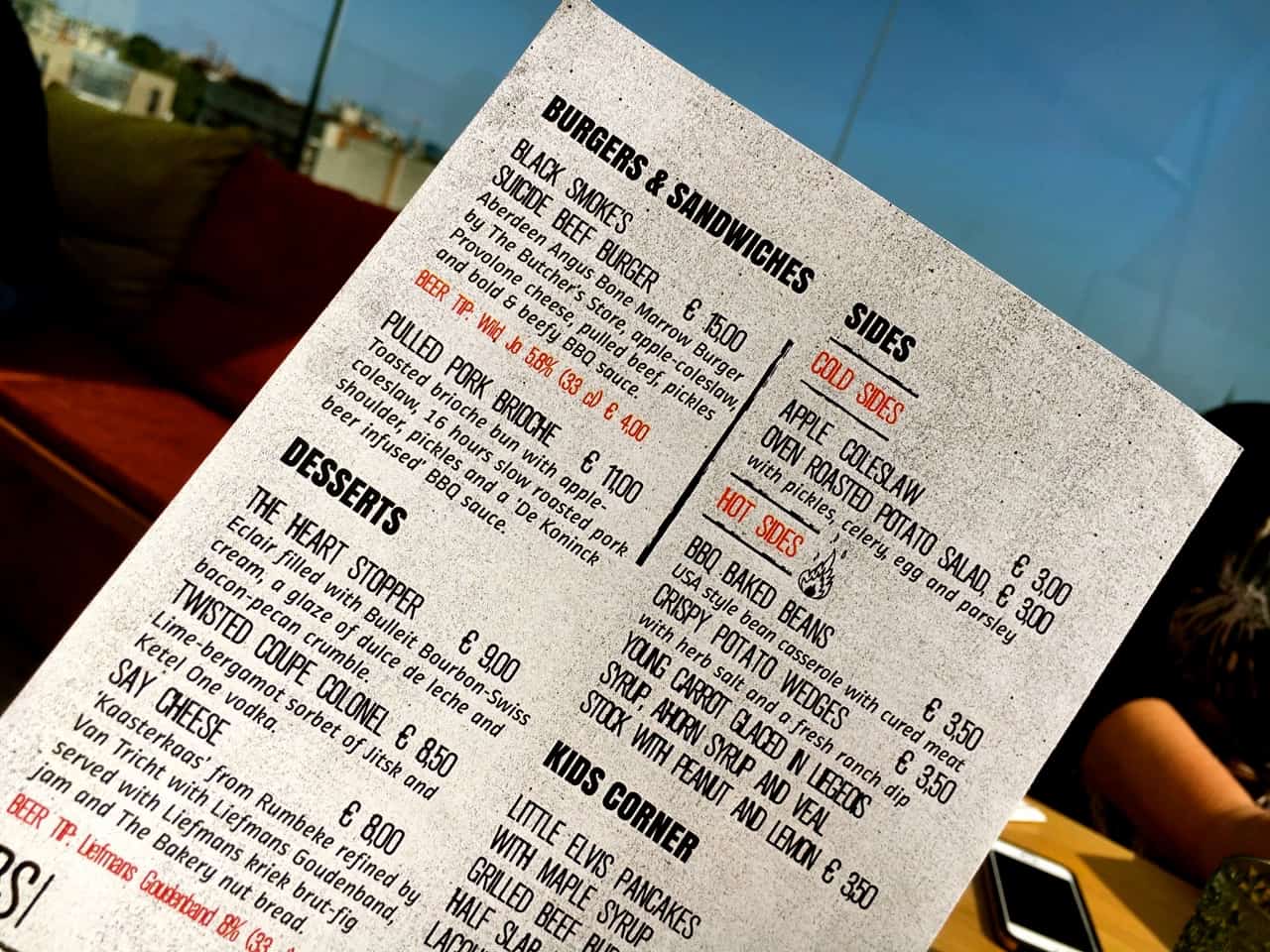 De Koninck can be rented as an unusual and atmospheric venue for a meeting, beer tastings, coffee receptions, workshops, cooking courses and food pairings – how about beer and chocolate? Or beer and cheese? Or all three?
Disclosure: I was in Antwerp in a cooperative project between Nordic TB, Visit Flanders and Brussels Airlines. All words and opinions are mine and mine only, as ever. Otherwise, this would be meaningless.