So – you're in the busy Costa Blanca, lounging on its lovely beaches. But for a bit of variety, you might be looking for something a little different to do. Perhaps away from the hustle and bustle? If so, may I recommend tranquility among palm trees? That's what you find at El Palmeral de Elche, or Palmerar d'Elx in Valencian. If you have kids along, bring them. They appreciate calm, too. Among the trees, little playgrounds pop up around every corner.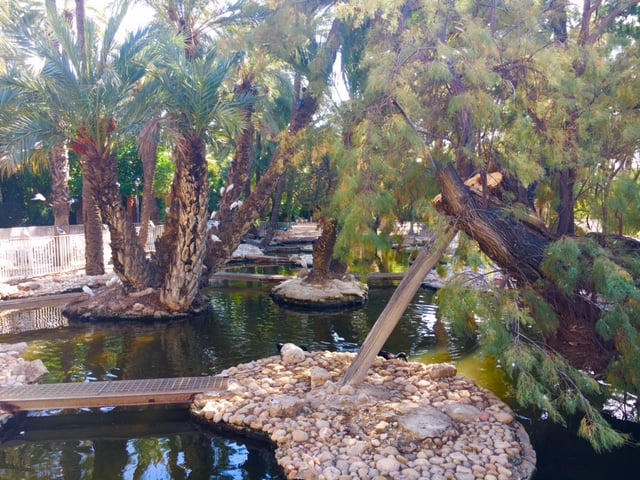 Palms are everywhere in the town of Elche. As soon as you step out of the railway station, there they are – a forest of palms. This isn't a forest, though. Rather, it is a plantation. Not endemic to the sub-tropical semi-arid landscape on the Costa Blanca, Arabs brought the trees from across the Mediterranean centuries ago. It makes for a unique urban landscape. In fact, I've only ever seen a similar vista one other place – in Al Ain, the garden city in the hinterland of Abu Dhabi.
Makes sense, really. The palm groves and the agricultural practices, including the clever irrigation system known as aflaj; this is Arab ingenuity on European soil. Centuries of Arab presence on the Iberian peninsula left its marks, perhaps most famously in the stunning fortress that is the Alhambra. But also this cool, shady oasis.
Transported from one side of the Mediterranean to another, from one landscape to another, from North Africa to Spain, thus successfully transferring a way of life from one culture to another – a way of letting the desert bloom.
Travellers have come to Elche for a long time. In 1862, my fellow Scandinavian, famous storyteller Hans Christian Andersen, waxed poetic about this area in A Journey through Spain
As we approached Elche, we could already make out its valley resplendent with fruits and its immense Palm Grove, the most extensive and most beautiful in Europe, the most luxuriant in all of Spain.
As I walk through this blossoming desert landscape, I'm not worried a coconut will fall on my head. These are mainly date palms, those ubiquitous, high-calorie-but-chock-full-of-vitamins-minerals-and-fibre-healthy-yummy Arab sweets.
El Palmeral de Elche comprises numerous orchards and more than 200 000 trees, some of them at least 300 years old. The site covers about 5 km, including several groves practically in the historic centre of Elche. With a Moorish fortress and the baroque blue-domed Basilica of Santa Maria de Elche, built over an old mosque, it is also well worth a wander through.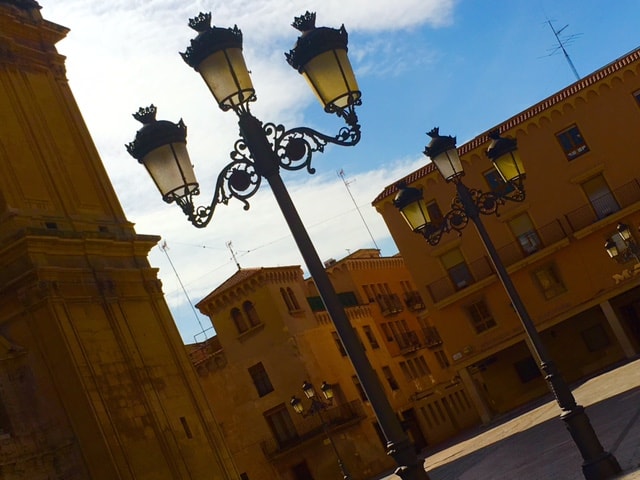 If you're in the area in August, don't miss Misteri d'Elx, a 15th century drama that is set up in the basilica every year in the middle of the month. UNESCO declared this play part of the Intangible Cultural Heritage of Humanity. Also, 13 August sees the Nit de l'Albà (Night of the Dawn) here in Elche, with fireworks all night long.
Palmeral of Elche is a UNESCO World Heritage site. Here are more UNESCO World Heritage sites I've visited around the world.