Still Sunday 6 January 2008
By Aswan in the River Nile is Elephantine Island. It houses temple ruins (including the ruins of a step pyramid), two nilometers (structures measuring the water level during flooding season) and a luxurious Mövenpick hotel. Most interestingly, though, Elephantine has a considerable Nubian population, living in three villages on the island.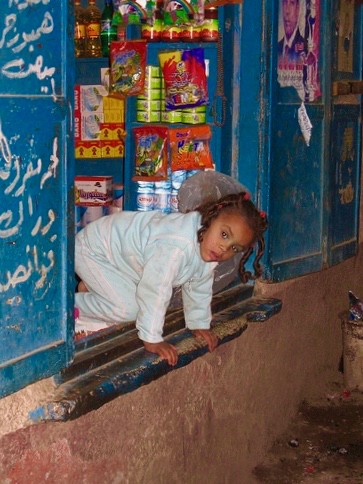 Nubia is a fabulous name, isn't it, conjuring up romantic visions of wild, warring tribes, courageously fighting pharaonic imperialism.
Once Nubia was an independent kingdom. Today, the name Nubia is no longer in use, at least not officially. The former region of Nubia is now divided between Egypt and the Sudan.
Mohammad, a Nubian, show us his village on Elephantine. In a very halting English interspersed with Arabic and Nubian, he tells of Nubian life in present-day Egypt. The gist of it is that it's a bit of a challenge preserving the Nubian way of life. Same goes for the language. It's a very complex language Nubian – and it does not exist in written form. As if that isn't enough, dialects vary so much, they're not mutually understood. So Arabic is used as the common language instead. Sad, somehow.
We stroll through the village, passing colourful houses, a few shops, and what looks to be happy people.
Afterwards, we're invited for tea in a local home. Cat immediately spots a glass cage with live baby crocs and loves them instantly. They don't have a lot of space, poor creatures.