A few years ago – 4, to be exact, I had some time to kill in Lisbon after long days of meetings. As luck would have it, I more or less stumbled upon Sintra. I've been meaning to share a few photos of this gorgeous town ever since. Better late than never, eh?
Sintra is under special protection by UNESCO for being the first centre of European Romantic architecture, and for its parks and gardens which have influenced landscape architecture throughout Europe. The town is a deliciously quirky blend of Gothic, Renaissance, Moorish and Egyptian architecture.
As if that isn't enough, this lucky town also has beautiful natural surroundings, all green hills. With its extravagant architecture, lush landscape and perhaps most of all, its colours, Sintra is simply seductive.
I'm not the only one fascinated by this Portuguese town. About 200 years before me, British poet Lord Byron visited Sintra. His thoughts:
I must just observe that the village of Cintra in Estremadura is the most beautiful in the world.
Sintra has been home of numerous Portuguese monarchs through the ages, and is naturally brimming with weird and wonderful palaces. The pièce de résistance is probably the dreamy multi-coloured Pena Palace rising on a peak above town. Then, there's the Quinta de Regaleira and Montserrate palaces, both with splendid gardens, the enigmatic Castelo dos Mouros (Moorish Castle), and more. Many of them are wondrously wacky and mysterious, and often shrouded in mist.
Easiest to see is Palácio Nacional de Sintra, the Royal Palace with the peculiar conical chimneys, in the town centre:
Cool as this building is, what I liked best were the brightly coloured houses, the public art, the fantastic fountains, the streets and stairways. What first caught my eye (and imagination) was this wonderful, pink house in the hills:
But what was it? I had no guide in Sintra, and simply didn't think to ask anyone then. Later, it took quite a bit of searching. The photo-sharing site flickr has a few pictures, but most are just named 'pink house in Sintra'. Major travel sites like Lonely Planet, official tourism sites like GoLisbon, blogs; none that I found mentioned this house. And no wonder, perhaps – this is not a small palace or even a public building. Thanks to Virtual Tourist I finally found a little information. Casa dos Penedos is a privately owned house, and not a tourist attraction. Isn't it fabulous, though? Look at how it seems to grow out of the hill itself. I love the towers, the colour – and just imagine the views.
When I visited, large eye-catching sculptures were set up along the walkways around town:
However, my very favourite parts of Sintra were the everyday houses and shops, the narrow alleys and stairways. And the colours!
Sintra colours
It was all I could do to stop myself from walking through that gate.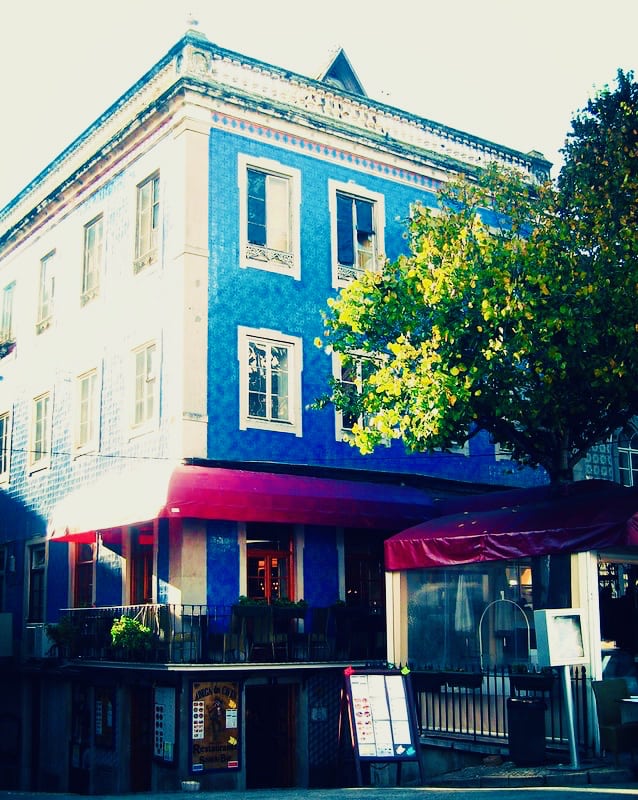 This stairway, though! Don't you just want to walk up and down it? And then do it again?
Sintra practicals
Sintra is a super day trip from Lisbon and getting there couldn't be easier. Trains leave from Lisbon's Rossio railway station every 15 minutes (30 minutes on weekends) and the journey takes about 40 minutes. Round trip tickets are only 4 euros.
The town centre of Sintra is a 15-minute walk from the railway station. Getting to many of the palaces requires a bit of a steep uphill walk (or a bus from the railway station). The views alone are magnificent, so very worth it even if you don't enter the palaces.
I visited in October and had the town mostly to myself. I imagine it's quite busy in summer though, so I'd plan accordingly – maybe even spend a night there to better feel the atmosphere.
Have you been in Sintra?
The Cultural Landscape of Sintra is UNESCO World Heritage site.
Here are more UNESCO World Heritage sites around the world.