Falun mining area… sounds a bit gloomy, doesn't it? Imagine working 67 metres underground all day, crawling through dark, narrow passageways, soot in the face, and simple living conditions, to say the least.
Yes, there is indeed that. Or rather, was. Falun copper mine closed the mine shafts in 1992, after being in operation for a millennium. A millennium! In the 1600s, this was one of the world's most important mines, producing two-thirds of all copper in Europe.
Today, the mine and the 17th century planned town of Falun surrounding it – complete with miners' cottages, canals and little lakes – form part of one of Sweden's 15 heritage sites.
While the mine is interesting enough in itself, my favourite part was strolling around the area where the miners lived, streets lined with picturesque cottages, now converted into modern homes, but all still painted in that distinct, bright Falu Red.
The 10 sq. metre Bultkaleriks stuga in the photo below is the smallest cottage in Falun and was home to Bultkalerik, his wife and 5 children.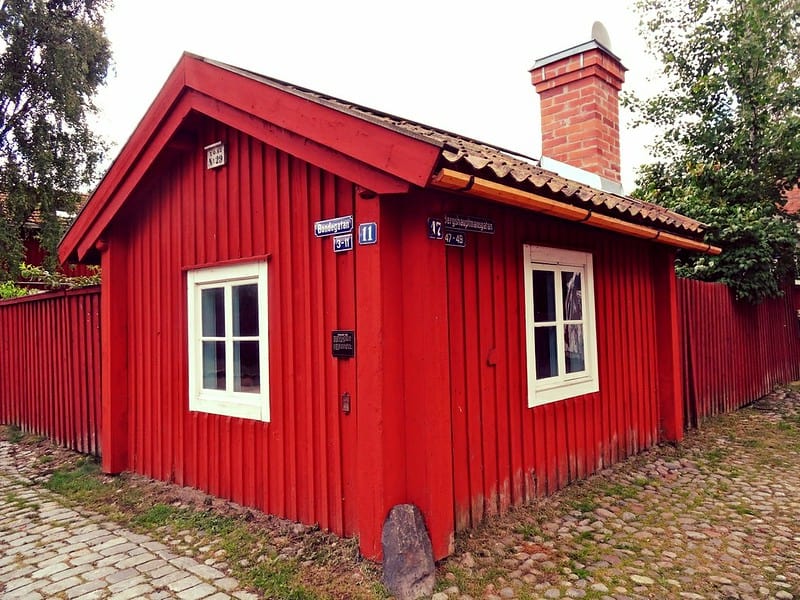 Linnaeus on Falun mining
The life of a miner was hard, not least because of fires burning constantly. Father of modern taxonomy (and ecology), world famous scientist Carl Linnaeus visited Falun in the early 1700s and provided the following description:
The Falun mine is one of the great wonders of Sweden but as horrible as hell itself… Soot and darkness surrounded them on all sides. Stones, gravel, corrosive vitriol, drips, smoke, fumes, heat, dust, were everywhere.
Can't blame the chaps for hitting up the pubs after work, I suppose. Drunkenness was very common.
On the other hand, the ownership structure at Falun was quite advanced for its day, with free miners owning shares. At Gamla Staberg, about 10 km out in the country, free miners settled and showed off their wealth. The Barock Garden is well worth a visit.
Swedish Heritage Sunday, our weekly winter series showcasing world heritage in our neighbour country, is still going strong. This is part 5.
The Mining Area of the Great Copper Mountain in Falun is a UNESCO World Heritage site.
Here are more UNESCO World Heritage sites we have visited around the world.