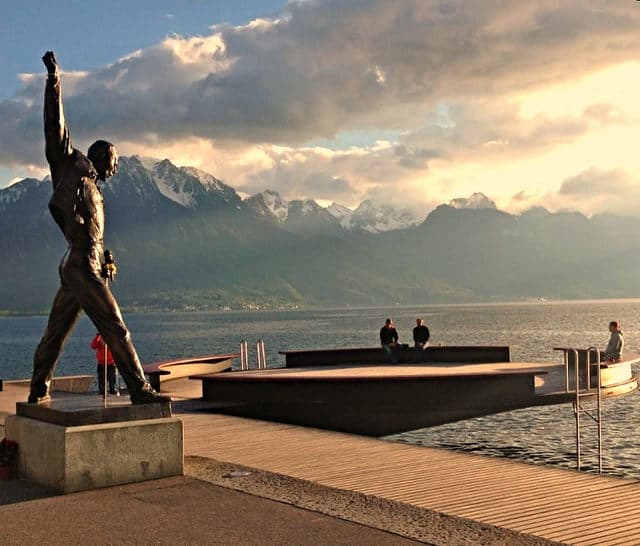 I like Montreux, I really do. In my civil servant days, I frequently attended committee meetings in Geneva, and would sometimes stay here, not minding the twice daily one-hour train journey.
Wandering along Lake Geneva's waterfront, you won't be lost for stunning scenery to rest your weary eyes on. There are towering mountains, clusters of vibrant flowers, the lake itself… and then there's Freddie.
High on a pedestal, a bronze Farrokh Bulsara, better known as Freddie Mercury, is larger than life. The three-metre tall statue of Queen's deliciously flamboyant frontman is striking a classic Freddie pose, while overlooking one of Mother Nature's true beauty spots.
Unlike Frank Zappa and Vilnius, Freddie Mercury actually had a relationship with Montreux. His last album Made in Heaven was recorded at Queen's Mountain Studios here. The track A Winter's Tale was inspired by his stay in Montreux. Freddie loved the peaceful little Swiss lakeside town and famously said
If you want peace of soul, come to Montreux.
The Freddie Mercury statue was unveiled in 1996 by his father and his dear friend, Montserrat Caballé. 23 years after his death, devoted fans still leave flowers daily, especially on the annual Freddie Mercury Montreux Memorial Day in September.
World at a Glance is a series of short articles here on Sophie's World, with a single photo, portraying curious, evocative, happy, sad or wondrous, unexpected little encounters.