My first visit to Brussels was just after uni.
I was not overly taken with the city that first time; in fact, I remember thinking (and writing on post cards) that the best thing about Brussels was how easy it was to get to so many other interesting places in just a few hours: Paris, Amsterdam, London – all within easy reach. And even inside the country, beautiful Bruges and Antwerp are both less than an hour away.
But I also remember seeing Grand Place for the first time.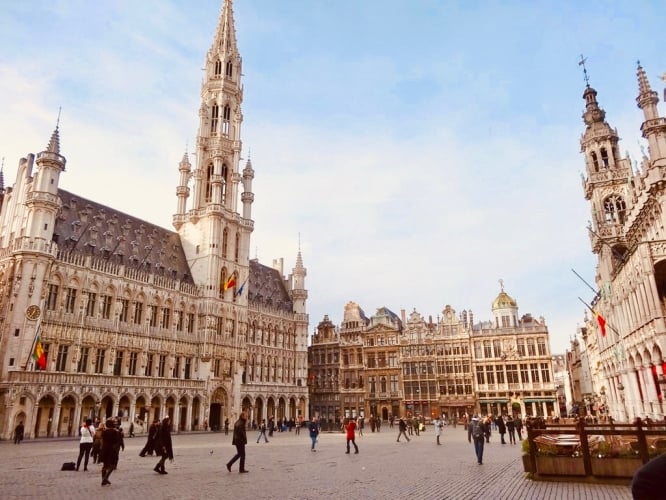 On my first day there, my friend that I was staying with, wanted to show me a stunning medieval square. So there we were, wandering through the narrow streets. I had just seen a cool jacket in the Agora, a small shopping centre nearby, and that's what was on my mind as we entered Grand Place. I didn't give much thought to medieval squares.
Now, my country is not known for grandiose architecture; even the royal palace is quite modest, in keeping with our informal, laid-back lifestyle. Instead, Norway is all about grandiose nature. Also, I was just back from 5 years in Oklahoma – not many grandiose buildings there either, and nothing even resembling medieval.
Gorgeously Gothic
I can safely say it stopped me in my tracks. Gorgeously Gothic architecture surrounded a cobbled rectangle, with Hôtel de Ville – the town hall – as the pièce de résistance. There were gilded facades, lampposts with flowers, little shops selling lace and brocade, Godiva chocolate and speculoos (ginger biscuits, mmm…). At the outdoor cafes, waiters in starched white shirts served coffee in proper porcelain cups with saucers, and gave us glasses of water on small silver platters. It was all very quaint and satisfying. Very civilised.
The brewers' house, now a brewers' museum
I could sit for hours, taking in all this magnificence. And I did. And have many times since. Chatting with friends and colleagues. Or alone, eavesdropping on other patrons, watching performers, listening to street musicians, often trained opera singers. Much as people would have done centuries ago, I expect. And that sums up Grand Place for me: a feeling of having been transported to another era.
Most of the buildings on Grand Place are 17th century baroque. In 1695, the French Army attacked with mortar and cannons and destroyed the original ones. But the good people of Brussels rebuilt quickly and efficiently, in a style faithful to the old square. The only building left standing was Hôtel de Ville, with its 96-metre tall bell tower rising high above all the rest. On top is a 3-metre-tall Archangel Michael, slaying a demon.
Facing Hôtel de Ville is the King's House. Though I prefer its other name, Broodhuis (Bread house), after functioning as a market hall selling bread back in the 12th century. Today, it houses the city museum (which I have yet to visit).
Guild houses
The golden facades along the sides belong to the old merchant houses – guildhalls – decorated with statues, guild signs and the house names.
L'Étoile (house of the Amman, the King's representative), 2. Le Cygne (butchers), 3. L'Arbre d'Or (brewers), 4. La Rose (a private house) and 5. Le Mont Thabor (also a private house)
Today, there are a few modern-day additions, including a Starbucks. That is usually a bit of a downer in surroundings like this, but the one here is relatively unobtrusive, and does not take away from the atmosphere, as is so often the case elsewhere.
Dramatic happenings on Grand Place through the ages
You will not find any churches or abbeys on Grand Place. This is, and has always been, a place for trade and commerce – a true market square, a hive of activity through the centuries – economic and otherwise, including the rather gruesome old custom of public executions. Here are a few examples:
In 1523, the Catholic Inquisition burned the first two protestants here on Grand Place, for supporting Luther and the reformation.
In 1568, two noblemen who publicly opposed King Philip II's policies and inquisition, were beheaded here. That started the 80-year Dutch War of Independence from Spain.
In 1719, the dean of one of the guild houses was suspected of being involved in uprisings, and beheaded here.
Also dramatic, but less murderous:
For three years, Karl Marx lived in exile in Brussels, in the guild house Le Cygne, where he wrote the Communist Manifesto in 1848. Nearly 40 years later, the Belgian Workers' Party was formed in the same house.
On 20 August 1914 at 14.00, the German army occupied Brussels and hoisted the German flag on the square.
In 1979, just a day after killing Earl Mountbatten in Ireland, the IRA set off a bomb right before a British army band concert on Grand Place. Serious damage was done, and people were injured, but no one was killed.
At night Grand Place is magical; the guild houses are lit up and the square looks like molten gold.
Grand Place practicals
Grand Place is very easy to find, right in the centre of Brussels (about a 5-min walk from the central railway station).
It is of course entirely free to visit and hang about the square as long as you want.
Near Grand Place is the most famous Belgian (after TinTin): Manneken Pis, a little bronze boy peeing into a fountain, as he has done since 1618, often dressed as if he were off to a costume party. His many costumes are on display in the Broodhuis. Manneken got a 'little sister' in 1987, Jeanneke Pis, doing the same. Toss a coin in Jeanneke's fountain, and you will not only get a wish fulfilled, but you are also promised fidelity in your love life.
The square hosts three major events:
In August every second year, an 1,800 m2 flower carpet covers the ground. Volunteers create the 'carpet' with nearly 1 million begonias in just a few hours. The dates this year (2022) are 11–15 August, and Mexico is the theme. More info here.
Ommegang is a medieval pageant and historical re-enactment, celebrated at the end of June and the beginning of July every year (29 June and 1 July in 2022), that ends with a big show at Grand Place. In 2019, it was recognised by UNESCO as Intangible Heritage of Humanity. More info here.
From late November through December, Plaisirs d'Hiver (Winter Wonders) is on, featuring a Christmas market  – and with that backdrop it's bound to be pure fairytale. There's fairground rides and a light and sound show several times daily. A kaleidoscope of colours light up Hôtel de Ville, and classical music fills the air. This year's Plaisirs d'Hiver opens 25 November and finishes 1 January 2023. More info here.
La Grand-Place in Brussels is a UNESCO World Heritage site.
Here are more UNESCO World Heritage sites around the world.