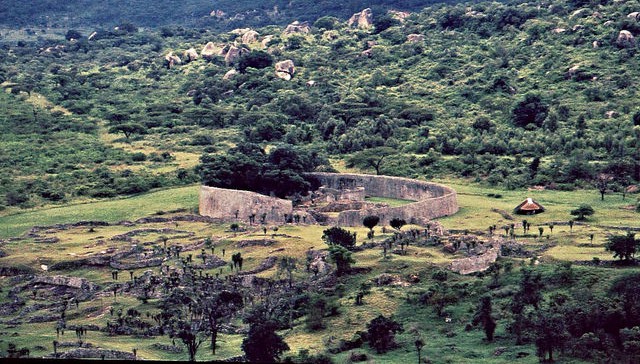 I had 4-5 hours to kill in Masvingo once, waiting for the last bus to Harare. Must have been 16 years ago. So I did what I often do when I'm short on time: I asked a taxi driver if there was anything interesting to see. A slightly dubious practice, I know, and certainly one that can end up costing a pretty penny. Then again, I've rarely encountered any difficulties when using this strategy. In Masvingo, he suggested the ancient ruins of Great Zimbabwe. A lost city; how could I say no?
Legend has it the Queen of Sheba resided here at Great Zimbabwe. True or not, it was an impressive site and a wonderful discovery. The monumental structure was built almost 1000 years ago, by the Shona people of the area. They called it Great Zimbabwe – Large Stone House. A simple name. Logical. Today, you can walk around in the ruins of royal houses. The general population lived in much simpler dwellings. 10 – 20 000 people is said to have lived here at one time.
I scrambled about on my own for a couple of hours. At the passageways of the Hill Complex, I got lost. Not the first time; I have a crap sense of direction. Dusk approached, and not another soul was in sight. A bit unnerving, that.
Then I met a monkey. A boy, I think. He wasn't shy. All feelings of unease evaporated. Funny how animals do that. Even cheeky monkeys.
World at a Glance is a series of short articles here on Sophie's World, with a single photo (… well, two this time), portraying curious, evocative, happy, sad or wondrous, unexpected little encounters.
Want more travel inspiration? The pop over to this week's Travel Photo Thursday.
Great Zimbabwe National Monument is a UNESCO World Heritage site.
Here are more UNESCO World Heritage sites around the world.