A road trip across Europe's largest mountain plateau is better suited to photos than to words. The landscape speaks for itself.
Random roadside scene, summer at Hardangervidda
Crossing the mountain from Oslo to Bergen, you can choose between several passes. The ones most frequently used, are the Hol – Aurland Pass, Filefjell, Hemsedal, Haukelifjell (briefly mentioned in this post), and Hardangervidda. All five mountain passes are spectacular, so if you're going round-trip, I suggest you choose two different routes.
National scenic route
This time, however, we're not going to Bergen, just across the Hardangervidda Plateau. Focus in this post, is on the stretch of road between Geilo and Eidfjord.
Hardangervidda is one of Norway's 18 designated National Scenic Routes. And last summer (2020), a new cool feature was added: a step bridge across Vøringsfossen waterfall.
Being Covid-stuck at home, we decide a road trip/hike is in order. Besides, Cat has the driving test coming up; crossing a mountain pass will be good practice.
Although… being stuck in Norway in summer, Covid or otherwise, is about the best there is. It's usually hard to tear ourselves away that time of year. Come November – or January – we'll be the first ones out. A few months of exploring and letting the sun touch our weary shoulders is just what the doctor ordered. But summer? Well, summer in Norway is pure magic, with long, light nights, perfect temps (22° – 25°C), and gorgeous landscape anywhere you turn.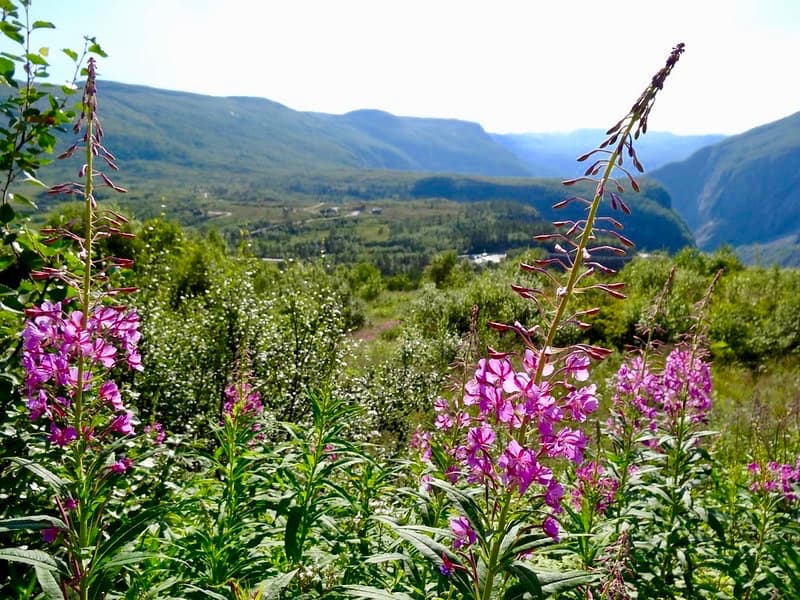 OK: Geilo to Eidfjord. Let's get going!
Geilo
Geilo is a mountain town. A resort. Think skiing. And after-skiing. There is more, of course: dog sledding, sleigh rides, tobogganing, fat biking, snowshoeing, skidooing, ice fishing, ice swimming… all the usual winter suspects. It's a nice place to grow up, I've been told, by a few who did.
If you think you're detecting a bit of scepticism here, you're right. Nothing wrong with Geilo, mind. It's ski resorts in general. Not my favourite places. Because skiers. Especially when they become after-skiers. Just no fun. (The feeling is possibly mutual.)
A digression: The cabin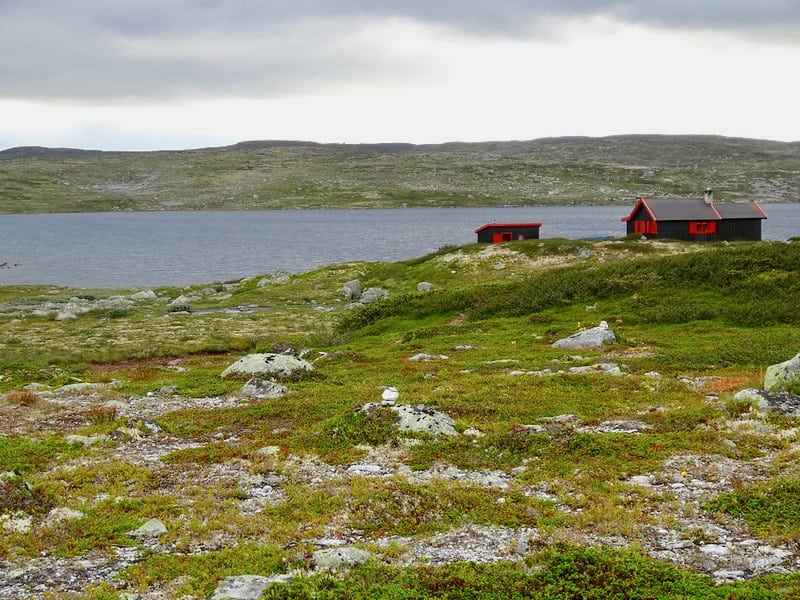 Give me space!
Cabin (cottage) living is ubiquitous in this country.
Used to be, a cabin would be a relatively simple affair. No running water, no electricity, far away from any road, so you had to carry everything on your back, sometimes for an hour or more. Have to work for that enjoyment. Since we're an introverted bunch, and like our space, the cabin would be fairly isolated, ideally on its own mountain top.
Ylvis hits the nail on the head:
These simple cabins in the middle of nowhere – although usually a very idyllic middle of nowhere – still exist. (I should know, I have one. It's 120 years old, all by itself on an island in the middle of a forest lake, and remains pretty much the same as it did in 1900.)
For the most part, though, the requirement for space and isolation is not what it once was. Cabins are built much closer together these days. Perhaps we are becoming more extroverted.
Also, the requirement for the simple life is waning. Indoor plumbing is the norm; in fact, modern cabins are often quite luxurious. But best not make it too much so. 'Cabin palaces' tend to cause general disdain. Flaunting of wealth is not good. I find that rather endearing about us.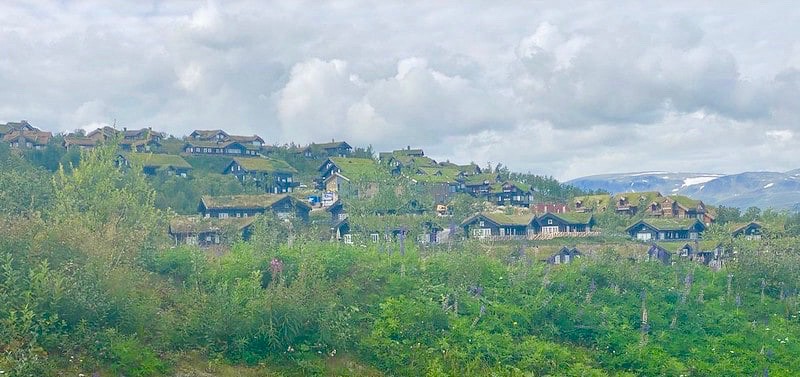 Just outside Geilo: practically a cabin village
In addition to cabins, Geilo has good lodges and hotels, including the venerable Dr. Holms Hotel from 1909. It's a large, rambling, attractive building. It also makes me think of the Overlook Hotel.
Here's Johnny!
As for a quick lunch on the way? Well, we've tried the diner and the Sportsbar a few times, without being overly impressed by either. Highland Lodge in the town centre is a better option, both for food and atmosphere.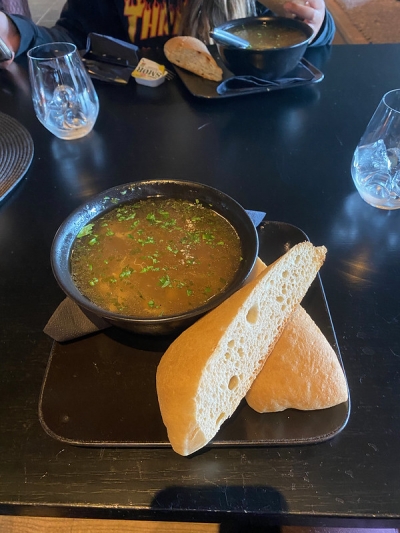 Tasty chicken soup at Highland Lodge
Hardangervidda
At 8 000 km², Hardangervidda is Europe's largest mountain plateau, located in three of Norway's 11 counties: Vestfold-Telemark, Viken, and Vestland. A large part of Hardangervidda is a protected national park.
Except for a few of those cabins here and there, there's miles and magnificent miles of nothing but lush landscape.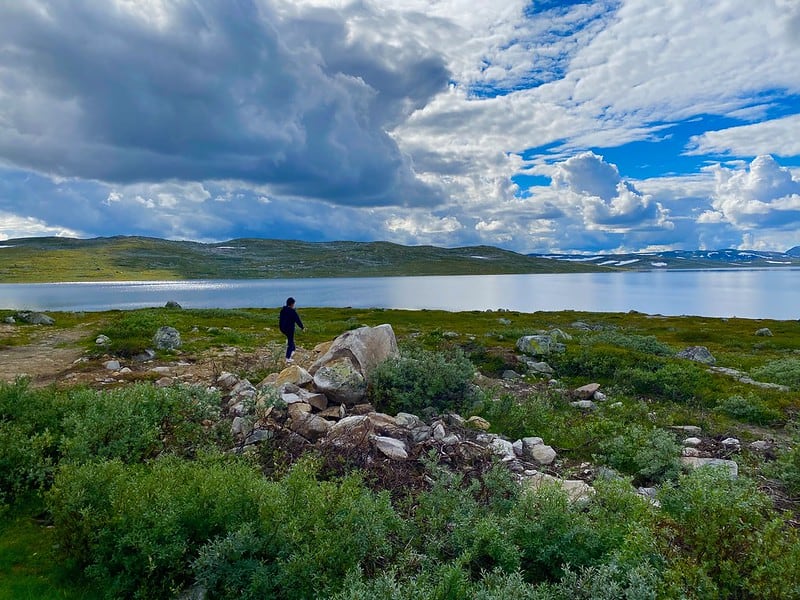 And that one road.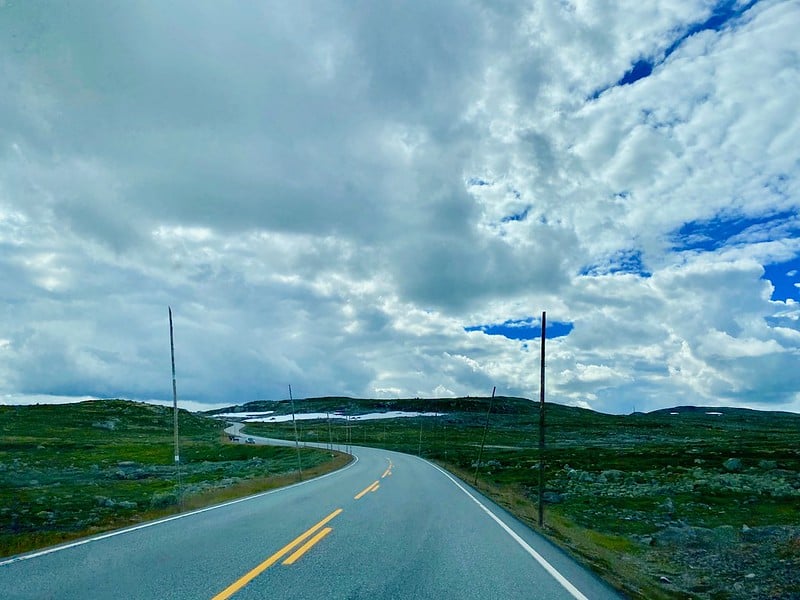 Oh, look! Snow up ahead. 
That's right. Even in August, it's possible to have yourself a little snowball fight. Or, you know, just pose.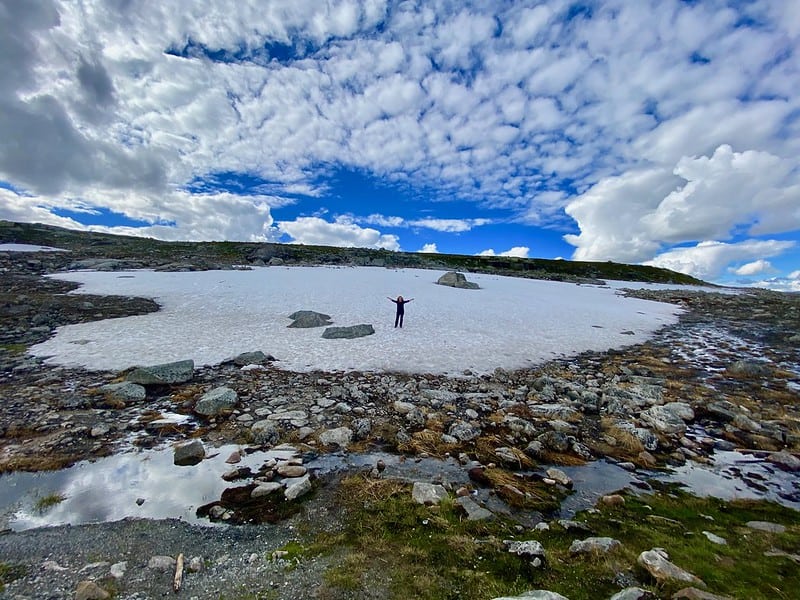 1 out of 7.8 billion people in the world. In this microcosm, I'm the protagonist.
Another digression: Leave nothing but footprints!
And while we're talking about human activity: what it is with building cairns? Do we have such an urgent need to leave our mark on nature? Cairn building is wrong. Here is why:
Firstly, it is dangerous. In fact, it can be fatal. It's confusing for hikers who depend on the official road marker cairns (look for the red T), as their mountain guides, especially in foggy conditions. People can be led astray, fall off cliffs, or get lost and die of exposure.
Secondly, it messes with the environment. Nature at this altitude is vulnerable. What little vegetation there is here above the tree line, usually grows in the shelter of stones. Picking them up is like tearing a wound in nature, one that cannot be healed. The stones have been here for thousands of years – and will be here long after we're gone. Leave them alone!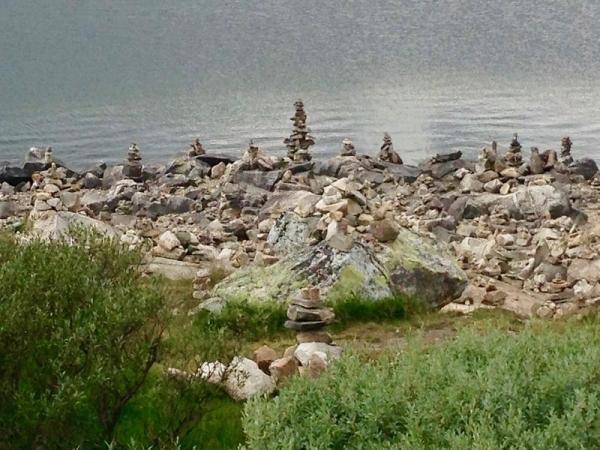 Don't do this!
Take a selfie instead. Or play with snow.
Vøringsfossen
Let's proceed to our main goal for the day: Vøringsfossen waterfall – and the new step bridge.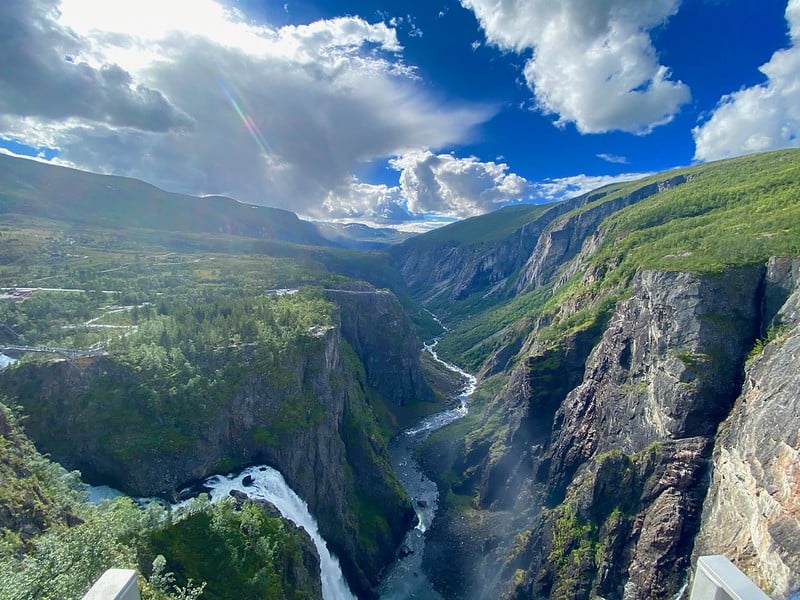 Vøringsfossen – and Måbødalen Valley
We were here last in 2013. There were no guard rails or secured lookouts then, just a few warning signs. Nature in the raw. And plans for the future visualised.
Well, that future is here. Plans have been realised; there are now fences, viewing platforms – and a bridge across the canyon. Can you see it? From this distance it's practically hiding in the landscape. A camouflage crossing. Looks a bit flimsy, too, doesn't it? Almost like a spider web.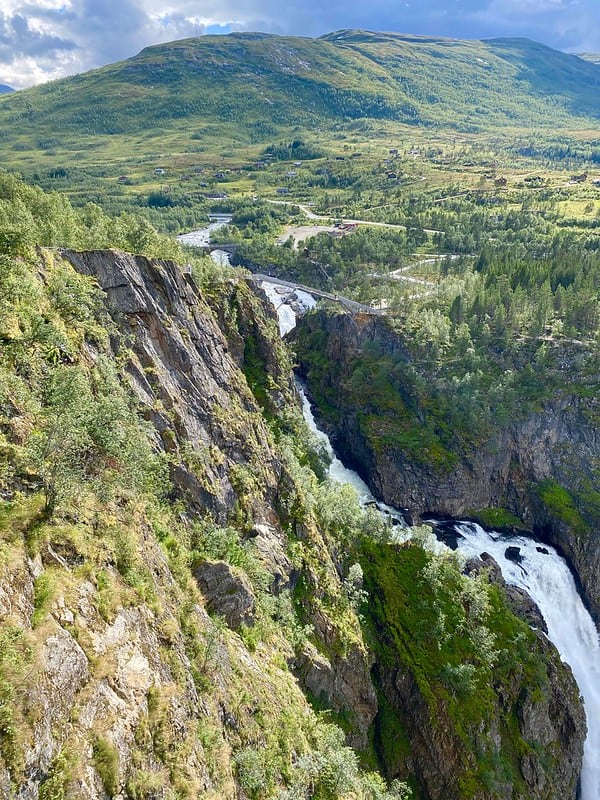 No worries, it's rock solid. And steel solid. The entire bridge is made of steel, and secured with rock bolts drilled into the rock.
A few more fun facts:
The bridge is designed by architect Carl-Viggo Hølmebakk.
It has 99 steps.
It spans 47 metres across the canyon.
The difference in height between the two sides is 16 metres.
The bridge is a deliciously dizzying 50 metres above the rapids.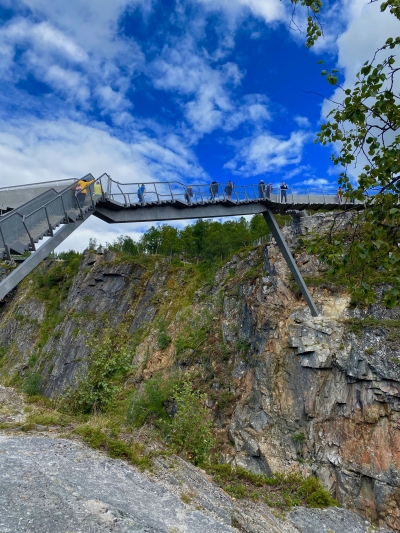 Tough as steel
Looks a bit scary to cross, but isn't at all. 
Opportunities for rambling abound in the area. Short hikes, long hikes, easy hikes, challenging hikes. Whatever you want.
The old bridge across the rapids.
Can't keep a straight face.
Måbødalen Valley
Visiting Vøringsfossen could be a day trip from Oslo. Bit of driving, but it can be done, if you get an early start. However, time is something we have enough of on summery Covid days. We decide to stay a bit longer, and carry on to the village of Eidfjord for the night – and for a proper dinner.
Just out of Vøringsfossen is Måbødalen, a narrow, 7-km-long valley, a particularly stunning stretch of road. There's the old road: zig-zagging, steep, with hairpin turns. A treat for hikers, and for cyclists who like a bit of danger a challenge.
We're taking the new road, with more tunnels. In, out, in, out. Which is good – and bad. On the one hand, it means less visual beauty:
On the other hand, it means the road can stay open in harsh, snowy winter conditions (mostly). Also, the approach to fairy-tale tunnels like this one is rather fun:
Entering the 2-km-long Eidfjord tunnel. Or the hall of the mountain king. You decide.
Eidfjord
Eidfjord, we discover, is a pretty village. Of course is it. Didn't expect anything less.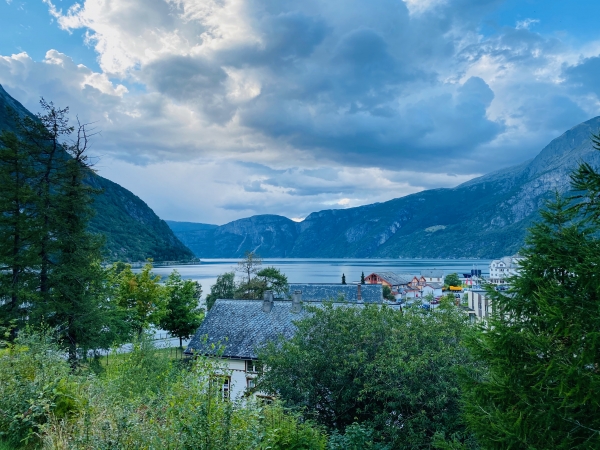 The view from the pier is especially lovely.
We're staying at Eidfjord Fjord & Fjell hotell, which is not part of a chain, so they can do their own thing. (Nope, nothing sponsored).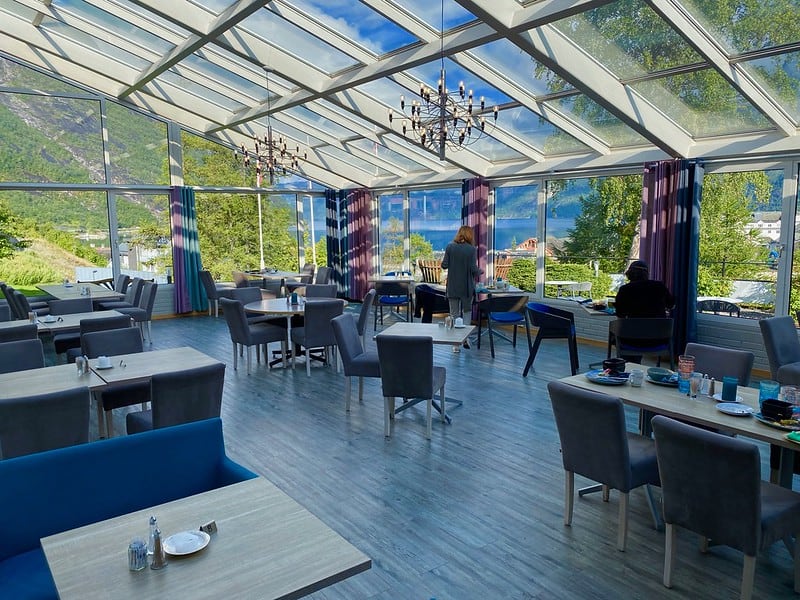 Dining room views –
First off: the grilled salmon is delicious. That look, though! 'Why ruin a perfectly fine bacon burger with extra bacon, by adding a slice of tomato??'
Good morning
Good morning views from the bedroom window (from the bed, actually) – and…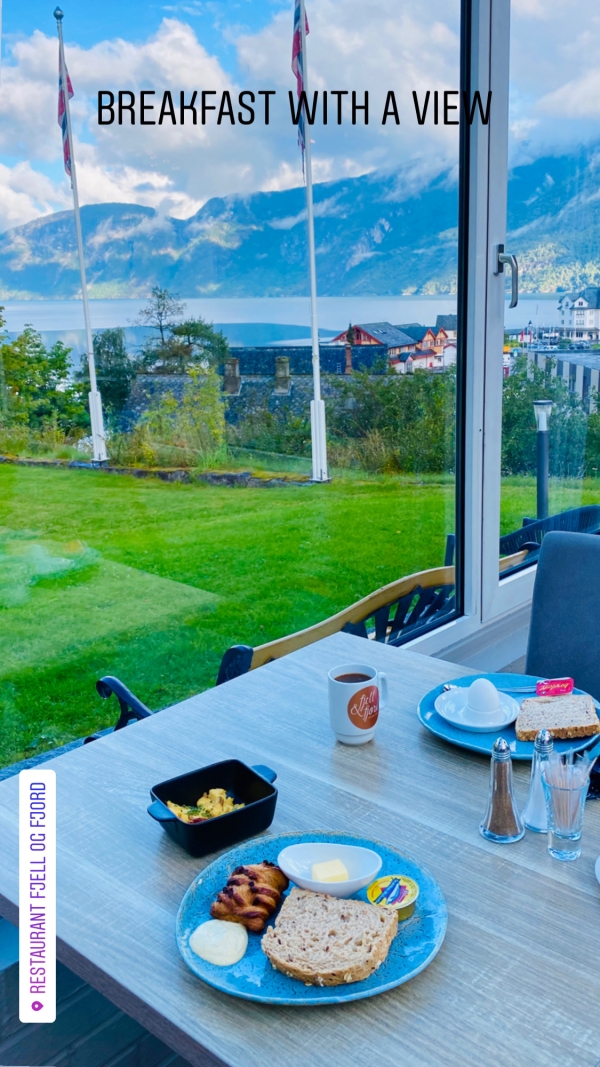 Before setting off for home, we have a final look at Eidfjord.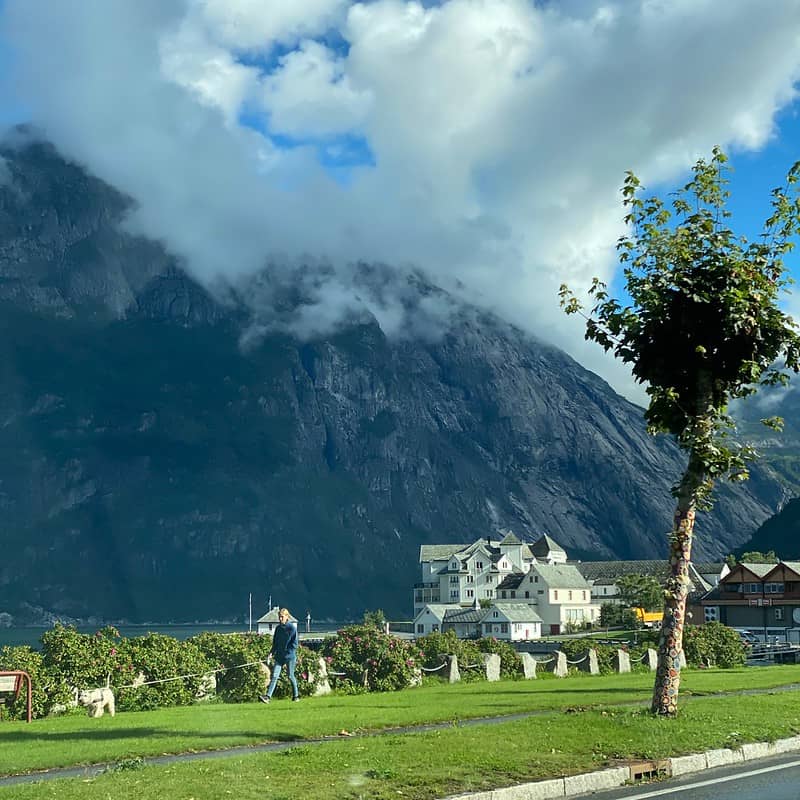 Not a bad place to walk the dog, is it?
Back on the Hardangervidda Plateau
Cat taking the wheel. Practice, practice, practice…
Thousands of reindeer roam Hardangervidda. You may spot a group of them, but they tend to be elusive here (unlike up north) and keep away from the road. If you don't see any, there's plenty of other wildlife to feast your eyes at. Moose can sometimes be spotted at dusk and dawn, sheep seem to roam along at leisurely pace all summer long, and cross-country skiers, well… watch out!
Hardangervidda: random scenes along the road
We pass through Geilo once again, for a coffee stop on the huge terrace of Highland Lodge, and to take home breads and buns from their top notch bakery (nope, nothing sponsored here either).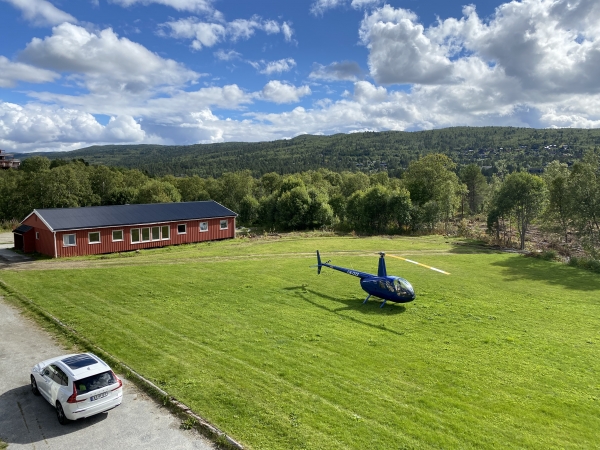 Geilo terrace views: a Robinson R44 and a Volvo. Right, Scandinavia it is.
Since I'm rather intrigued by stave churches, we take the roundabout route through Gol. The real 900-year-old Gol Stave Church can be seen at the Cultural History Museum in Oslo, so this is a replica. Still, it's nice to see how it looks in its natural environment.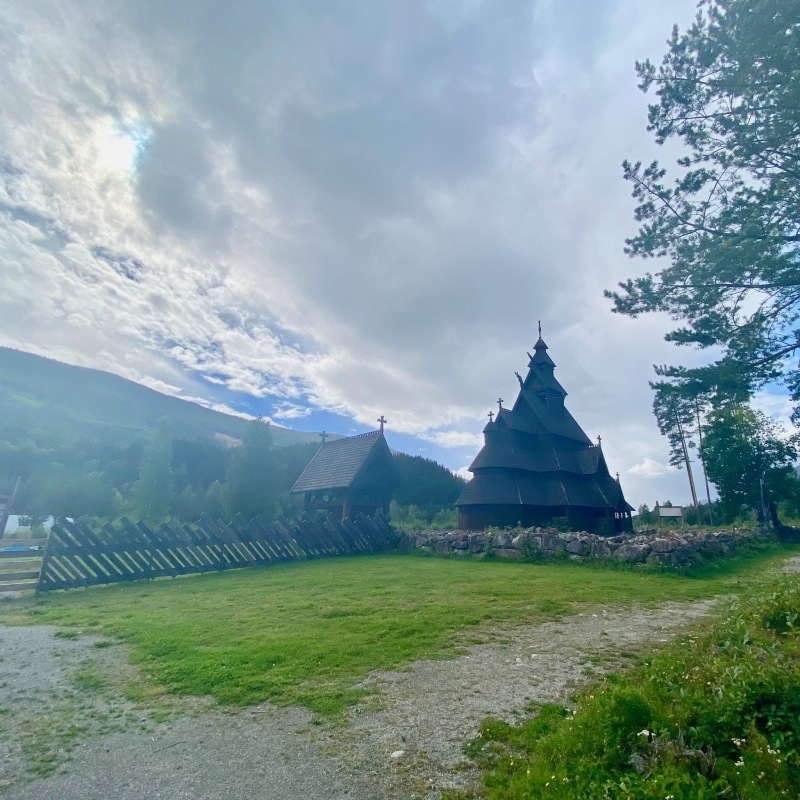 A few Hardangervidda practicals
In this post about Gaustatoppen, and even more in this post about Pulpit Rock, I mention the Norwegian Trekking Association, (the red T marks the trail, remember?). Hiking at Hardangervidda is popular. If you're interested, the trekking association keeps several cabins throughout the plateau, for hikers in the summer, and long-distance cross-country skiers in winter. Here's how to stay in them.
Also, in those posts, I talk about the Mountain Code. If you're planning any hiking, either on foot or on skis, learn those rules. It could save your life!
Winter: splendidly secluded in stunning surrounds!
It's 14th February 2021 today. Chances are you won't travel across the Hardangervidda Plateau this time of year. And even if you want to, sometimes conditions are so rough, you won't be able to. I've never crossed in winter (a new goal perhaps…), but plenty of others have. I've pinched this photo from National Scenic Routes to show you how it looks in windy, wintry conditions.
Photo by Geir Brekke/National Scenic Routes
 So gorgeous! Downright bewitching!
Also, cold. Let's get back to warmer thoughts. I'll close with another summery sight of the step bridge, just because…
I'll come back later with a few more road trips across spectacular mountain passes in Norway. The summer of 2020 was long.
Oh, and that driving licence? Flying colours!
(1801 words! There goes my plan for just a photo essay. Too much to say, s'all.)