A story about Ernest Hemingway could easily include subtitles about his books, his children, his wives, his travels, his cats…
Wait, what? Cats? Hemingway's cats?
That's right. Papa had cats – and heaps of them. Unexpected? Perhaps at first. But when you think about it, wasn't Hemingway a bit like a cat himself? Independent, self-absorbed, charming. He roamed around, came and went as he pleased…
When Hemingway lived in Key West, he was given a cat, Snowball, by a ship's captain. Soon he had a house full. As he so eloquently put it:
One cat just leads to another.
That might sound a bit resigned. But I get the feeling he loved, even admired, the lovely little fur balls. Another famous Hemingway quote:
A cat has absolute emotional honesty: human beings, for one reason or another, may hide their feelings, but a cat does not.

Ernest with cats and kids in Finca Vigia, Cuba – image courtesy of Wikimedia Commons
The Hemingway House
50 years after his death, 40 – 50 cats still roam his house in Key West, Florida. Some are descendants of Snowball.

The Hemingway Home on Whitehead Street in Old Town, Key West
The Hemingway cats are not just any cats. Oh no, these are mitten cats – or more scientifically, polydactyls, six-toed cats. As you can see from the photos below, they're not one particular breed. The sixth toe is simply a genetic mutation, quite common on the east coast of North America.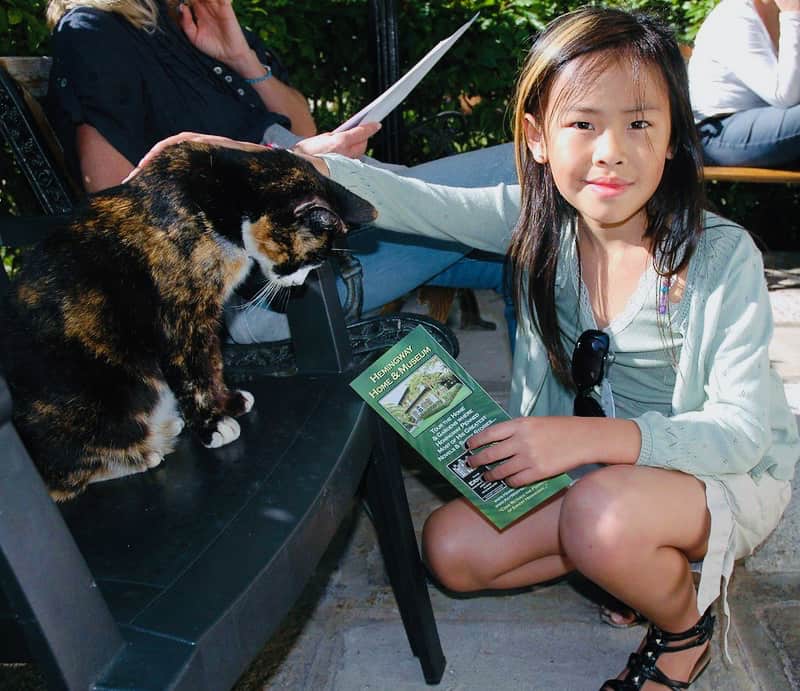 Pauline's pool
Aside from the cats, the house comes with plenty of interesting stories of the temperamental philanderer.
Our guide (a Hemingway look-alike, natch) points to a penny in the ground.
During his Key West years, Hemingway was away much of the time, covering the Spanish Civil War – and Martha Gellhorn.
His wife Pauline, tired of Ernest gallivanting about in war zones with his girlfriend, got this sweet revenge: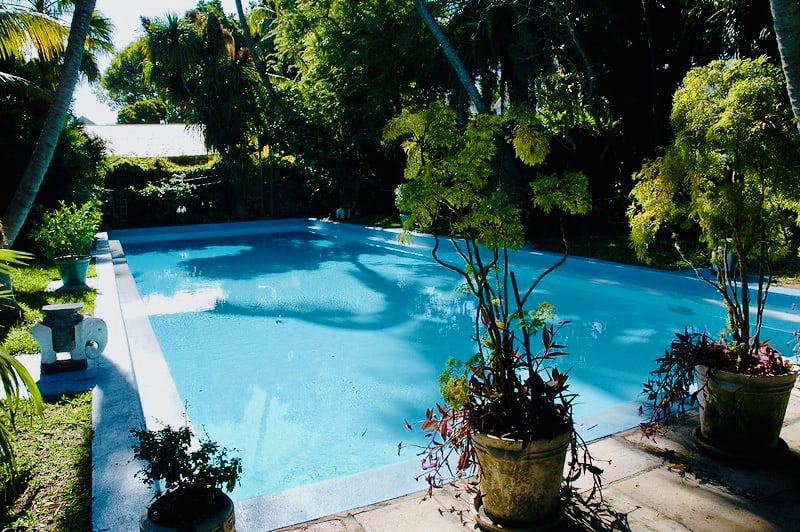 In Hemingway's day, a swimming pool was an extraordinary luxury and this was the only one within a 100-mile radius. No wonder; in 1938, this cost 20 000 dollars. In comparison, the house itself cost 8 000 dollars.
Why so expensive? At the time, there was no fresh running water in Key West. The builders had to drill through solid coral down to salt water, then set up a pump to fill the pool. A daunting task, no doubt.
Ernest was none too pleased about the expenses. One day, he flung a penny onto the patio, saying:
Pauline, you've spent all but my last penny, so you might as well have that!
Pauline, in turn, had the penny embedded in cement for eternity.
As I wander around the pool and the pretty garden, it's easy to picture the scene. But is it a true story? We can only guess. Soon after, Pauline and Ernest were divorced and he married Martha. A few years after that, he divorced Martha and married Mary.
Are you an avid Hemingway fan? Have you been in Key West?