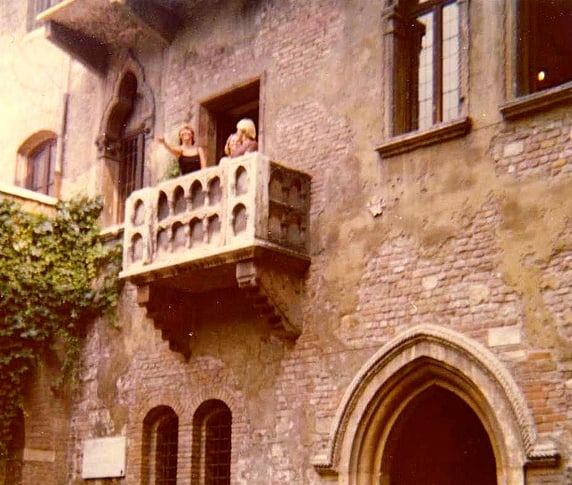 One of the most visited spots in the city of Verona is not real. La Casa di Giulietta, Juliet's house, and even more famously, Juliet's balcony, is a figment of an author's imagination. Now, William Shakespeare isn't just any author, of course. Though he probably didn't ever set foot in Verona.
And while the city of Verona has much more going for it than this balcony – just like Kronborg Castle is much more than just Hamlet's Elsinore – the fictitious home of the Capulet family draws hundreds of thousands of tourists every year. Such is the power of a good story.
As you can see, this photo wasn't exactly taken yesterday. I was 15, and on my first jaunt abroad without parents, when I waved from Juliet's balcony. Don't know if that's still possible. However, Verona's authorities are mighty tired of love declarations (and locks) stuck with gum on the wall beneath the balcony. So if you bring your significant other to this romantic spot, it's probably best to look deeply into each other's eyes and declare your love with words rather than attach it to the wall.
World at a Glance is a series of short articles here on Sophie's World, with a single photo, portraying curious, evocative, happy, sad or wondrous, unexpected little encounters.
City of Verona is a UNESCO World Heritage site.
Here are more UNESCO World Heritage sites I have visited around the world.
Keen to see more photos? Then hop over to Travel Photo Thursday for heaps of lovely travel inspiration.