Do you recognise her?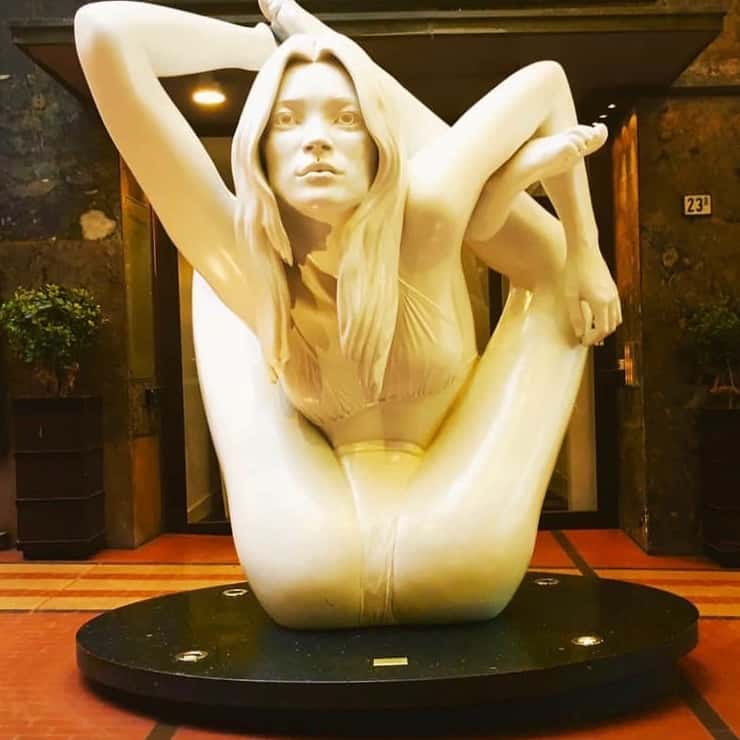 Just like stumbling upon Frank Zappa in Vilnius, bumping into Kate Moss in Oslo is equally unexpected.
But here she is, bikini-clad and larger than life. Kind of in your face – and a bit of a contortionist, our Kate.
A mirror of ourselves, a knotted Venus of our age, says the creator, London-born artist Marc Quinn.
A knotted Venus she might be, but that bit about the mirror of ourselves… I can tell you this is not what I see when I look in the mirror – neither literally nor figuratively. Also, I have some way to go before I'd even attempt this particular yoga pose.
Since 2009, Kate – or Sphinx, which is the name of the sculpture – has permanently resided in the Folketeatret Passage, near Youngstorget Square in the centre of Oslo. She is made of hollow bronze coated in white paint, is 3 metres tall and weighs 3.5 tonnes!
Those female warrior Scythians have nothing on Kate here, which is a very relevant comparison, by the way, because at the other end of the passage, is a sculpture of just that, a modern-day Amazon, dressed in a miniskirt and high heels. By another British artist, Sean Henry, Woman (being looked at) is crafted out of ceramic, wood and bronze, and a mere 2.6 metre tall. Unlike Kate here, this lady is painted in colours. Waterproof paint.
The good Marc must have a thing for La Moss; he has created numerous versions of her. According to the artist, he is drawn to her for
her ambiguous place in our culture: a creature who is admired and observed obsessively, but about whom we have little real knowledge.
The hotel located in the passage, Clarion Collection Hotel Folketeatret, can be a bit hard to find. Not for nothing is their slogan:
If you can find Kate Moss, you'll find us
So there you go, a quirkly attraction for your next visit to Oslo.
PS: If you're not in Oslo, but in London, the British Museum has a version of their own, a life-size Kate in 18 carat gold. Known as Siren, it has been displayed in the Nereid Gallery in the museum, amongst Aphrodite and her Greek goddess set. Can't guarantee it is still there, though. So best you come to Oslo after all. Just in case. As an added bonus, you'll also be able to look at Woman (being looked at).
World at a Glance is a series of short articles here on Sophie's World, with a single photo, portraying curious, evocative, happy, sad or wondrous, unexpected little encounters.