I've long been curious about all the little upon-Thames towns (partly due, no doubt, to having read one too many Daisy Dalrymple mysteries). There's an array of them: Henley-on-Thames, Staines-upon-Thames, Richmond-upon-Thames, Kingston-upon-Thames.
So when Kingston was announced as venue for a travel blogger conference – and knowing that it's also home to Hampton Court, a London day trip that has been high on my wish list for an age – well, it was a no-brainer, really.
Hopping off the bus from Heathrow, I wander along a pedestrian-only street, past little boutiques, vintage shops, pubs and bakeries and come to Market Place. It feels like the centre of town. The round building nearby is  Guildhall, my phone tells me. And over there is Coronation Stone, where the kings of England were crowned in the 10th century, before Westminster Abbey was built.
When I close my eyes, I can see the procession, the crown – heavy – being placed on the head of Æthelstan. I contemplate the Viking connection. Ædelsten or edelsten=gemstone, or literally noble stone, in the Scandinavian languages.
After Æthelstan came Æthelred. Edelt råd=noble advice. (Although his full name was Æthelred the Unready, so perhaps we wasn't so nobly advised after all). Then there was Sweyn; Svein is still a common name in Norway. I could be at home! As a matter of fact, Kingston itself sounds like it could be of Norse origin: Kongstun. Konge=king and tun, well my neighbours and I live around a tun, our houses encircle a common outdoor space, a green.
And this is what I so enjoy about Britain: wandering about in ancient history. Our common history, neighbours separated by the North Sea. History, for better or worse, coming alive so easily.
But it isn't only Viking history here. A little later came the Tudors – and they've put their marks on Kingston as well. Not only at Hampton Court, but along the streets here. Tudor facades, and mock Tudor facades.
Continuing on towards my hotel for the night, my phone battery dies, and with it the satnav. Left? Right? Up? Down? I wander down to the river, which, as it turns out, is the complete opposite direction. It's just something about water. Oddly magnetic.
No matter, my bag isn't that heavy. Along the riverside, I sit down at an outdoor cafe. Juice for my tired phone and tea for me. Tea with a view. Watching the river flow is soothing, hypnotic. I live in a river city myself – and I feel at home, yet again.
Wandering back – the right direction this time, more or less – I walk through Old London Road where I pass a line of phone boxes toppling over like domino tiles. Is it a commentary on the end of the iconic red phone box? Of changing times? Or is it just a creative sculpture?
The following day, I hop on a Turks ferry. For the next 35 minutes, I see exactly the image I have of the upon-Thames towns: boat houses, rowing clubs, members out training in the rain, life along the river.
When I disembark at Henry VIIIs pleasure palace, I'm soaked. But no matter. Being on the water means being in the open air. And getting wet. That's as it should be.
Inside the gates, I'm first met with a few characters who might have over-indulged just a bit.
Then I find the entrance to Henry's apartments. And there he is: from high up on the wall, the burly, middle-aged, wife-murderering, yet-oh-so-fascinating monarch stares down at me.
Outside I meet him again, out walking with poor Wolsey – before he knew he was poor Wolsey by the looks of it.
Wolsey built Hampton Court Palace, as a compliment to Henry. But Henry was a fickle one: Wolsey went from favourite to out-of-favour when he couldn't help with the annulment of his 24-year-long marriage to his first Catherine. So Henry took the palace for himself and had Wolsey accused of treason.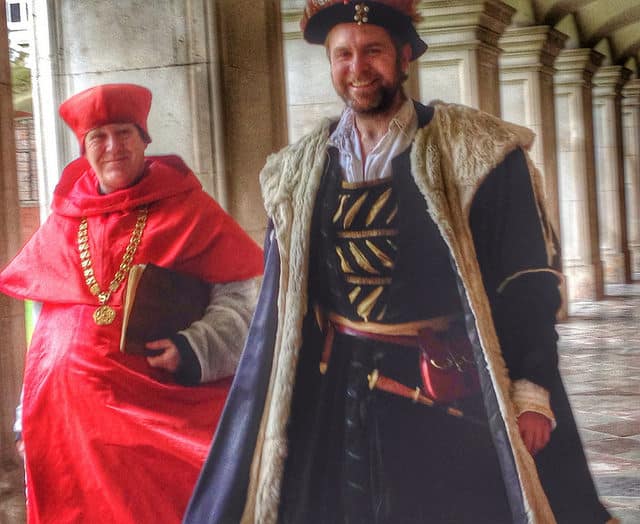 Had I been here in say 1535, would I have been smitten, I wonder? Or would I have had enough sense to keep clear? Like Princess Christina of Denmark, who – legend has it – answered Henry's proposal with words to this effect:
Had I but two heads, I would gladly place one at Your Majesty's disposal.
There's much more to Hampton Court Palace than the wicked Tudors, of course. But sadly, I have a plane to catch. So I rush past the Stuarts and Queen Anne, I get brief glimpses of Prince George and the chocolate kitchen (!) – and I realise this visit will be just a teaser. Hampton Court is a full day project. A sunny day with a picnic basket, perhaps – or a stop at one of the little pubs just outside the gates.
A mere hour after I arrive at Hampton Court, I'm on the direct bus to Heathrow.
Next time, I'll not only spend an entire day at Hampton. I'll also be sure to stay in town for the Monday Market. There's flowers and fish, meats and make-up, bakers and books, cushions and cobblers, veggies, vintage clothes and vacuum cleaner accessories… Looks like you can find just about anything.
Should be worth a wander about; same goes for the town's other markets. In fact, Kingston has been a market town since the 1200s. For 800 years, people have engaged in trade here. No vacuum cleaner accessories Anno 1215, but just like today: fishmongers, butchers and bakers, surely. And what else? Fertile grounds for the imagination all around…
Disclosure: I visited Hampton Court Palace as a guest of Visit Kingston.