My daughters love Dublin. So after exploring northern Wales for a few days, we decided we'd take the ferry to Ireland for the day and headed for Holyhead. Well, we never made it to Dublin. The beautiful Isle of Anglesey – or Ynys Môn in Welsh – was so interesting itself, we never got on the ferry.
After crossing the Menai Strait on Pont Britannia (yet another construction by that inimitable engineer Thomas Telford), we first stumble upon
Llanfairpwllgwyngyllgogerychwyrndrobwllllantysiliogogogoch
Llanfair what, you ask? Why, Llanfairpwllgwyngyllgogerychwyrndrobwllllantysiliogogogoch, of course. Now, try saying that 3 times fast. Or just once, even. This is how the Welsh say it. Is this the longest place name in the world?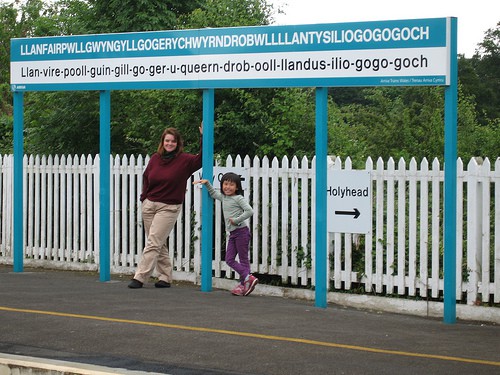 It means
St Mary's Church in the Hollow of the White Hazel near a Rapid Whirlpool and the Church of St Tysilio of the Red Cave.
Originally named Llanfair Pwllgwyngyll (stop after "Whirlpool"), the even longer name was constructed in the 1860s to give the local train station the longest name in Britain, as a PR-scheme to attract more visitors. As if Llanfair Pwllgwyngyll wasn't enough of a tongue twister.
Today, the village is commonly referred to as Llanfair PG and there isn't much to see, apart from a James Pringle Weavers shop and, of course, the old Victorian railway station. But somehow, 150-year-old publicity stunts are more interesting than present ones, don't you think?
In the 21st century, Llanfair PG also boasts the longest domain name on the Internet; listed in the Guinness Book of Records.
So, does Llanfair have the longest place name in the world? Or do you know otherwise