It's October, my favourite month. Warm, golden colours, leaves crunching underfoot, chestnuts kicked about, autumn winds, cool, refreshing temperatures, movement, flow. There's mystery in the air. Anything might happen.
I was born in October, on Halloween, no less. On my 30th birthday, two thousand million years ago, I dragged friends along to celebrate in Edinburgh. A random choice, really – but what a felicitous one. Could hardly have found a more deliciously appropriate spot. We've been back many times since.
A tale of two cities
Last year, Alex wrote about Edinburgh underground. Well, there's more below street level in this fascinating city. Much more.
This time, the girls and I are staying in an apartment in the Old Town. And here's what I'm noticing for the first time properly: looking out my bedroom window, I'm one floor up from street level. I'm confident I can jump out easily, should the need arise.
On the other side of the building, the view from the girls' bedroom is a different story. Here, the street is a further three stories down. When I lean out their window, I'm struck with a stomach-tingling sensation – all of a sudden, I have to fight the urge to test whether I can really fly.
And then it strikes me: Edinburgh is in many ways two cities. The one you see depend entirely on your point of view. Your literal, physical point of view.
I'm intrigued and want to learn more about the city underneath the city. Next to the Mercat Cross, we spot a sign for Mary King's Close and pop in for a close look… as it were. A close, in case you're wondering, is a Scottish term for an alleyway.
Edinburgh's Old Town is built on a rock. The steep Royal Mile serves as the main street and a series of alleyways veer off down either side of the rock. Some are narrow passageways. Others, such as Advocate's Close, are stairs. Centuries-old tenement houses once lined the closes.
Mary King's Close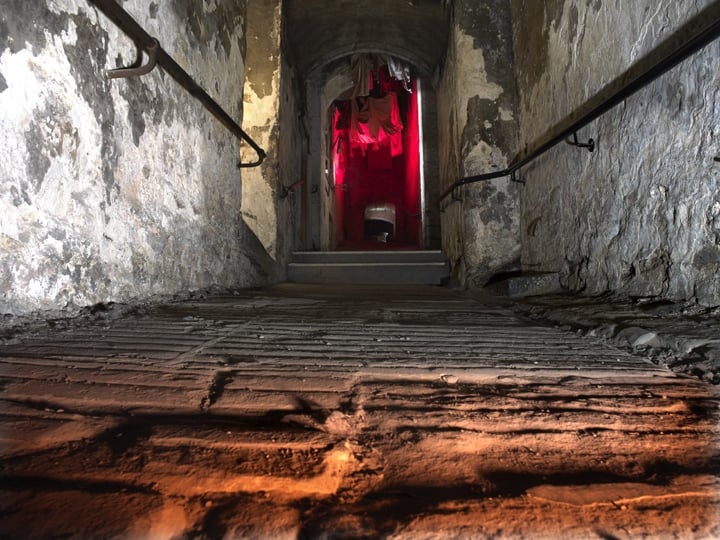 We're in the best known close, named after one Mary King, an early 17th century tradeswoman. Naming, well anything, after women, wasn't very common then. (Still lagging a bit in that department, aren't we?) Why the close was named after her isn't entirely clear, but Mary King's Close is mentioned in documents as far back as the 1600s.
We're shown around by Stephen Boyd, a merchant colleague of Mary's, looking quite sprightly for a 400-year-old, I must say.
Our first stop is at the bottom of the close, a cellar practically. The little room housed up to 12 people during Mary's time. Small, low-ceilinged, it must have been dark and smelly. The only source of light was a little cruisie lamp, lit with fish oil, the cheapest there was. Getting a whiff of it through your mind's nose, are you? Breathe deeply. There's more, isn't there? Unwashed humans, yes. But what's that disagreeable odour emanating from that bucket over there in the corner?
The residents were allowed to empty the toilet bucket twice a day: at 7am and again at 10pm. This duty was usually performed by the youngest in the household. He – or she – tossed the content right out the door while calling out Gardez l'eau! – or, rather: Gardee loo! (the origin of the word loo, perhaps?) Gardez l'eau means 'mind the water', though of course water would be the least of your worries if you had to mind this.
Now, imagine the rest of the close doing the same. Mary King's Close slopes very steeply. Everything runs downwards, finally ending up at the bottom of the town, in what was known as the Nor' Loch.
Murderous mother-in-law
Not exactly an environment conducive to good health, old Edinburgh. Not to mental health, either, probably. Or even to good temper and generally getting along with one another. Let's skip even further back in time, to the year 1513. A Mrs. Alison Rough, a merchant's wife and mother of four children, has just lost her husband at the Battle of Flodden.
During the next 20 years or so, Alison becomes a tradeswoman. She has a stand by the Mercat Cross and works hard to provide for her children. When her youngest daughter Katherine marries Alexander Cant, Mrs. Rough promises him a dowry of 400 merks (about 20 pounds). After four years of marriage, and still no dowry in sight, he confronts mum-in-law.
They get into an argument which ends with Alison bashing him over the head, leaving him dead on the floor. Mrs. Rough and Katherine are both charged with murder and sentenced to death, but as Katherine is pregnant she's let off the hook until the baby is born. After that she manages to escape the country.
Her mother, however, is not so lucky. She is to be drowned. Which I'm sure, is a bad enough way to go under normal circumstances. But Alison Rough doesn't end her life in the fresh water of a mountain loch. Instead, she's strapped to a douking chair and lowered into the Nor' Loch. Legend has it, it took a full 10 minutes before she completely sank below the filth and the bubbles closed over her head.
By the way, do you ever lay on the grass in Princes Street Gardens? Perhaps with a book, enjoying a relatively rare sunny day? Ever wondered about the full and fertile flowers? Could be because the Nor' Loch is right underneath.
Let's talk death. Black Death. And doctors with beaks.
Disease spread like wildfire through the unsanitary living quarters. One particularly nasty little critter was the dreaded Yersinia Pestis, probably carried by flea-infested rodents. Edinburgh was hit by the plague many times over the centuries; the final, and worst one, struck as late as 1644.
We see people – well, mannequins – dying of variations of the plague. The pneumatic plague was the worst. If Yersinia hit the lungs, you were dead within a few days.
The more common bubonic plague was not as deadly. Leaning over an affected man(nequin) is a curious-looking creature. That's the plague doctor, dressed in a heavy leather cloak and heavy leather gloves so as not to get in contact with the infected buboes. Most curious of all, he wears a mask with a long bird-like beak. In the 17th century, a common belief was that disease spread through miasmas, evil smells. The beaked mask, often filled with aromatic herbs, served as protection against the miasmas.
Hauntings, naturally
Ghosts and hauntings are a given in this environment. We step inside a room which might have been the last bedroom of a poor little dying girl, now known as Annie. When a Japanese psychic visited a few years ago, she felt the little girl's presence quite clearly. Annie, said the psychic, was plague-ridden, lonely and unhappy, left to die all on her own.
Not even a toy was left her. When the psychic brought a toy for Annie, her spirit immediately calmed down. Ever since, people have been leaving cuddly toys, dolls and children's books. There's a bit of a collection here now. Others leave money, which is all channeled to a children's charity.
Back on the street, Stephen Boyd tells us more about Mary King's Close of yore. It was a busy street, humming with all kinds of activities. Along one side, traders had stalls hawking their wares. Can you picture yourself curiously wandering along Mary King's Close 400 years ago? If so, I invite you to take a look at your shoes. Can't see them? That's because the gardi loo-bits are up to your ankles, m'dear. Sometimes it's worse; in fact, let's be blunt: sometimes you wade in shit up to your knees. And watch out. It all gets quite slippery during winter. Careful you don't slide all the way down to the Nor' Loch.
The Thunderbox
In the 1800s, toilet facilities change dramatically, at least for one Andrew Chesney, a saw maker who lives about halfway up the close. He has the most marvellous contraption installed: an indoor toilet. The Thunderbox, he calls it. So proud is Mr. Chesney of his toilet, when he sits on it, he makes sure the doors to the street are left wide open for all to see.
Later, Mr.Chesney becomes the last man to leave the close; forced out in 1902. Afterwards, the tenement is demolished to pave way for the City Chambers.
Mary King's Close practicals
The Real Mary King's Close is located on the Royal Mile opposite the Mercat Cross.
Open every day 10-17 in winter, 10-21 in summer and on Fridays and Saturdays all year.
Tours take 1 hour and cost £13.95; reduced rates for seniors, students and children 5-15.
Children under 5 not allowed.
Photo credits: 99% of the photos here on Sophie's World, we've taken ourselves. However, photos were not allowed here, so The Real Mary King's Close has kindly provided me with all but the first two in this article.
Disclosure: I was given free entrance to Mary King's Close with my press card. As always, everything I write is my own experiences and opinions.