In the southern part of Bosnia and Herzegovina, about 20 km from the border with Croatia, is a little town with a peculiar story.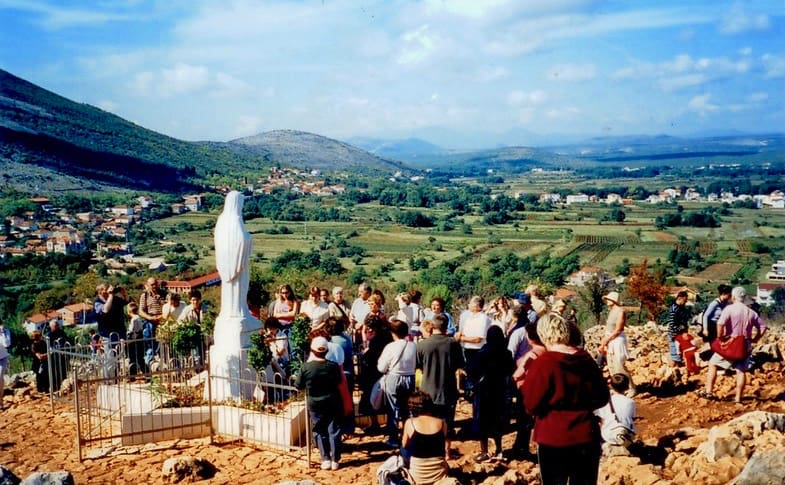 On 24 June 1981, on a hill ca. 3 km from the town of Međugorje, Virgin Mary allegedly appeared before six local children – Ivan, Jakov, Marija, Mirjana, Vicka and Ivanka – for the first time. Ever since, she has appeared and re-appeared for the six visionaries, together or individually; for some of them on a daily basis, sharing messages about conversion and prayer and conquering satan. Here's one:
"Do not allow satan to gain control of your hearts, so you would be an image of satan and not of me." (January 30, 1986)
Convert, or else…?
Mary is also sharing 10 secrets with the six visionaries, about what is about to happen on Earth. The last two secrets are as yet unknown, but they sound ominous; all about the sins of the world. When all the six have received all 10 secrets, Mary will stop appearing. That's when things get serious, beginning with three warning events.
Punishment is inevitable, for we cannot expect the whole world to be converted. The punishment can be diminished by prayer and penance, but it cannot be eliminated.
I find it difficult to understand that way of thinking; difficult to understand the need to push your particular set of dogma on others. And I wonder if Mary would approve. How would she feel about her name being used to intimidate people? Would she perhaps advocate acts of kindness rather than just prayer and penance? Women, as we all know, get stuff done. I like to think Mary might have agreed with the brave leader of the suffragette movement, and made Emmeline Pankhurst's simple and powerful words her own:
Deeds, not words.            
Ever since that first summer day, Međugorje has been a pilgrimage site, on par with Lourdes in France and Fatima in Portugal. Since those first apparitions forty years ago, 30-40 million have visited the little town. The large majority are pilgrims; but some are curious folks like us.
At a dirt road in the little village Bijakovići outside Međugorje, begins a rocky incline known as Crnica Hill or Apparition Hill. The hike is not very strenuous; Cat, my 3-year-old manages just fine. However, it is a bit more challenging for the pilgrims who insist on scaling the rocky hill on their knees. Slow going. Knees stabbed by sharp rocks. Some bleed.
Passing the crawling pilgrims, Cat asks why. I can provide no answer that satisfies her. Or indeed, me.
At the top, we are met by Christ on the cross.
But it is his mum who is the major draw here.
Some of the pilgrims stand silent before Mary. Some cry – and I can't help but wonder if it is in some way related to what must have been a very painful slog up Apparition Hill. Some sing. Others wail. It's an unusual sight. And, I'll admit, slightly uncomfortable.
Zahvala Kraljici Mira
Also on the hill is a memorial to the six children – and a cross bearing the inscription Thanks to the Queen of Peace.
Zahvala Kraljici Mira
For many years, the Vatican did not approve of the divine communication that took place regularly here in Međugorje. The Holy See has later changed its mind. In December 2017, official pilgrimages were allowed, and in May 2019, they were officially authorised.
Papal seal of approval or not, that didn't seem to make a big difference to the eager worshippers when we visited. On an October Monday in 2004, the town teemed with pilgrims in various stages of emotional turmoil.
Međugorje town centre with St James Church
Back in Međugorje town centre we found a pleasant outdoor cafe for lunch. Shamelessly, I eavesdropped on a group of Americans at the next table, regaling each other with tales of miracles that had befallen them directly as a result of earlier visits in Međugorje. Cancers had disappeared, relationships repaired, financial difficulties solved. They all seemed to be in good spirits, and pleased to be here.
World at a Glance is a series of short articles here on Sophie's World, portraying curious, evocative, happy, sad, wondrous or unexpected little encounters. It's fair to say this is yet an experience that fits several of those criteria.