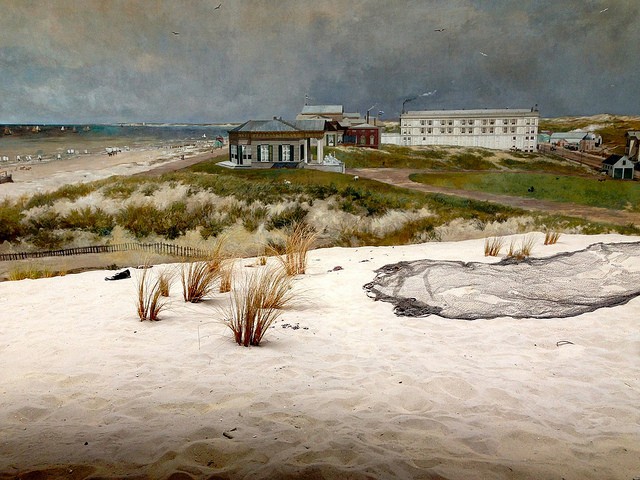 Den Haag (The Hague) tends to fall in the shadow of crazy neighbour Amsterdam. And while Amsterdam is the official capital of the Netherlands, Den Haag is home of the government, Parliament and most of the international embassies. It's also where more than 150 international organisations are located, most notably the International Criminal Court, where some of the world's despots have been indicted for crimes against humanity.
But what about s'Gravenhage (the city's somewhat unpronouncable local name) as a tourist destination? When I was last in Den Haag, I slept in a shipping container and had a fabulous walking tour through town – with one of the world's most deliciously flamboyant and entertaining guides, Remco Dörr.
I also saw several museums and my absolute favourite was the Mesdag Panorama, devoted to the works of Dutch marine painter Hendrik Willem Mesdag.
Ah, you might think: galleries, museums. Not really into that!
Go anyway; I'm willing to bet you'll really enjoy it. Even a couple of blasé teenagers, visiting when I did, seemed mesmerised.
Here, you literally step into the painting; you walk through a giant 3D-panorama from the late 1800s, surrounded by citizens, the sands of Scheveningen beach and the rough North Sea. The panorama is housed in a rotunda, so you're in the middle of the seascape, a 360° image of Scheveningen of another era. You're in a museum – and you're on the beach!
In fact, I won't give you any more details. Just go – and prepare to be stunned.
World at a Glance is a series of short articles here on Sophie's World, with a single photo, portraying curious, evocative, happy, sad or wondrous, unexpected little encounters.
Disclosure: In Den Haag, I was a guest of Den Haag Marketing. As ever, I'm free to write about anything that takes my fancy (could be everything, could be nothing).