It's a chilly, windy evening. Maybe that's why we're only six. Six people about to walk through 700 years of London's criminal history. Jason, a qualified London guide for 13 years, is tall and gangly and reminds me of Hugh Grant. Same wavy hair and quick speech. More to the point, he's passionate and knowledgeable, gesticulating eagerly while relating anecdotes from London's dark past. Let's begin with the bridges of London, silent witnesses to plenty of action during the last millennium. In fact, let's begin with London Bridge.
London Bridge
Commuters have walked across London Bridge for 2000 years! During medieval times, it was the only entrance to the city and thus a main focus of London life. The bridge was covered with timber houses, several floors high, including the fabulously decorated Nonsuch House, complete with gables and a chapel. All that on one bridge; must have been a sight – a bit like Florence's Ponte Vecchio, perhaps? Where, oh where, is that time machine?
London Bridge is also where heads were displayed on spikes. During a visit in 1599, a German tourist counted 38. A famous head hanging here was that of the brave-hearted William Wallace, preserved in tar – hung up to serve as warning not to oppose the powers that be.
A new bridge was constructed in the 1830s. This one lasted a mere 130 years, when it was discovered that London Bridge was falling down, i.e. couldn't handle the increased traffic. And so it was auctioned off and sold to an American, Robert McCulloch, who brought it – brick by brick – to Lake Havasu in Arizona. Legend has it, McCulloch thought he had bought the more impressive Tower Bridge.
Sadly, the present London Bridge is neither attractive nor interesting. It takes a massive leap of the imagination to picture the fantastic London bridges of the past.
Tower and Tower Bridge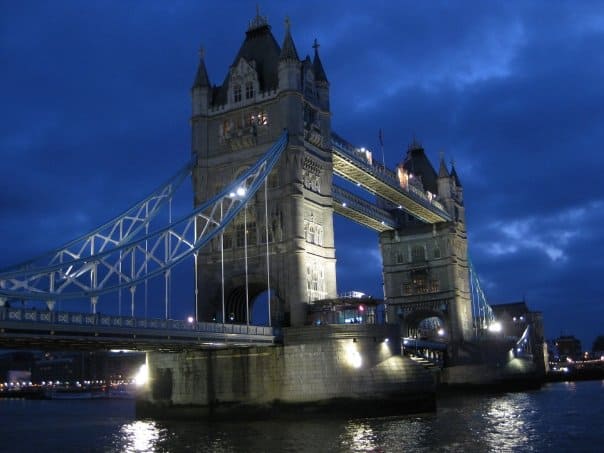 Nearby Tower Bridge is the foreboding Tower of London, venue of public executions for centuries. If you were caught plotting against king and country, chances are you'd meet your fate here.
Anne Boleyn caused England's break with the Catholic Church – a woman of power indeed. Until she lost her head, officially for adultery and incest. The real trouble was, she didn't produce a male heir. Even worse, she was a bit too outspoken on a number of sensitive issues and made enemies of important men at the court.
Henry's fifth wife – and Anne's cousin – Catherine Howard, was not as famous. But then she didn't last long enough to gain much historical importance before she was beheaded for adultery. She was 18, he was 50. And chances are, he probably didn't look anything like George Clooney at 50. So really, can you blame her?
After Henry's only son, Edward VI, dies at 15, his cousin, Lady Jane Grey, is put on the throne in a political ploy. Queen for less than two weeks, 17-year-old Jane was executed by her cousin Mary (the bloody one). A bit later, Elizabeth I, Anne and Henry's daughter, had her cousin Mary (Queen of Scots) bumped off here. It can't have been easy being a royal cousin back then.

Two of Henry VIII's six wives were executed at Tower.
Waterloo Bridge
Soon, our little group is standing below Waterloo Bridge, where Bulgarian dissident Grigori Markov was assassinated in 1978, in a gruesome, yet clever manner: stabbed in the leg with an umbrella dipped in poison. Who thinks of that: a poisoned umbrella? The KGB, that's who. Markov died after three days of excruciating pain.
Blackfriars bridge
In addition to all the murders, 60 – 70 suicides are fished out of the river Thames every year. Italian banker Roberto Calvi was found hanging from scaffolding under Blackfriars Bridge in 1982. The first inquest concluded it was suicide. But was it? More recent forensic reports conclude that he was murdered.
If only these bridges could talk…
This is an excerpt, slightly reworked, of my article on Boots'n'All: The Bridges of London
Photos by my daughter's boyfriend, Aleksander Bratlie.
PS Stay tuned for more on London's deliciously dark past. We'll be going to public executions and hear all about a man called Jack.
Tower of London is a UNESCO World Heritage site.
Here are more UNESCO World Heritage sites around the world.