It's that time of year again: the julebord season. The month before Christmas is a somewhat gluttonous period here in Norway. It probably is in your country as well, but your menu might be a bit different. Up here at the edge of the world, we eat… rotten fish. And torched, smoked whole sheep's head, eyes n'all.
Up here, Christmas is simply called jul. You may recognise the word: jul = Yule, a Norse midwinter celebration from pagan times.
Back to the julebord. It means Yule table, and just about every workplace has one; it's the Norwegian version of the office Christmas party, you might say. Just about every club, every organisation and every group of friends have a julebord, too. Most restaurants are booked up months in advance and the menus usually comprise five or six items: cod, lutefisk, rakfisk, ribbe, pinnekjøtt, and sometimes smalahove. Here's the lowdown:
Yuletide fish
Torsk og rødvin – steamed fresh cod and red wine – is a staple; usually served with boiled potatoes and root vegetables or a cucumber salad.
If you hail from Minnesota, Wisconsin or the Dakotas, or even Washington – you will likely have heard of, or possibly even have tasted, lutefisk. This is essentially cod soaked in lye or caustic soda, until it reaches a slightly wobbly consistency (but not too wobbly), then served with boiled potatoes, mushy peas, bacon, mustard and sweet, brown goat cheese. Most people attend at least one lutefisk party before Christmas.

(Strangely, I don't have a lutefisk photo. However, I thought this one by Marton Digernes was very representative. Looks better than it sounds, doesn't it?)
Rakfisk is next on the menu: salted fish – usually brook trout – left to ferment for 2-3 months. It's eaten raw, most often with baby potatoes, sour cream, raw onions and lefse, a soft, flat, unleavened potato bread.
Too, too weird? Easier options are røkelaks (smoked salmon) or gravlaks (gravlax) – salmon cured with salt, sugar and dill. 'Grav' means grave as a noun, or to dig as a verb (or cure, in a more contemporary sense); in old times, the fish was buried in sand to ferment. Røkelaks and gravlaks are usually served for lunch or as an appetiser, often with scrambled eggs, mustard sauce and (of course) boiled baby potatoes.
Then there's julesild – yuletide herring, which comes in numerous varieties: also more of an appetiser, and typically served for breakfast on Christmas morning, too.
Yuletide meats
Ribbe is roasted pork belly, served with yuletide sausages, medisterkaker (flattened meat balls), boiled potatoes (no surprise there), Brussels sprouts and cranberry jam.
If you're not too keen on pork, pinnekjøtt may be more to your liking: salted, dried lamb ribs steamed over birch twigs, served with boiled potatoes (what else?) and mashed root vegetables.
Finally, there's Smalahove.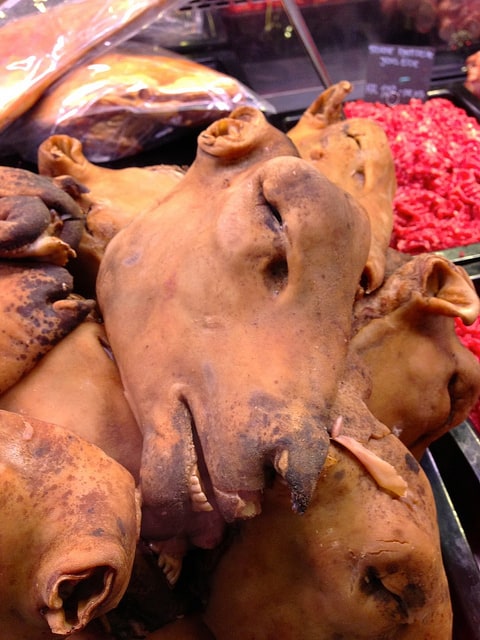 Speaks for itself, doesn't it? The smoked and torched head of lamb may freak you out a bit, but if you think about it, it's a very honest dish: there's no doubt about what you're eating. You can't pretend it came as a square piece of frozen something from the supermarket, there's no question an animal has died here. Smalahove is usually served with boiled potatoes and root vegetables, or sometimes with bacon and peas.
And birds? Turkey and the like? That's usually for New Years Eve: turkey, goose or quail.
All this heavy food is washed down with copious amounts of beer and ale, as well as Akevitt (Aquavit), a strong caraway-flavoured spirit, potato-based. Natch. A favourite aquavit is Linje, meaning line. The line in question is the Equator, as the aquavit is sent in oak barrels from Norway to Australia and back, thus passing the Equator twice before it's bottled.
Yuletide dessert
Traditional desserts are riskrem ('rice cream') – rice porridge with whipped cream served with a forest berry sauce, and multekrem – cloudberries mixed with whipped cream.
For after-dinner sweets, there's always marzipan. Always! In case you're not familiar with it, marzipan is ground almonds mixed with powdered sugar and egg whites, so not too terribly unhealthy. Although when chocolate-coated…
There's also kransekake – an 18-tiered wreath cake, consisting mostly of baked marzipan, and finally småkaker – 'little cakes', i.e. biscuits (cookies).
So, that's the pre-Christmas julebord menu. But what about the Christmas holidays?
Same procedure as last year, Miss Sophie?
In Norway, Christmas Eve is the main event. The day usually begins with… TV. That's right. For most of the year, kids aren't allowed to sit in front of the TV round the clock, and certainly not during daytime, so watching TV on Christmas morning is a bit of a treat. Christmas morning TV favourites include Donald Duck cartoons for the youngest, and Tři oříšky pro popelku, a 1970s Czech version of Cinderella, a cult classic.
Another classic is Dinner for One, a short b/w comedy sketch from 1963, about 90-year-old Miss Sophie, her servant, James, and a dinner party with imaginary guests. As the night moves on, James is obliged to play the part of every guest and toast the great lady. Naturally, he becomes very drunk. Everyone knows these phrases:
Same procedure as last year, Miss Sophie?
Same procedure as every year, James.
If we're lucky, there's plenty of snow on the ground, and some head for the forest trails for a spot of cross-country skiing before dinner. Back home, dinner is served about 5pm, with the children becoming increasingly impatient as the meal wears on, since present opening time is immediately afterwards. Rarely do you find kids less interested in dessert than on Christmas Eve.

Riskrem, here with blueberries
Lunch on Christmas Eve is rice porridge with an almond hidden in the pot. Whomever gets the almond wins a prize, usually a chocolate-coated marzipan pig. Dinner – well, you'd think we'd be tired of the strange foods by now. No no! The most common Christmas Eve dinner is ribbe with all the trimmings. And there'll be plenty of leftovers for the week ahead.
Christmas morning is for trying out your new toys, preferably outdoors: skis, snowboards, skates, sledges.
What's your Christmas food of choice? How do you celebrate in your country?