Earlier this week, Holmenkollen Ski Jump, one of Oslo's best known attractions, reopened. The old ski jump from 1892 was torn down in 2008 to make room for a new, improved hill to be ready for the 2011 FIS Nordic World Ski Championships. The ski jump has always been a very visible landmark in the city and many Oslovians have missed it dearly during these few years.
Interestingly, Norway has seen a huge debate the last few years on whether to allow women's ski jumping, specifically whether women should be allowed to set out the largest ski jumps. While Norwegians in general feel it's unfair and incomprehensible why women shouldn't, some – notably male jumpers – seem to feel their domain threatened.
Listening to popular demand (including several Facebook groups) – Oslo's city council decided 25-year-old Anette Sagen should be the inaugural jumper in the new Holmenkollen.
Local club Kollenhopp felt their candidate, world record holder Bjørn Erik Romøren should be bestowed this honour and was none too happy with the city council's decision. In fact, so unhappy were they, they decided not to respect the decision and snuck in a bit of «test jumping» the night before. Of course, the first «test jumper» was none other than Romøren, causing a public outcry. Romøren is probably Norway's least popular man these days.
The question of women's ski jumping is by no means just a Norwegian issue. However, tellingly, the Facebook group Let women ski jump! Sochi 2014!, protesting the IOC's decision to keep women jumpers out of the Olympics, does have a Norwegian admin. Feel free to join the group.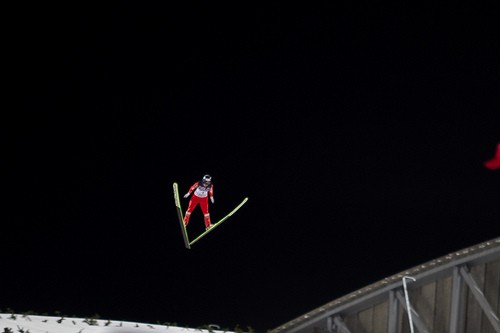 Photos: Holmenkollen Ski Jump by Sophie's World, Anette Sagen mid air during the first official Holmenkollen jump by Helge Carlsen and Anette Sagen with reporters by lauvstad; the last two on flickr's Creative Commons.