Thinking of driving the Pamir Highway? It's one of the world's epic road trips (possibly the most epic), through the wild landscape of the Pamir Mountains, and along the equally wild Panj, the river that forms the border between Tajikistan and Afghanistan.
You'll drive across lunar desert landscapes, past stunning turquoise lakes and golden meadows. You'll spot Marco Polo sheep with their long, curled horns, yaks with their long, shaggy hair, and gutted cars. You'll cross high mountain passes and be surrounded by snowy 7000-metre peaks.
Not for nothing is this 1200-km stretch of road known as Bam-i-Dunya, the roof of the world. This is the GBAO – Gorno-Badakshan Autonomous Region, and you'll need a GBAO-permit along with your Tajik visa (both available online, quick and easy, and with a finger-pointing smiley cheerfully reminding you to get out before the visa expires).
I like how UNESCO describes the area in the World Heritage list inscription:
Subject to frequent strong earthquakes, the [Tajik National] Park is sparsely inhabited, and virtually unaffected by agriculture and permanent human settlements. It offers a unique opportunity for the study of plate tectonics and subduction phenomena.
Until 2005, foreign travellers were a rare sight here in the Pamirs; only a couple of hundred visited annually. For years, this was an enigmatic part of the Soviet Union, and after the collapse of that super power, recently independent Tajikistan was thrown into a five-year civil war.
The number of international visitors in the Pamirs is still very low, considering the size of the area (1.5 times the size of Switzerland). The growth potential seems enormous: eco holidays, adventure holidays, cultural tourism, hiking, cycling, driving, horse riding, not to mention mountain climbing. Some of the world's highest mountains are here, including Ismoil Somoni Peak. At 7495 metres, it was the highest in the former Soviet Union.
Quirky fact: Ismoil Somoni Peak is located in the intriguingly named Academy of Sciences Range. It was originally named Stalin Peak, then changed to Communism Peak by Kruschev in his attempt to de-Stalinise the country. Locals still say Communism Peak, and nearby Lenin Peak and Karl Marx Peak have been allowed to keep their Soviet era names. 
Our route
MapsByMorland
The Pamir Highway (or its more prosaic name, the M41) was built by the Russians, then improved by the Soviets. Still, it's for the most part a pot-holed dirt track with the occasional, rather thrilling, river crossing. The road clings to cliffs above raging rivers and heart-stopping drops. There are no guardrails.
Villages and settlements are few and far between, so is any kind of services. Decent mechanics skills will come in handy. It's also one of the main heroin traffic corridors from Afghanistan via Russia to Europe, known as the northern route, with an annual market value estimated to USD 13 billion. Furthermore, the road is frequently subject to erosion, landslides, rockfalls and earthquakes, which could create a few challenges. That's something to take into consideration when timing your visit.
Now that we've got all that over with, I'll hurry up and tell you our journey is for the most part easy. We're in a well-running landcruiser with an experienced local driver. (Although we have the occasional go ourselves. How could we not!) We're here in July in warm, dry weather. No run-ins with drug mules, no landslides, not even rain, and not so much as a slightly worrying traffic situation. Except for an unfortunate situation with our last driver (luckily with us just for one day), there's only a few mild annoyances that quickly become more amusing than anything as we go along:
Pot-holes and subsequent bumps on the head
Being stopped every so often by police and asked to pay various "taxes" or "fees"; small amounts, usually 3 – 5 Somoni (between 0.25 and 0.50£), enough for a cup of tea
Hotel/guest house reservations, even when doubly confirmed, means nothing
Cash isn't merely king, but totalitarian ruler along the Pamir Highway; not a single ATM along the route. (Hey, I'm Norwegian, I barely remember what cash looks like.)
That's about it for downsides.
Cyclists setting off from Khorog
Prep
Much like Norwegians, Pamiris have a lot of space. And also like us, people have settled in communities isolated from one another (everyone living on their own mountain top, as the saying goes here). This has resulted in a great variety of dialects in the Pamirs, some almost mutually unintelligible.
We've read Azan on the Moon (link at the end), describing life along the Pamir Highway in rich detail. It's an enjoyable sociological study. One of the issues the author discusses is the Pamiris' attitude towards the rest of Tajikistan. Being a prioritised region in Soviet times came with a sense of pride, so much so, that Pamiris consider people from the capital Dushanbe to be aiyldyk (rural).
… the feeling of belonging to modernised margins in contrast to a less modernised center also ends up turning the margins into the center. … people at the margins who consider themselves more advanced and more civilised than those who live in the center.
And the Moon?
… the way people in Murghab and other settlements experience the landscape they inhabit: as an arid and rocky high plateau that is sometimes called the moon (ai, luna) and often considered marginal and not quite part of this world by outsiders.
Near Kulob: paved road. For now.
Most travellers seem to tackle the Pamir Highway beginning in Osh. This route goes from less than 1000 metres up to well above 4500 metres in one day. Altitude sickness is a very real possibility, so we choose the other way, where we'll have more gradual ascents. And hearing stories of headaches, nausea and stomach pains from travellers we meet going the other direction, we are pleased with our decision.
As a bonus, the landscape gets increasingly unique and beautiful going east/north.
The green hills of Afghanistan across the river
Pamir highway proper then, for us begins at Khorog (2070 metres) and ends at Osh (963 metres). At 4655 metres, the Ak-Baital pass is the highest point.
Let's get on with it!
Coming in from Manchester and Oslo, we begin the journey in Istanbul.
At Istanbul Atatürk Airport, waiting for a midnight flight to Dushanbe.
Arriving in Dushanbe
We arrive in the middle of the night and stay here three days to acclimatise. We're staying at Marian's and can easily recommend it. More about it – and the woman who left Canberra to run a guesthouse in Tajikistan – in this post.
At Mekhrgon bazaar in Dushanbe
In Dushanbe, we wander about and have a look at the sites, including the world's second tallest flagpole (we've seen the third tallest in Baku; perhaps I ought to make an effort to see the tallest, in Jeddah). We try various eateries and drinkeries, shop, and relax by Marian's pool. 
The Tajik capital is an easy, relaxing place to unwind, before or after the Pamir Highway. I'll put together a Dushanbe post later. But now, the highway.
We're using the services of World Roof Tours. The day before setting off, the proprietor, Khudoguy Shonazarov, meets us at our guest house in Dushanbe, to go through the itinerary, show us the car, and answer any questions we may have. We want some changes to the route he has suggested, and we also want lots of leeway to be spontaneous, to sometimes be able to decide on the spur of the moment if we'd like to stay somewhere that looks interesting.
We'll have one driver/car taking us through the Tajik part, then swap when we near the Kyrgyz border for the last leg.
We pay 1385 USD for the 8-day trip (accommodations excluded); a 10% deposit (by Western Union) at booking, and the remainder in cash before we set off. The land cruiser will fit 4 passengers, but 1200 km of mostly bumpy roads is quite a journey. It's nice to have a little extra room in the back of the car – and not having to fight about who gets the middle seat. (Not that we would, we're all three generous and considerate people. Nothing less will do for a journey like this).
We have pre-booked some of our accommodations. That still means a 50-50 chance of actually sleeping there, as you will see below.
Day 1: Dushanbe – (Kulob) – Khalaikum, 370 km/8 hours
At Europa Supermarket in Dushanbe, we fill the car with everything we think we might need for the next 8 days:
– snacks, wine, biscuits/crackers, a few toiletries, little gifts for children we'll meet along the way, and what seems to me to be innumerable ten-litre bottles of water (but is probably like 6 or 7), then set out.
Leaving Dushanbe
Soon the landscape turns dusty – and as we leave Dushanbe behind, cars are gradually replaced by donkey carts and other unusual means of transport.
I'm slightly giddy, mostly from lack of sleep. I slept in the hammock by Marian's pool most of last night, just because – and spent considerably more time looking up at the starry sky than actually sleeping.
About 1.5 hours from Dushanbe is the Soviet built Nurek hydroelectric reservoir. If, like me, you're a bit of a numbers/stats geek, you'll be interested to know it's the second-tallest artificial dam in the world, holding 54 million m3, and taking care of 98% of Tajikistan's energy needs. (If you're not, we can at least agree it's some pretty gorgeous landscape.)
Nurek Dam
Hulbuk Fortress, along the road to Kulob
Collecting water in whatever you've got – women's work, hard work.
Roadside fast food, Tajik style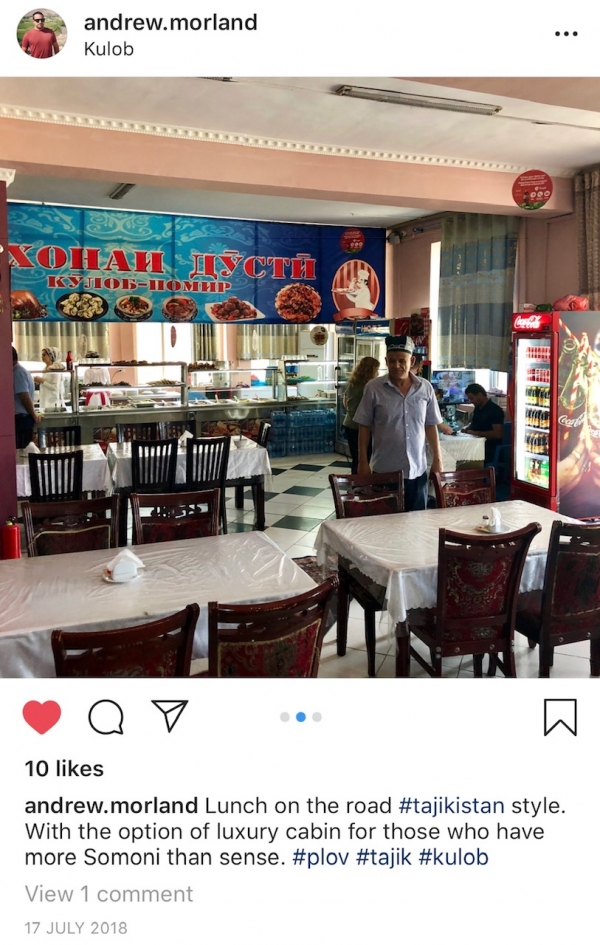 Kulob
Our first proper stop is Kulob, about halfway to Khorog. Kulob is a good-sized town – a whopping 2712 years old – with 100 000 residents and an airport with flights to Moscow. Only a short break for us in Kulob, to get some grub; we still have a long way to go. And in case you're wondering, we have lunch inside the restaurant on the left here, not at the roadside.
Apparently, there's an intriguing huge glass building in town (that we didn't see), serving as Marriage Registry Department. Marriage must be a popular sport here. A quick google search brings me to a somewhat troublesome news story about the court in Kulob being forced to give permission for four underage girls (under the age of 16) to marry every year. One wonders about the 'forced' bit.    
Road arch near Kulob
At the car wash, yeah
Further on, Orzu, our driver, takes advantage of nature to give the car a good clean (which he conscientiously does every day, albeit not always by waterfall.)
Along the road
Most of the 170 km stretch between Kulob and Khalaikhum runs along the river Panj. We follow its winding course for most of our journey, all the while wondering about life on the other side of the fast-flowing, muddy river. At times, it seems we're less than 50 metres from Afghanistan – and more than one curious, slightly wistful glance is cast across.
Bridge coming up
Our first glimpse of a way across that doesn't involve swimming in the relentless current is the Tajik–Afghan Bridge, just outside Khalaikhum. It was opened in 2004, and financed by the Aga Khan Foundation (as is frequently the case in Tajikistan).
So near, yet so far away
In Khalaikhum (also spelled Qal'ai Khumb), we have reservations to stay at Dervoz Guest House. But the man in charge has quit without making note of our reservation, so all our confirmations, by email and Facebook messenger, don't do us any good. There is simply no room at the inn.
What now? Sleeping in the car is a possibility. Might be a tight fit, but we're on an adventure, aren't we?
Then we spot Karon Palas. You can't miss this anomaly, a shiny luxury hotel in the middle of nowhere. And rooms are available for 50 USD. We decide to splurge, just this once (or so we think), before we set off for many nights in guest houses, homestays, tents, whatever might appear.
Karon Palas Hotel, with yet another I ♥️ Tajikistan sign
Long drive, hungry travellers. We have dinner at a place a 5-minute walk away, under the bridge. The food is not particularly inspiring (think pasta with potatoes), but the view makes up for it. The alternative seems to be a supermarket.
Dinnertime view
Khalaikhum is a small town, essentially a couple of streets, surrounded by the Pamir Mountains. Bit of a frontier vibe here.
Khalaikhum
Day 2: Khalaikhum – Khorog, 240 km/7 hours
Continuing along the Afghan border, we head towards the tiny town of Khorog, the official start/end point of the Pamir Highway. At times, we're the only ones about. Other times, we're sharing the narrow gravel roads with local lorries going in the opposite direction.
Frequently, we look across to even narrower and steeper roads and hairpin turns on the Afghan side of the river. Feels like another world. Others we meet along the road are on motorcycles, bicycles, or in rattly old Opels and the like (young couples driving from Germany and Switzerland, typically), the brave souls.
It's all good!
The inimitable Orzu, stopping for water…
…and fuel
Warning: steep descent! Also useful for target practice.
This one is for Norwegian readers. Recognise this? What is Diplom-is ice cream doing in Tajikistan? Or did someone simply pinch the logo?  Enquiring minds want to know.
Bumped into these strapping lads on the road.
Andrew teaching GoPro 101
In Khorog, we have booked at Pamir Lodge, a large, rambling backpacker place. It looked tempting on paper, and the members of staff we meet are nice enough. But we feel a bit wary there, partly because the other guests this day, seem a bit… unfriendly. Also, it's a ways outside the town centre.
Enough reasons to go back into town and stay at Hotel Lal instead. Nice and clean, and around 40 USD/night, if memory serves. (They also have dorms).
Hotel Lal hallway
Next to the hotel is Khorog City Park, as well as a Pecta office (Pamirs Eco-Cultural Tourism Association, another project by the Aga Khan Foundation), that can assist with transport, accommodations, guides and other things you might need.
Delhi Darbar is the restaurant of choice in Khorog. If you're coming to Khorog at the end of your journey, and you're not very fond of meat (like me), Indian food will be a nice change from all the potatoes and bread (delicious as that bread is).
We start our drive late the next morning, and use the extra time to walk around Khorog, stopping by the Soviet era post office and the Khorog Regional Museum (10 somoni admission fee for us foreigners, well worth it for the delightfully weird exhibits.)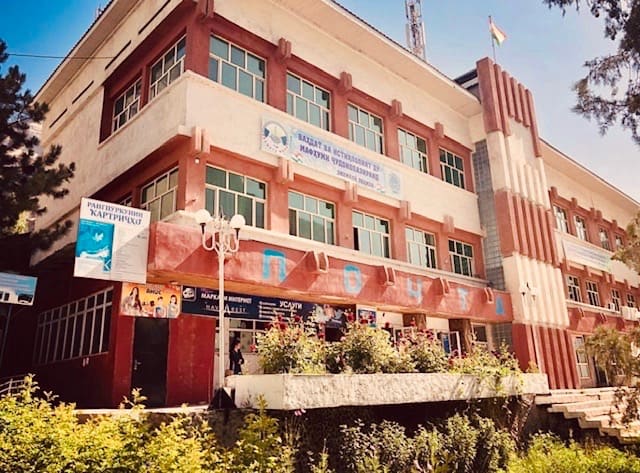 почта
The museum is housed in an old theatre building, and its content seems random: various memorabilia from its theatre days, traditional clothes and furniture, stuffed animals, and where would we be without a golden Lenin!
Also, the first piano to arrive in the Pamir region is here. In 1913, two soldiers carried it across the mountains from Osh. I daren't open the top; it looks fragile.
Day 3: Khorog – Ishkashim, 120 km/4 hours
And so, the Pamir Highway begins in earnest. From Khorog to Osh it continues along two different routes. The quicker northern route – and the southern route we're taking – through the spectacular Wakhan Valley.
Twists and turns in Afghanistan
Wade across the border?
My mobile carrier thinks I have.
On the way to Ishkashim, we stop for a naked bath at Garam Chasma Hot Springs. (Women and men separately.) The water comes from deep down in the ground like little geysers. Cascading down into the river, these springs have been around for thousands of years, and even that is a careful estimate.
Ishkashim
Ishkashim is on the River Panj, just where it turns sharply to the north. It's also our favourite village along the Pamir Highway –
– with curious kids
– and a friendly shopkeeper with an abacus that he works faster than a calculator.
The owner of the only bar in town kindly lets us bring chairs outside; we like to think we may have started a new custom. Ishkashimers promenading up and down the hill stop and look, smiling. We stay here quite a while, just watching life pass by. Pretty soon people recognise us; they wave and stop for a chat.
We're staying at Hanis, a rather large guest house in pretty surrounds. USD 40 for a room. Easy to find, and no more than half a kilometre from the centre of the village. Inside is postcards from around the world. Outside is one of those ubiquitous day beds, where we play cards and generally slouch about.
Ishkashim is really two villages: one in Tajikistan and one in Afghanistan. Every Saturday, there's a market in the middle of the river (accessible from both sides). It's open, 'unless violence or disease are present in the area'. No violence or disease present today, but unfortunately, it isn't Saturday.
Day 4: Ishkashim – Langar, 160 km/5 hours
Today is my daughter's 17th birthday. She has just left to be an exchange student in Australia, and I don't expect to see her for a year. Fortunately, phone connections are adequate, so we have a good little talk as we're driving towards the Wakhan.
On the way, we stop at Kaahka, which served as defence from the 2nd century BCE and for nearly 1000 years. Today, it serves as a rather relaxed Tajik military fort, overlooking the border. Bit of a climb.
On top, two Tajik soldiers are napping –
– Andrew admires the grand vista
– Tom practices yoga with Afghanistan as backdrop
– and back down, we're being accosted by Afghan sellers with a Marco Polo sheep.
Alternative uses for a rear-view mirror
There are several forts along the Wakhan Valley. The best preserved is 2000-year-old Yamchun. Considering it's on top of an eroding hill and that there are frequent landslides in this area, I'm surprised it hasn't crumbled.
Another steep climb, first down, then across a little bridge, then up.
Wakhan Valley with the Hindu Kush range behind. Andrew and Orzu taking a break from looking at the landscape to look at meeee. Well, what can I say…
"Look over here and smile!" That's what.
Just a kilometre from Yamchun Fort is Bibi Fatima Hot Springs, renovated by none other than the Aga Khan Foundation. The water is crystal clear and contains dense, salty minerals. It's named after Fatimah bint Muhammad, youngest daughter of the prophet.
Like the local women, I'm here for a fertility boost. (JK! The two I have are quite enough.) Women and men swim/bathe separately here as well. We're here at a quiet time, at least in the women's section; there's only me and a girl from Hong Kong; one of us is wearing a bikini, the other is not. No strict rules one way or another.
Lunch is next to the springs – on yet another day bed with panoramic views. Wondering if I should get one…
Last stop before we reach Langar, is the village of Yamg, where we visit the home of the 19th century Sufi mystic, philosopher, scientist, inventor, musician and poet, Muboraki Wakhani – a renaissance man, by all accounts – and see his solar calendar that aligns during Navruz (the Persian New Year, about the same time as the Spring Equinox).
Solar calendar, cool skylight and curator showing off the mystic's instruments
Victory takes practice. By the mystic's garden.
We're following the Panj as it rages through the Wakhan Valley, that fabled strip of land between the Pamir and Karakoram mountains. In the 1800s, this corridor acted as a barrier cushion between Russia and Britain, the great super powers of the time.
We seem to be just centimetres from the river. Occasionally, we step out of the car to walk along it. Afghanistan feels close enough to touch. Or, at least, throw stones at.
Orzu with an energy boost, half-melted Norwegian chocolate.
All the while, we're surrounded by towering mountains. Across the border, we see the mighty Hindu Kush, and I'm reminded of A Short Walk, Eric Newby's humorous tale from the 1950s, where he leaves the fashion business to wander in the Hindu Kush with a mate. I read it years ago, but it comes back now, especially how he describes their preparations for the long hike (woefully lacking, just a few days training on boulders in North Wales). A whimsically entertaining read (link further down).
Langar
In Langar, we find Davlatkhon Guest House and decide to stay there.
We're now on the northern edge of the Hindu Kush, at about 2900 metres above sea level. The village is located at the confluence of the Wakhandarya and Pamir rivers, where our ever-present travel friend, the River Panj, is formed.
Orzu gets a well-deserved break, while we walk into town to see what's there. The trek is a bit longer than we anticipated, so when a van appears, we decide to hitch. The van carries fuel in water bottles and the driver orders some of his passengers out (and into a passing car) to make room for us. Cheerful lot.
Hitchin' a ride
Langar
Another cheerful lot is a gang of Aussie bikers, on their way from Vladivostok to London. They've stopped for the night in Langar. We spot their slick BMW F800s, and invite ourselves in for a beer, swap stories, and have a whale of a time.
One beer is all it takes to get a bit tipsy. That, and a long day of travelling, swimming in springs, and climbing in the heat. Too lazy to walk, we get a taxi back to our guesthouse. This Lada. Crazy guy. Crazy ride.
Such a dreadfully dull holiday.
Oh, FYI: Davlatkhon has good food – and a washing machine, more modern than the one I have at home. I'm ridiculously pleased (possibly heightened by that one beer) at the chance to wear clothes that haven't spent a week in a backpack.
Day 5: Langar – Bulunkul – Alichur, 160 km/5 hours
About 3 km up a cliff above Langar village, there's petroglyphs. We decide to skip them, but do have a look at Ratm Fortress, first line of defence against invaders in the old days.

Modern day invaders… leave nothing but footprints: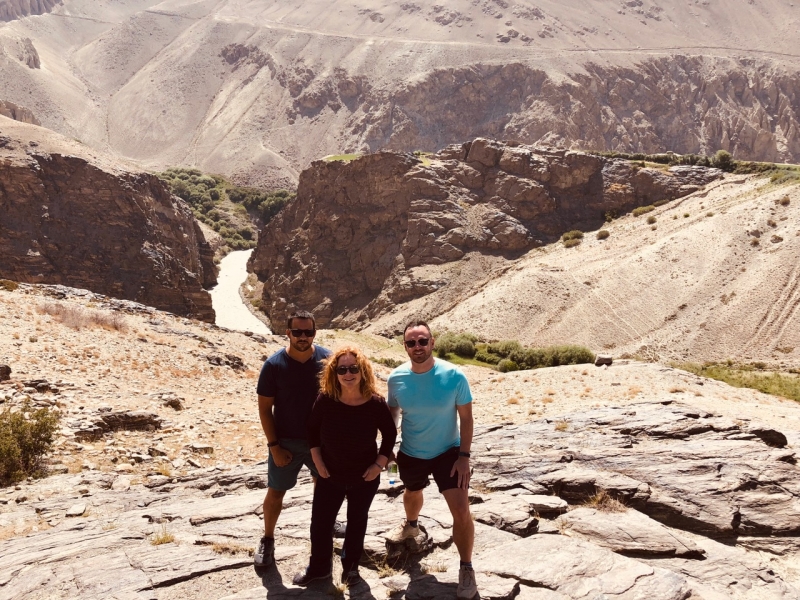 Soon, we're closer than ever to Afghanistan –
– and I just HAVE TO touch the water.
Bulunkul
Reaching Bulunkul, we're now above 3700 metres. There are two lakes here – Lake Bulunkul (blue lake) and Lake Yashilkul (green lake) – both stunning. The entire landscape is raw and rugged; out of this world. The mountain sides look as if they have been painted by the hands of cheeky gods.
The air is fresh up here; in winter this is the coldest place in the country, with temperatures as low as -64°C. (And here I thought Norway could be cold, where the lowest temps ever measured is a measly -51°C). I'm reminded of Apsley Cherry-Garrard's vivid description of freezing (one of Scott's men on the fateful expedition to the South Pole) that I mention in this post,
For me it was a very bad night: a succession of shivering fits which I was quite unable to stop, and which took possession of my body for many minutes at a time until I thought my back would break…
Lake Bulunkul
Bulunkul village and sweet snacks for tea
Move over, Mount Rushmore. Here's nature's own work in Bulunkul. 
Note also that time changes roughly at Bulunkul. Tajikistan is on GMT+5, Kyrgyzstan is GMT+6. Ah, but it's not as easy as all that. Murghab district, you see, runs on Kyrgyz time. According to Mostowlansky (link at bottom), time is a matter of frequent discussion along the Pamir Highway.
…diverging opinions of the correctness of time have also led to friction between representatives of the government and Murghabi clock owners… While state officials might consider the use of Murghabi time stubbornly "backward", many people along the Pamir Highway see the use of a time that differs from official [Tajik] time as a statement against an authority that they consider less modern
Many travellers stay overnight at Bulunkul; we decide to push on.
Alichur

Big sky country, 3991 metres above sea level
Alichur village
Alichur is a dusty little herding jamoat (community), led by a former poacher, a man who once, in one go, slaughtered 15 ibexes with a Kalashnikov, but who has since turned conservationist.
Low, white-washed houses are scattered across the seemingly barren landscape. We're nearing the neighbour country now; about 80% of the 1800 people of Alichur are Kyrgyz. We look for a place to stay and settle on Alina Homestay. This is the plainest of our accommodations along the route; still, it's perfectly adequate, especially for 12 USD/person, including dinner and breakfast.
Alichur
Opening up the village shop, just for us
We wander about, not going anywhere in particular. We take silly pictures, we chat with kids.
We drink beer and watch the sun set outside our home for the night, as cows meander past.
What is it like to grow up here in this mountain desert? I think of our cabin in the Norwegian forest, built in 1900 (and not modernised much) – where we spent every summer holiday when I was growing up. As here, there's no running water, no electricity, an outdoor loo, a wood-fired stove, a large fireplace. I think of my mother, my brother and I, all sleeping in one huge wall-to-wall bed in the one bedroom, listening to fairy-tales mum made up on the go, usually with one or both of us as the hero, or up to something gleefully mischievous. None of the rudimentary conditions seemed to matter then. Mum loved the cabin. I could easily see her living there – and maybe here as well.
Day 6: Alichur – Murghab, 112 km/3 hours
Wake early. Long walk. Except for the occasional car, the highway is all mine. More than ever on this journey, I understand the lunar reference. I'm practicing a dance choreography. I'm singing out loud. On the moon.
Life is a (long, straight) highway. Are you going my way?
Yaks are extremely important in the high Pamirs. Horses don't take the severe winters well, so yaks have long served as pack animals along this long, lonely trade route – transporting goods and humans. Keeping yaks is for many the sole income. Some offer yak rides to the few tourists who venture up here. Proceeds, I'm told, are funnelled towards protecting wildlife.
Before leaving Alichur, we have a go. Our yaks are led by their noses. I'm assured this is no worse than riding horses. It's not exactly a huge commercial operation. In fact, we're the only ones here. The yaks are in their habitat, they have plenty of space, they look well fed and can stop and graze. I feel fairly certain they can easily carry our weights. It's hard to say how they're treated when we're not around, and I am uneasy about the nose rope. Still, there's no denying I did it, so curiosity won out.
For nearly an hour, we ride along the open grasslands, not a tree in sight. The landscape is wild and vast; it's completely quiet. Just us and these sturdy, ragged animals.
Leaving Alichur, we take turns driving the land cruiser. It's fun, but the constant potholes mean you have to pay attention to the road before you. We're glad we have a driver along, so we can lean back and enjoy the landscape.
Tom driving the Pamir Highway
Murghab
If Khalaikhum has a frontier feel, that is doubly true for Murghab. This remote outpost on the plateau serves as a base for the Pamirs and is probably my least favourite place along the route. It's a border town, with all that comes with it. It feels abrasive by any definition. In fact, Murghab reminds me of a mini version of Ciudad Este in Paraguay – or Tijuana back in the day. Except swap shiny malls for shops in shipping containers.
Murghab's shipping container bazaar –
– where everything is for sale
In Murghab, we're staying at Pamir hotel (40 USD for a room), just across from the container market, and where electricity is switched on only from 1900 (have to plan those showers, also remember Murghabi time). Dinner and breakfast are both very nice.
Pamir hotel
Day 7: Murghab – Karakul Lake, 160 km/4 hours
As we leave Murghab, Vladimir Ilyich, in all his shining white glory, waves us goodbye.

"Sometimes – history needs a push."
417 km to Osh. But we're taking a little detour.
Today, we're heading to one of the highest mountain lakes in the world. On the way, we cross the Ak-Baital Pass, highest point along the Pamir Highway, and a major photo op.
I rather like this serial snap: me taking a photo of Tom taking a photo of Andrew taking a photo of the Ak-Baital sign.
Doing our thing
Andrew wins the prize for best overall Pamir journey photo with this panoramic view from the Ak-Baital pass
Afghanistan is long gone from our sights, only to be replaced by China. Going north from Murghab, we follow the border with Xinjiang province. The nearest major town across this rather forbidding border fence is Kashgar, 390 kilometres to the east – one of the important trading posts along the ancient Silk Road.
Kashgar! What a name! Like Samarkand, Bagdad, Zanzibar, Isfahan,… it holds such promise of mystery and magic.
Karakul Lake
At 3960 metres above sea level, we're now even higher up than Titicaca. Karakul Lake is situated in a crater and looks almost unreal; even more mind-blowingly beautiful than the lakes at Bulunkul. Karakul means 'Black Lake'. Today, at least, it is decidedly blue.
Unfortunately, the area immediately surrounding it, is mostly bug-ridden swamp, so we can't stay too close to the lake for long. Back to town, as it were. Another little settlement to get familiar with, local kids to meet, sweets to share.
In Karakul, we stay at the delightful Sadat Homestay, a warm and colourful place, my favourite – with carpets on the walls as well as the floors. 10 USD per person, including breakfast and dinner, both delicious –
From one mountain to another: a Norwegian wooden water cup on a Tajik fence post
– and where we discover my shirt must have been made from a Tajik curtain –
I'll never be able to throw this away now
Day 8 Karakul – (Kyrgyzstan border – Sary Tash) – Osh, 288 km/5-6 hours
At Karakul we switch drivers – and cars. Orzu is heading back to Dushanbe. He has been our driver for a week and has been an easy-going acquaintance.
 Saying farewell at Sadat's Homestay in Karakul
Sadly, the new driver isn't up to the job. His English is very limited, which we can live with – sign- and body language will usually do the job. But worse, he's in a bad mood. The car isn't fully up to the job either; no seat belt for one of the back seats. 
The Tajik – Kyrgyz border is very possibly the most stunning I've ever crossed. At 4280 metres, it's also the highest. Border crossing formalities are straight-forward but takes a little while. From Karakul to the border takes about 1 hour. The nearest town on the Kyrgyz side is SaryTash, about the same distance from the border as Karakul on the other side.
In between is no-man's-land, the Kyzyl Art Pass.
We've crossed to a country with more developed tourism infrastructure. Seemingly on every hill we drive past, is a yurt camp, some a bit makeshift, but business seems to be going well. We drive down green, gentle hills, past gorges – and end up below 1000 metres at Osh.
Along the Pamir Highway in Kyrgyzstan
Reaching Osh, we're staying at TES Guest House, pre-booked n'all. Or so we think. When we arrive, we discover the property isn't finished built yet. Up with the phones and booking sites. We find Classic Hotel (the best in town, it looks) and the manager at TES drives us over. Another splurge. There's a lovely swimming pool, and it's close to everything.
Osh – Bishkek – Astana – Almaty
Osh is the end of the Pamir Highway – and the end of our drive. After two days exploring Osh (more about Osh in this post), we're off to familiar grounds. On our morning flight to Bishkek, first class tickets on Air Manas mean first row and free club sandwich included. Beef, chicken or cheese – your choice. All that upgrading for 3 USD.
It's exciting to experience new places, drive along unfamiliar roads, walk through a new city, not knowing what's around the corner. It's also nice to end up in a familiar place, with no (self-imposed) pressure to discover and explore – but instead hang about and just be. Bishkek is that to an extent. (At least, Metro Pub is.) Realising I haven't written much about the Kyrgyz capital. So much to write about, so little… eh, self-discipline.
Even more familiar is Almaty where we end our journey (by way of a detour to Astana for me, as I haven't been before. More about Astana in this post.)  Almaty is the city I know best in Central Asia – and my favourite (not sure which causes what, chicken and egg situation). In the last two years, the city has changed. It's been modernised, sometimes for the bland, sometimes for the good. A cosy café has now become Starbucks. On the plus side, the banya (public bath) has been extended and is now even bigger and better. Otherwise, Almaty is just as I remember.
A few final words
To sum up, I think 8 days is a fair amount of time to explore the Pamir Highway. If your time is very limited, you certainly don't need to spend 3 days in Dushanbe before your trip – or 5-6 days somewhere else after. I'd recommend it, though.
On food
Dinners at guest houses and in homestays (included in the price) consist of fresh, delicious hot bread, straight from the tandoor oven. There's meat-rich soups (most often mutton), potatoes and even more potatoes. Breakfasts (also included) will be eggs (usually omelettes) and/or porridge, along with more of the bread. Tea is served with everything.
Thoughts on safety along the highway
Just a few days behind us, a group of cyclists are hit by terrorists in a car; four are killed. Horrific as that is, as you know, this could just as easily happen when crossing a bridge in London, or go to a concert in Paris or Manchester, or hang out at summer camp on a peaceful island in Norway. We cannot let fear rule us. Be aware, but not deterred!
Interesting books
No affiliate links or anything there; just an extra little nudge towards Step 1 of YOUR journey along the Pamir Highway.
счастливого пути – have a nice trip
All photos by Orzu, Andrew Morland, Tom Brothwell and myself
Tajik National Park (Mountains of the Pamirs) is a UNESCO World Heritage site. Here are more UNESCO World Heritage sites around the world.