I'm writing this in the lobby of the wonderfully quirky Kam Leng hotel in Singapore, a country where I've been many times. It has always been a favourite stopover of ours, on the way to Australia or New Zealand or Bali. But for the very first time, I'm here without the girls, and I must say it feels a bit odd.
Every time, we've made a point of seeing or doing something new in this tiny nation. The first time, Alex and I visited Haw Par Villa with the fascinating statues depicting characters and scenes from Chinese mythology. We had afternoon tea at Raffles, with a Singapore Sling for me and red bean ice cream for the little one. Not too popular, as you can see:
We've visited the night safari at Singapore Zoo. We've been to Sentosa Island, we've popped across the border to Malaysia a couple of times, and we've taken the boat to the islands in Indonesia's Riau Archipelago, just 45 minutes away. And we've spent hours in the shops along Orchard Road through the years.
Well, can't stop the something-new tradition just because I'm on my own, can I… So this time I've explored Singapore River, once an area rife with crims and opium dens. I've taken a night cruise along the river; seeing the futuristic skyline from the river all lit up is. But most of all, I've focussed on the Peranakan, Singapore's local people, a uniquely mixed culture that is still here, but sadly vanishing.
Peranakan means descendant
Singapore has seen many foreign traders come and go through the centuries. The first Chinese settlers, from the provinces of Guangdong and Fujian, came 1000 years ago.
While many went home, others stayed, and married local women (often slaves.) Their descendants are the Peranakan. The major groups are Straits Chinese (after the British Straits Settlements: Penang, Malacca and Singapore), Chitty Melaka (with Indian roots), and Eurasian (most often a Portuguese/Asian mix, known as Kristang or Christian.) Peranakan means descendant, and their culture developed as a mix between the local customs of the new homeland and their ancestral traditions.
Many were educated in Europe and thus spoke English as well as Chinese and Malay; very useful middlemen, as you can imagine. As a consequence, they enjoyed a high status in society, they were well off and very loyal to the British.
So, time to have a closer look. I wander over to the Peranakan Museum on Armenian Street. Located in the former Tao Nan Chinese School, it's small and charming. Inside, I'm first met with Peranakan Portraits: photographs of people describing what being Peranakan means to them.
I love eating Peranakan desserts and kueh kueh (cake)
says little Ryan Choo, a Hokkien Peranakan. Francis Hogan, an elderly Chinese Eurasian Peranakan, simply says:
I love being Peranakan!
Pauline Tan, a Melakan Peranakan, loves to dress up in her kebaya, a traditional dress. Loveliest of all, I think, is the sentiment expressed by young Tanya Nair:
When I go to India… they tell me – you have an Indian name, are you one of us? You belong to us. What a beautiful thing to say to someone who has not been back since the 15th Century! I want us to say the same thing. Are you Peranakan? You belong to us. Are you Singaporean? You belong to us.
There's a special exhibition going on: Auspicious Designs, all about batik altar clothes. They're pretty and in bright colours, with intricate patterns, but as I'm not overly interested in textile art, I quickly move on to other aspects of Peranakan culture. The museum takes me through all facets of it: clothes, funerary customs, superstitions, marriage ceremonies, and there's a curious exhibit on women's phone gossip through the decades.
The Peranakan is also known as the Baba-Nyonya; Nyonya referring to the women and Baba to the men. As expected, gender roles were traditional. Just listen to the Hokkien Peranakan poem Tek Gar Kee, Mor Hor Chee (Dried beancurd, sweet flour cakes), a social commentary if ever there was one:
Dried beancurd, sweet flour cakes, A daughter-in-law must know how to behave. Goes to sleep late, rises early. Combs her hair, powders her face, applies lipstick. Upon entering the kitchen, washes the dishes. Upon entering the hall, dusts the furniture. Upon entering the room, picks the embroidery needle. She speaks well of her elders and juniors. Praises to our in-laws for having brought her up so well.

hand-made Peranakan beaded slippers called Kasot Manek
What's going on with the Peranakan these days?
It's happening all over the world, it seems: an estimated 90% of the world's 6500 languages presently in use, will become extinct within this century. In Egypt, the Nubian language is dying out, in the UK, the Cornish language is critically endangered, in the USA, particularly in Oklahoma, the Cherokee, Cheyenne and Chocktaw languages are vulnerable. Perhaps it's unavoidable in this global village we all inhabit, but it's very sad all the same. The death of a language also means the death of its culture and its ancient wisdom.
The Peranakan language, Baba Malay, a creole version on Malay with many Hokkien Chinese words interspersed, is vanishing because young people prefer to speak English. Furthermore, Singapore doesn't have a separate classification for the Peranakan. Instead they're (mostly) classified as ethnically Chinese and as such receive training in Mandarin as their second language, in accordance with Singapore's Mother Tongue policy. Thus, they are assimilated back into Chinese culture.
As for religion, the Peranakan traditionally followed Chinese beliefs (Buddhism, Taoism, etc). Today, many of the younger generation have converted to Christianity. And ceremonies? Traditional elaborate Pernanakan wedding ceremonies are losing out in competition with Western-style ones. There is a Peranakan revival, but is it enough? I hope so. Apart from the old views on women's role in society, it's an interesting culture, worthy of keeping alive.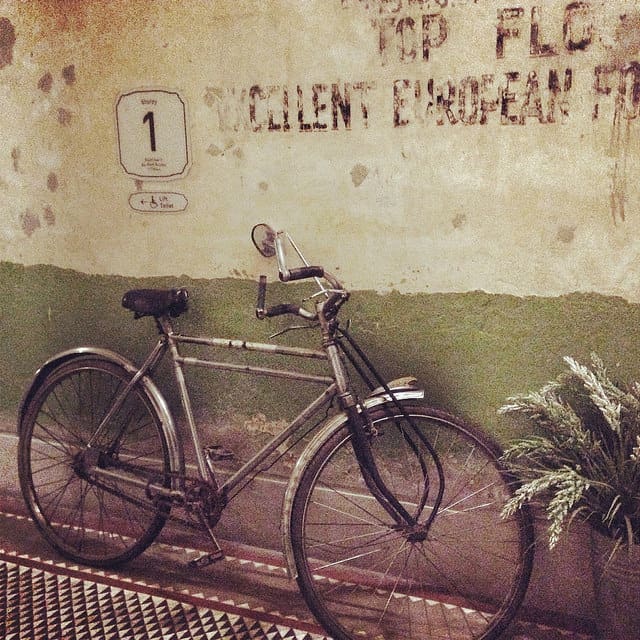 You might remember my introductory mention of the Kam Leng Hotel. I chose this rather basic, but ever so interesting hotel simply because of its Peranakan rooms. Also, I definitely get a feeling of the colonial era here. Even though she talks of Indochina, I felt like I was living in a Marguerite Duras novel for a night. It has quickly become one of my favourite hotels.
Next time?
So what's left in Singapore? Well, there's Jurong Bird Park; still haven't seen that. I saw the Gardens by the Bay, but only briefly (it was pouring rain) and not at night, so a closer look is warranted.
I'd like one or both girls to come along next time. Lately they won't come on very long flights unless they think it's really worth it. Jayne at Girl Tweets World, talks about the cool bridge Henderson Waves, and even more interestingly, a treetop walk/freestanding suspension bridge. I think I might be able to persuade them to come along for that. And if there's horse riding to be had (surely there must be…), Cat's in for sure.
Peranakan Museum practicals
The Peranakan Museum is located on 39 Armenian Street, within easy walking distance from e.g. the Riverside area and Chinatown. Otherwise, it's just a short walk from the stop Bras Basah on Singapore's very safe and efficient SMRT (metro).
Opening hours are 10-7pm daily and 10 – 9pm on Fridays.
Admission is free for Singapore nationals and residents, the rest of us pay a very reasonable SGD 6. Half price on Fridays after 7pm; half price for students.
Baba House is a pre-war Peranakan house in another part of town which gives a more intimate look at the culture than the museum.  Sadly, I didn't have enough time to see it.
Are you familiar with the Peranakan? Have you been in Singapore? If so, what's your favourite part of this city-state?
Disclosure? Nope, I had a brief stopover in Singapore on the way to other lands; nothing at all sponsored.