Preface
Another year with COVID-19, another year with a powerful need to spread the wings and go. Anywhere!
All but essential foreign travel is discouraged.
That has been the mantra here in Norway for the last 18 months. Seems like forever. It has been a challenging situation for the world's governments, and rules have changed constantly as new knowledge has become available almost daily. Up here, I think PM Erna, Health Minister Bent and all the scientists have handled the pandemic well. Not douce, but let's say dix points from me. (Still not going to vote for the current conservative coalition government in the upcoming elections, but that has nothing to do with COVID management).
In July, the advice softened: all but essential foreign travel is still discouraged, except travel to/from the EU/EEA/UK. That changes things.
So, what constitutes essential? Depends who you ask. For me, travel is essential in itself. It's such an integral part of my life, it's simply a necessity. First world issue? Probably. But there it is. I'm going to travel. And with my partners in adventure, so much the better. Who else would drive the Pamir Highway with me? Go through Uzbekistan in 50°C heat? Sleep on a random family's living room floor in the mountains of Turkmenistan? Watch the sun set over the cliffs at Meteora? Drive a beat-up Lada across bubbling mud in Azerbaijan?
Many, probably. But few, if any, who share my interest in the world's curious corners, and are as easygoing and comfortable to be with.
Where to go
We are very aware of varying restrictions in our home countries, as well as restrictions in whichever country(ies) we want to explore. Limiting ourselves to Europe this year as well, we set up a shortlist: Moldova, Poland, Romania, Serbia, Ukraine. Let the research begin.
Regulations change all the time. This is how it must be, with an unpredictable virus. Countries go from green to orange to red to dark red – and back. (There's also purple and grey countries; Norway has many categories).
Also, much has happened in the corona-afflicted world since October, when we last deemed a bit of responsible exploration of foreign lands was much needed. Alpha, Beta and Gamma now seems to have faded into the background, as Delta is riding the world like the headless horseman. Not even sure what is happening with Eta, Iota, Kappa and Lambda, except that that latter one seems to stay in the Americas. For now. The coming months might become as unpredictable as last winter. Best to go at short notice. No 4-month advance planning here. More like 4 days.
It makes sense to avoid border crossings. One set of constantly changing rules, in addition to those of our own countries, is enough to keep track of. Moldova falls off the list then, as we'd like to cross over to that alluring non-country Transdniestr while there.
Keeping close track of which countries are simultaneously considered green by both Norway and England, we agree on Poland. We have 6 days, and decide to fly into Warsaw, then go south to Krakow and Zakopane in the Tatra mountains.
Making 100% sure to take every precaution, like our jaunt through Greece last autumn, that means a road trip is the way to go. We avoid public transport and limit the number of people we'll be around to, well, just us. We'll be our own temporary cohort/bubble.
Day 1: Warsaw
I have been in Warsaw before, and seen it in various seasons. Andrew and Tom arrive early afternoon; enough time to get an idea of the place.
Warsaw's PKiN, once known as Stalin's Palace of Culture and Science. Beautiful Art Deco building.
My flight is delayed, so I get in just in time for dinner. Onboard, I manage to spill half a cup of coffee on myself; you'd think I'd forgotten how to drink on a plane! Gotta tell you, wearing a wet, stained dress in the queue at immigration is a bit out of my comfort zone. But nothing a quick shower and change won't fix.
Tom has found a very cool hotel in Warsaw, the H15. The building once housed the USSR embassy. Can't help but wonder if mics from the old days might be hidden in the walls still. (Didn't spot any, but…)
The coffee-soaked dress is taken care of by Robert at reception. He finds an open laundry and then picks it up for me the next morning. Excellent service, well worth a mention.
Let's get on to the important stuff: dinner! A few minutes' walk from H15 is Hala Koszyki, a food hall with enticing eats from around the world. We're in the mood for tapas. At Sobremesa.
What? Spanish food? In Poland?
Not to worry, we will have plenty of Polish food. But not today. Today we fancy tapas. Small portions of many different things; just how I like it. Everything is tasty, even the squid. I don't normally like the rubbery texture, but here they've got it just right.
Our hotel is in a funky part of town. Next door are several bars: Tel Aviv Food & Wine, Beirut Music & Hummus, Kraken Rum Bar, NOLA Bar… the world is ours for the choosing, right here.
Tel Aviv might have the most photogenic facade, but there's something pleasingly minimalist about Beirut. Also, it's one of my favourite cities. Chill place to end our first and only night in Warsaw.
Day 2: Warsaw – Kielce – Krakow
We have a long drive ahead, so start early(ish). And good thing, too. The hire car company seems to be afflicted with red tape and computer breakdowns. It takes about an hour to get all the paperwork sorted. Feeling sorry for the clerk behind the counter.
As a consolation, we get an upgrade. A red car at that. Whoop-de-doo!
Let's not even get started on Warsaw parking garages!
Nothing wrong with Warsaw, not at all. 90% of the city was in ruins after the war. Thanks to Warsaw's own residents (and often their own hands), it was reconstructed. It's an inspirational and touching story.
But Krakow has a different vibe. Also, southern Poland is more interesting, so we're focusing on that.
Warsaw to Krakow is a 4-hour drive along a good motorway, the E77. We need a stop about halfway to stretch our legs. Andrew, prime researcher amongst us, has found Kielce.
Not heard of Kielce? Neither had I. It's in the Świętokrzyskie (Holy Cross) Mountains and looks a bit Eastern bloc grey as we drive into town. Wandering through the centre is pleasant enough, though – with green spaces and interesting architecture. As always, look up!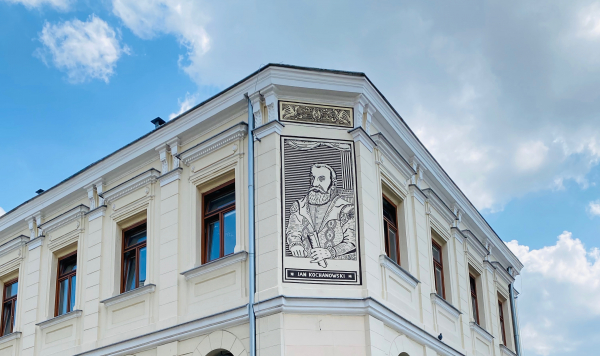 We cross the rynek (market square), in search of a (very late) breakfast. Something quick and easy, as we still have a ways to go. At a small pizza place along the pedestrian street, we ask for a Margherita, the solid proof of how good an Italian eatery is. This one is just fine. (Can't remember the name, but it's just down the street from the rynek here, the white parasols on the right. See it?)
Onwards to Krakow
Near Krakow, road work is going on, meaning traffic jams, delays and restlessness (what can I say… I get a bit irritable behind the wheel).
Once we're in town, all is quickly forgotten, because food! And tonight, we do fancy Polish. We cross Rynek Glowny, the heart of old Krakow, then a hundred metres or so to Plac Szczepanski. At Morskie Oko (named after the emerald-green lake in the High Tatras), we have various veggie starters: horseradish with mustard, beet root and grated carrot, cucumber salad with cream – all tasty.
Then there is smalec, a distinctly non-veggie starter. This pork fat spread is a traditional Polish dish, served with pickles and bread. As readers of this humble little blog will know, I'm not much of a meat eater, so it's just a morsel for me, and even that a bit hesitantly. Verdict: it's not the worst I've ever tasted. Smalec has bacon, onion, garlic and spices mixed in. If you like bacon, you'll probably enjoy it.
Andrew has pig's knuckles for mains. I send this photo to my youngest daughter on Messenger. True to her mega carnivorous nature, she sends back drooling emojis galore.
For dessert, bison grass vodka with apple juice is also traditional Polish.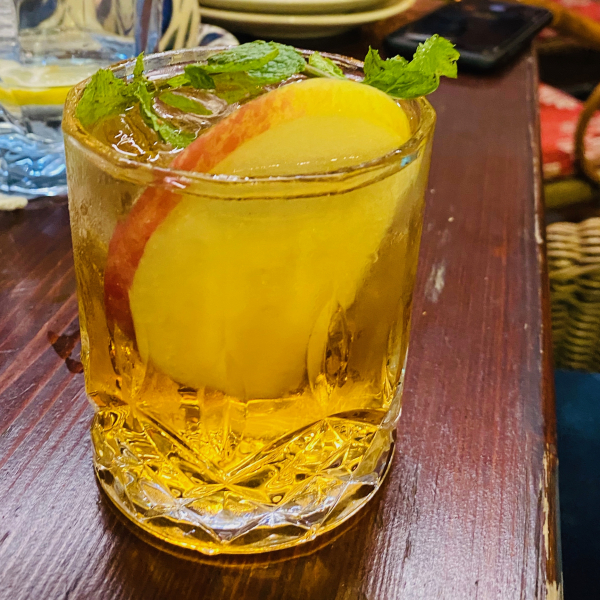 Day 3: Auschwitz/Kalwaria Zebrzydowska – Zakopane
Tom and Andrew want to see Auschwitz. I've visited that camp of horror twice, last time in the company of 80 fifteen-year-olds, so I feel I can back out in good conscience this time. You can read my impression of Auschwitz-Birkenau in this post. It's a harrowing, but necessary experience, I think. By getting up close, we might perhaps be better equipped to counter similar ways of thinking. Tragically, they still exist.
*******
Meanwhile, I'm having a look at Kalwaria Zebrzydowska. I hand over the car key, wave goodbye, and sit down with a coffee at this quaintly dilapidated building across the street from our hotel – mostly because only lukewarm milk and water came out of the coffee machine in the breakfast room.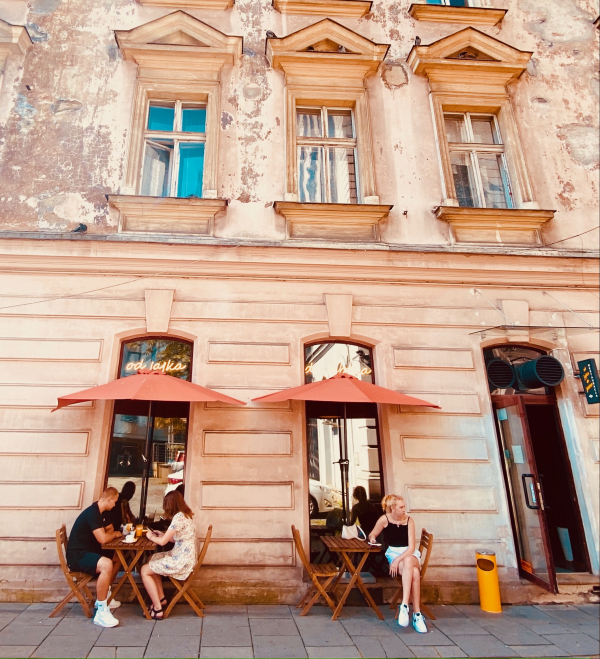 Kalwaria Zebrzydowska
You might have heard of Częstochowa, Poland's most important place of pilgrimage. Kalwaria is second – and a UNESCO World Heritage site. How can I resist?
And how will I get there?
It's about 35 km south of Krakow. As I ask the receptionist about my options, a man comes out of the back room. He is heading that way and offers me a lift. Sometimes I get all the luck. (Quite often, actually. Almost come to expect it.) His name is Stanisław, and on the way we chat about our home countries, about Krakow's Jagellonian University (it's popular amongst Norwegian students), about our children, our jobs, the weather.
I've had a text with a weather alert. Stanisław assures me it's official. No storms, winds, hail or rain – torrential or otherwise – materialise, though. Or did we just breeze through it?
A calvary
In 1600, Mikołaj Zebrzydowski, voivode (war lord) of Krakow, inspired by the terrain's similarity to that of Jerusalem, built a calvary. I've never heard of a calvary before – and unless you're Catholic, you might not have either. It's a sacred place built on a hill, meant to resemble Jesus' walk with the cross to the top of Calvary (Golgotha), where, so the story goes, he was executed. Along the way are chapels, symbolising the various stations of the cross.
Zebrzydowski's calvary had a church, a monastery and 24 chapels. After pilgrims flocked to Kalwaria in ever increasing droves, more chapels were built. 42 are now scattered around these hills.
Stanisław drops me off by the church, where I'm met by a larger-than-life Karol Józef Wojtyła, better known as John Paul II. The Polish pope was born in Wadowice, just 14 km from here. Not surprisingly, his family home is yet another place of pilgrimage.
I enter just as a service is beginning, and end up sitting through the whole thing, looking at the beautiful interior and listening to the music and the priest chanting.
Back outside are signs for Pathways of Jesus and of Our Lady. Hm… mum or son, which one to follow?
As usual when I can't make up my mind, I do both. A good 12-km-walk, according to my phone.
Jesus' imaginary footsteps takes me down the hill, passing several chapels and a small cemetery on the way.
The noonday sun is beating down on my shoulders as I wander through this enchanting forest land. No one else is around. Passing by more chapels, crossing railway tracks, I wonder what Jesus would think of trains. Of technology. Of this day and age.
If he agrees with me – and why wouldn't he – he'll be thinking that now is a pretty exciting time to be on Earth.
Back up at the church, it's time to see where Mary will lead me.
Up a steep hill, that's where. Very steep. She is a mother after all. Can't be a slacker.
 On top of the hill are more chapels:
And more chapels still:
Then there's this one:
On the outside, humble – on the inside, loveliness abounds. There are people like that, you know.
Coming back from Auschwitz, the rest of the gang picks me up. We're continuing to Zakopane, a couple of hours drive. But I want them to see this place first, even if just for a few minutes. It's lovely and peaceful – bit of an antidote after what surely must have been some mind-numbing hours.
They also need to take a COVID self test, as part of the requirement for returning to England without having to quarantine. A supervised lateral flow test via video link. Seems pretty efficient.
To the Tatras!
We continue south. Unsurprisingly, we run into another traffic jam as we're nearing Zakopane.
The town reminds me of Interlaken. Or Geilo. Not sure I can pinpoint why exactly. The towns don't look that much alike; the layout isn't really similar. I think it's more the feel of the place, the atmosphere. That winter resort atmosphere. I'm expecting entitled (after-)skiers taking up way more than their fair share of space. But I don't see – or hear – any. No idea what February is like here, but on this July evening, mostly families are out and about, being neither entitled nor taking up too much space. It's all quite relaxed.
We are staying smack in the middle of town, on Krupówki street 40, at the conveniently named Hotel Krupówki 40.
A room with a view
Krupówki is Zakopane's main street, with restaurants, pubs, kiosks, carts, stalls, beer gardens, and tent-covered shops. Feels a bit like a fun fair, smells like it, too: fried potatoes, cotton candy, chocolate churros, barbeque meats, and Oscypek, smoked cheese made of salty sheep milk, unique to the Tatras.
Dinner turns out to be a challenge, as most restaurants close early. We find a table outdoors at Dobra Kasza Nasza, and order in a hurry; they close at 9pm.
Food @ Dobra Kasza Nasza: a veg and a non-veg option, both good.
Fortunately, bars have longer opening hours. We're directed to Watra, calling itself the first brewery under the Tatras, with 'beer 100% nature'. Can't comment on the beer, as I'm drinking… I forget the name. It sounds interesting, but tastes like the blackcurrant cordial my grandmother used to make. The English contingent says 'Wimto'.
As it turns out, Watra isn't merely a pub. There's also a dining hall, a dance floor, and a concert stage. From the pub, it looks deceptively small, but once you need the loo, you'll see it is huge.
As I walk past the dance floor, a little girl about 4 years old, is out there all on her own, moving gracefully to the rhythm. Smiling, with eyes closed, she looks like she is in the middle of a delightful dream. I'm drawn in by this enchanting little angel, and dance alongside her for a few minutes.
I must have been a bit elated after that – or I may have been thinking of the remaining Wimto in my glass (unlikely). Whatever the reason, back outside, I stumble over a raised floor board – like a doorstep (without a door) – and slam my face into a metal post. Owwww!
No worries, peeps. Andrew spots a pharmacy across the street and runs over to get painkillers and antiseptic wet wipes, so all is good. If you don't count a swollen ankle and an upper lip that looks like half of it has had an unfortunate collagen injection. At least, no teeth fall out. Not ordering that Wimto again, 's all I'm sayin'.
Day 4: Zakopane – Krakow
There's an upside-down house in Zakopane, and Tom's mum would like a photo of it. We enter, balance challenged all the way. Inside is an upside-down shower, and upside-down bedroom (occupied), and assorted witches and spiders.
Here you go, Elizabeth: Front door – and back… stork nest
Notice the building style? Local painter and amateur architect, Stanislaw Witkiewicz, built villas modelled on homes in Góral in the Carpathian highlands. He then added bits of Art Nouveau, and so the Zakopane Style was born. Here's one, right side up: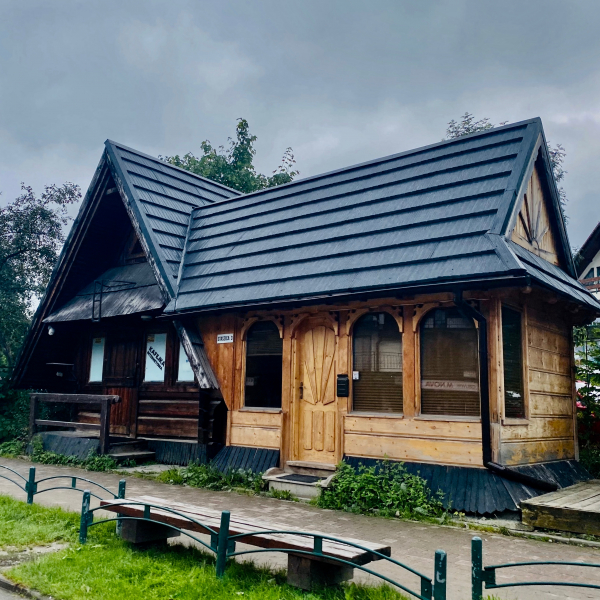 The Tatras is the highest mountain range in the Carpathians. Our plan is to take one of Europe's oldest cable cars still running (86 years old!) up to Kasprowy Wierch Mountain. The summit is 1,987 metres above sea level, and you can see all the way to Slovakia. However, the weather is overcast after heavy rains in the night. Also, the queue to the cable car is long, so we decide it's a no-go. Perhaps some day, I might be on the mountain top in Slovakia looking all the way to Zakopane.
Instead, we check out Gubałówka Mountain, billed as the most famous peak in the Tatras. The funicular railway takes us up to 1,122 metres in 3.5 minutes. On top, we are met by more fun fair atmosphere: a recreation area, with a playground, a few dingy souvenir shops, kiosks, bars and restaurants.

I'm reminded of Kök-Töbe Mountain in Almaty, a similar place at the same altitude.
The restaurants might have good food, I don't know. We settle for simple stuff this morning: hot dogs and shish kabobs from a fast food stand, neither of which is anything to write home about. Those views, though…
Back in Krakow
Considering the traffic jam experience of both previous days, we decide to head back to Krakow sooner rather than later.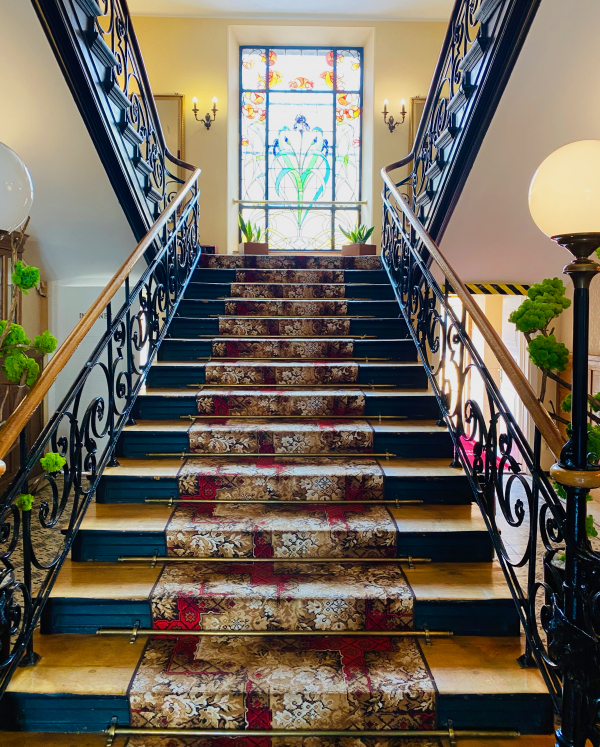 How pretty is this stairway at Pollera
By the time we're back in Krakow, it's getting on for evening. Our hotel for the next two nights is Pollera, inside Stare Mesto, the old town, just a few blocks from Rynek Glowny.
Rynek Underground, Georgian food, and the Cloth Hall
The plan is to visit St Mary's Cathedral, but as there is a mass on we have to wait until tomorrow. Just across from the church, Tom spots a sign. Gruzinskie Chaczapuri. Is that…?
Why yes, yes it is. A Georgian restaurant! That's where dinner is. No debate. Reservations made.
But before that, a visit to Muzeum Krakowa is on the agenda. It has 19 venues; we buy tickets covering Rynek Underground and the Town Hall tower. At Rynek Underground we're taken on a trip into the past; the ruins of old Krakow presented with mod tech. I'm drawn to a measuring wall and find a Krakow woman in medieval times: she is 160 cm. We're practically the same height, she and I.
(We never get to the tower, partly because I misplace my ticket. But just now, a month later, as I'm finishing this post in my fave hometown cafe, it fell out of my backpack!)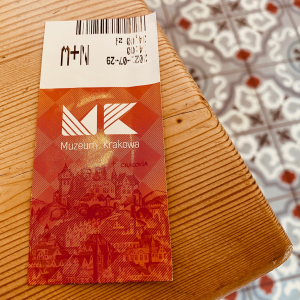 A must-visit on Rynek Glowny is Sukiennice, the renaissance Cloth Hall, where everything has been for sale through the centuries. This market has been around since the 1200s. Today, it's mostly souvenirs rather than cloth for sale at the stalls inside this huge market hall. There are some gorgeous amber earrings here. I love the colour, the warm light. Should I?
Over at Gruzinskie Chaczapuri, we share a khachapuri, then delight in other lovely Georgian specialties, perhaps dreaming a little of Tbilisi.
Mash up the egg, butter and cheese – worth every one of the 10,000 calories.
On a smaller, much quieter square off Rynek Glowny, named Mala Rynek ('small square'), we spot an English pub at the top of the square, and stop by for a drink.
Cheers with an espresso martini. Not very Polish. Not very English either, come to think of it. (Do NOT look at my lip)
Close to Rynek Glowny, on a lively side street with people buzzing outdoors and indoors, a special shout-out goes to Patrick, the bartender at Piec Art Jazz Club, with his nimble hands and creative cocktail making. Move over, Tom Cruise!
Day 5: Krakow
I'm up early and in the mood for coffee and a book in the fresh morning air. Taking along Christopher Robbins' entertaining In Search of Kazakstan – the land that disappeared, I settle in at a cafe on the main square, Piano Rouge (mostly because of the appealing name).
Rynek Glowny is lively even in the early hours, so it's less reading and more people-watching for me. The horse cart drivers are especially entertaining, there's a bit of quarrelling going on. Wish I could understand what it was about.
Andrew has had breakfast at The Bull and is ready for big time sight-seeing. I've not been up at Wawel Castle before – or seen the Dragon's Den. Also, I've never been inside Schindler's factory. Let's head that way!
Wawel Castle and views of Wisla River from the courtyard 
Imagine dragons
The Dragon's Den: not that exciting.
From the courtyard of Wawel Castle, you descend 4 or 5 narrow spiral staircases, wander through an empty cave, then re-enter the light of day at the bottom of Wawel Hill, down by the river. Any dragons you have to imagine.
To aid the fantasy, you can read an abbreviated (one-paragraph) version of the story about local boy Krak (Krakow's namesake) in this post. It's the full-on cliche: a boy slays a dragon, and gets the Default Hero Award: the princess and the kingdom. That said, the boy did have an unusual approach to dragon destruction. Now, the story doesn't say anything about the princess retaining her political power; she was the heir to the throne, after all. We can only hope…
Schindler's list
Schindler's factory is a more compelling experience. The museum is in the old administrative building, so we don't see the factory floor, where the fortunate ones worked, producing enamel. Oskar Schindler's office is here, though. A nice office, because that map!
The museum mostly tells the story of the Nazi occupation of Krakow, using different types of media. The scenography is pretty cool: we walk through the cobbled streets of war-time Krakow, stop by a photographer's shop on Szczepańska Street, past a tram, and wander inside an apartment in the Jewish ghetto. It's interesting – and chilling.
Suddenly the inhabitants are moved to Płaszów, the local concentration camp.
At the hairdresser, behind the bonnet hair dryers, we see the attack on Wilhelm Koppe, cruel and barbaric leader of the SS in Krakow.
More khachapuri, just because – then a beautiful basilica and…HRC?
It's about 3pm by now. We have walked 12 km and I want breakfast, preferably another khachapuri. Trouble is, it's so delicious, I will eat the whole thing, then feel stuffed and uncomfortable for the rest of the day.
Share one? Andrew is still full after his breakfast at The Bull, so I put my faith in Tom. He probably hasn't had breakfast yet either.
Another khachapuri it is! 
(Noticing a theme here… I'm not usually this preoccupied with food. But I've recently ventured into the world of fasting – one of my 'something-new-to-try-while-bored-witless' projects in the corona era. Perhaps it's coming back to haunt me.)
Many times now, we've heard the Hejnał mariacki from the top of St. Mary's Basilica. It's a traditional 5-note Polish trumpet tune, abruptly breaking off in the middle, in memory of the bugler who was murdered mid-tune 7 centuries ago. Now, it's time to go inside.
It is blue. It is beautiful. That is all!
I've adjusted the saturation a bit here – to make it look as it does to the naked eye.
It's very very hot, and hydrating is needed. How about Hard Rock Café right here on the square? The strawberry basil lemonade is yummy.
Hesitation. Unbelievably, they have never been. Almost a feat in itself. In my head, I'm imagining a mental battle: breaking a perfect record vs. trying everything once. I daren't say I've spent a good many hours working in the odd HRC around the world.
We find a place in the sun and yay, lemo still on the menu. Andrew has a look inside, and discovers a large souvenir shop and an instrument on display that was once touched by an Oasis brother. All his HRC prejudices are confirmed. (My current excuse: the operation is owned by the Seminole tribe of Florida. And the Seminole Nation is familiar to me; I've lived in Oklahoma, after all.)
The others have another test thing to do, and I go back to the Cloth Hall. Someone had their birthday a few weeks ago, and I want to find a little something. Also, I want another look at those amber earrings. Once there, the internal debate continues: they are lovely, but I don't really need more earrings. Lovely, don't need, lovely, don't need. In the end, self-discipline prevails. With just the slightest touch of regret. Because they are lovely.
I also see a pretty wooden box that actually can be put to good use. Someone's been saying precious postcards are lying all about the place.
Belated birthday dinner, including Rosól, traditional Polish chicken soup with pasta.
Final night in Krakow. We have dinner at Piano Rouge – and get free bubbly as we're practically regulars. Then onwards to PIEC'Art. Practically a regular haunt that too, now. Sadly, Patrick, the masterful mixologist, isn't working tonight, so no cocktail show. As usual, we get into discussions about politics in its many facets – we disagree on any number of issues – and continue long into the balmy night. Also as usual, I'm enjoying the sparring.
Day 6: Krakow (and a touch of Katowice)
A long lazy morning, then a long lazy lunch at Chopin (another appealing name there), and a final look at life on the spacious square.
This salad at Chopin is chock full of everything delicious!
Right! On for Krakow airport. My flight leaves from a neighbouring town the next morning. Tom hands over the car keys and off they go. I continue to Katowice. Driving through town, scanning it, I don't really see anything that compels me to hang around. That is probably not entirely fair, and who knows, I might return some day. But for now, my ankle needs to be horizontal for a bit. Maybe I'll have another look after a power nap…
(PS The power nap lasted until the next morning.)
Photos by Andrew Morland, Tom Brothwell and myself.
Kalwaria Zebrzydowska: the Mannerist Architectural and Park Landscape Complex and Pilgrimage Park is a UNESCO World Heritage site. So is the Historic Centre of Krakow, and Auschwitz Birkenau.
Here are more UNESCO World Heritage sites I have visited around the world.