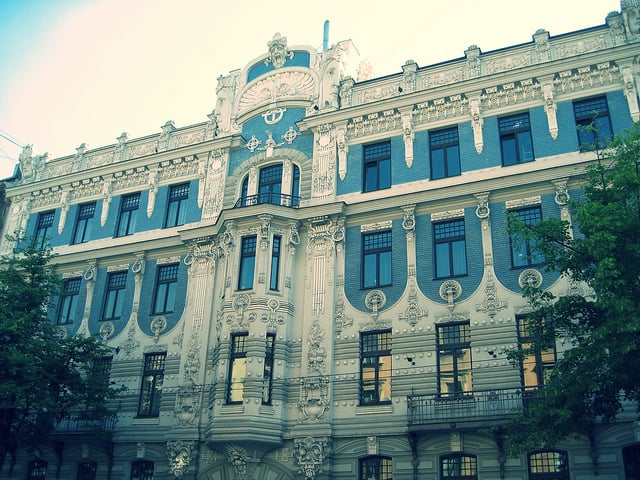 A year ago, my oldest daughter Alexandra and I travelled to Moldova and Transdniestr, stopping on the way in the Latvian capital, Riga. My favourite discovery this time was the fabulous Art Nouveau in Riga.
Riga is the largest of the Baltic capitals. As opposed to Tallinn and Vilnius, Riga has a real city-feel. I first visited on a curiosity-trip of the Baltic states immediately following the break-up of the Soviet Union. Later trips have been stop-overs mostly, so on this one, I decided to spend a few days and have a closer look.
The Latvian capital has much to commend it, including its UNESCO-listed Old Town, the thought-provoking Occupation Museum, the Art Nouveau – or Jugend – district (Elizabetes Street), and much more.
Art Nouveau in Riga

Staying in Riga
During my first visit – back in 1992 – I stayed at Hotel Latvija, at the time one of the few hotels in town, very reminiscent of Riga's then recent past. Passing by on our stroll through town this time, I wanted to see if this old Soviet hotel had changed much, so we had drinks in the hotel's panorama bar. Well, it has of course been modernised, but the views from the top floor are just as spectacular – and I still got a little old-Soviet feel. Also, they did a killer Mojito.
This time, we stayed at Homestay Riga, a great rambling B&B by the pretty Mezaparks. I highly recommend it! In fact, this B&B was a highlight of our stay in town. We paid about 45 lats/night (ca. EUR 63).
The Historic Centre of Riga, including the fabulous Art Nouveau/Jugendstil architecture, is a UNESCO World Heritage site.
Here are more UNESCO World Heritage sites around the world.