It's a lovely Saturday in June, and I am on my way to one of Italy's holy mountains.
Holy mountain? And you said Italy, right? Not India?
I did, indeed. Italy's nine sacri monti are complexes of chapels, little churches and other architectural delights, built on hilltops in the 16th and 17th centuries, in the provinces Piedmont and Lombardy.
But what's so special about just these? After all, Catholic countries overflow with chapels and churches.
Well, these have been beautifully blended into the surrounding landscape, you see. And the landscape in Piedmont and Lombardy is divine (even without chapels). Green hills, forests and lakes. These chapels then, have a spiritual meaning, they contain important works of art, and they are cleverly integrated into the landscape. Spirituality, culture, nature. That's a three-in-one right there. Of course I must see at least one of them.
All nine are in the mountains of Northern Italy, in Varallo, Crea, Orta, Varese, Oropa, Ossuccio, Ghiffa, Domodossola, and Valperga, respectively.
And me, I'm in Turin, in the neighbourhood. Kind of. Also, I adore Lake Como, so the choice is easy. Ossuccio it is.
Along the road to Ossuccio
Ossuccio itself is a tiny community – 8 km2 and about 1,000 residents – on the shores of Lake Como.
Spirituality
The idea behind the chapels was to create a place to worship in Europe, for people who couldn't just up and leave for the holy land, aka Palestine. Couldn't hop on a budget airline for a weekend trip to Jerusalem back in the 1600s, you know. Instead, why not bring Jerusalem to Europe?
But where to locate that New Jerusalem? As with Kalwaria Zebrzydowska in Poland, the thinking centred around places with similar topography to Palestine. A similar landscape.
The first sacro monte in Italy was constructed in Varallo in 1480, at the initiative of a Franciscan friar named Bernardino Caimi. Here, he recreated locations from Palestine connected with the life of Jesus, and dedicated the sanctuary to him, his mum, and the holy trinity, as well as various saints.
The ensuing sacri monti were modelled after Varallo, each with their own theme. Here in Ossuccio, the Sacro Monte della Beata Vergine del Soccorso – the Holy Mountain of the Blessed Virgin of Succour – is devoted to the mystery of the rosary. It has 14 Baroque chapels along the slope of a mountain, with the sanctuary at the summit.
Odd word, isn't it – succour. It means help, aid, assistance, relief. I think I prefer 'Blessed Virgin of Help and Relief'.
Back in that sunny June day, I park about halfway up the mountain here, next to a minuscule village square –
Two paths lead to the summit: Via del Santuario and Via Castello. I go up one, and down the other.
Along the cobbled path, I pass chapels amidst olive trees and lush vegetation, all in a harmonious whole.
The sanctuary was built in the early 1700s; the chapels were completed in 1710. A place to stop along the way – or 14 places, rather – to meditate on the mysteries of the rosary.
A treasure trail for pilgrims
Each chapel is dedicated to a mystery: the five joyful mysteries, then the five painful mysteries and finally, the first four glorious mysteries. (If you're as clueless about these mysteries as I am, and curious to learn more, the Vatican has this to say.)
From the path, I spot the sanctuary itself, towering above in the noon-day sun.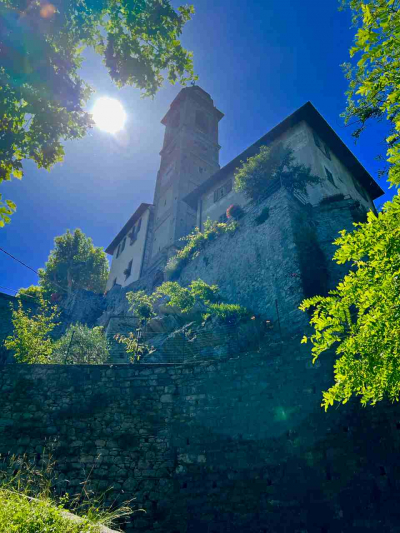 Sanctuary of the Blessed Virgin of Help and Relief
Here it is from different angles. Must have been difficult to build, in this steep, rugged, rocky terrain.
Looks compelling  from down below, doesn't it, that tall dominant tower.
At the summit, the Piazza San Giovanni leads to the sanctuary.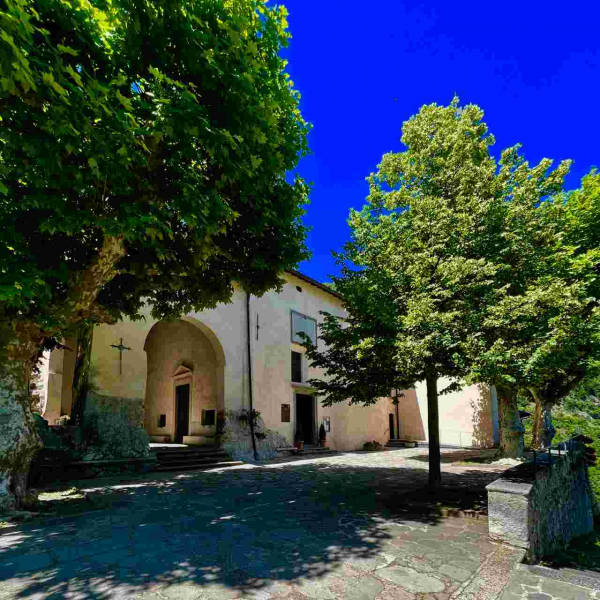 These views, though! Worth the trek alone.
Sacred art

Popping inside the sanctuary, the first thing I notice, is frescoes on an elegant plaster ceiling. The most famous artists of the time created these impressive works of art.
Below is the main altar: marble, with statues depicting Mary's coronation. Remember those mysteries of the rosary? The fifth and last glorious mystery is a shrine above this altar.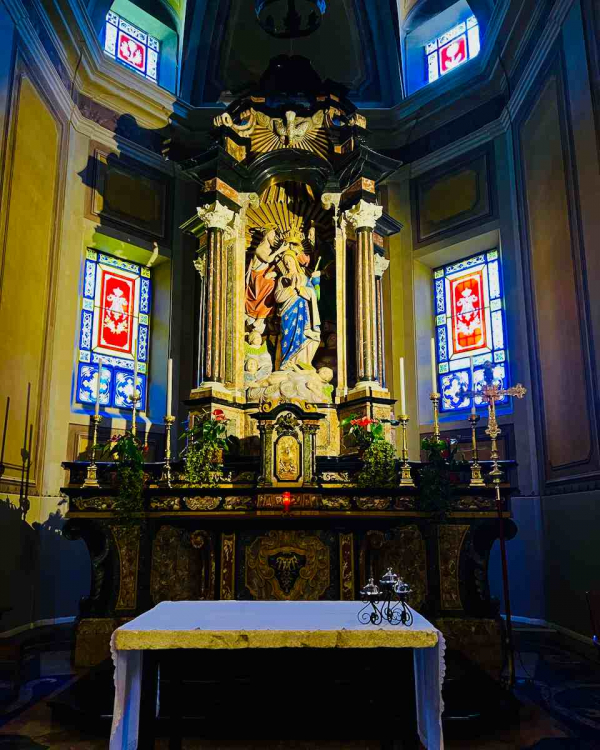 At the summit is a small statue of Mother Mary with a rosary, as well as more earthly features, like spices from the garden. Then there is the Bar Trattoria del Santuario.
Best to bring cash.
Landscape: saving the best for last
The little chapels are quite lovely; the history and architecture is fascinating. I'm also rather intrigued by religious faith. I can't really understand it, but I can appreciate the dedication. However, I am Norwegian. And we're not easily given to worship, I'm afraid, unless you are talking about nature. So this secular Scandinavian is most impressed with the landscape features.
Here are more views of lovely Lake Como. Speaks for itself, really.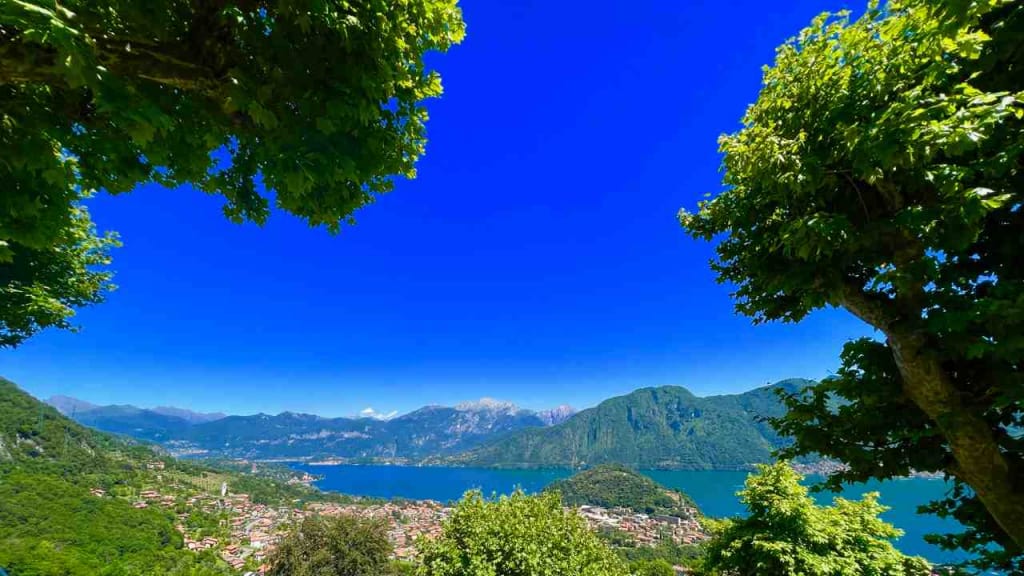 Sigh!
Ossuccio practicals
If you would like to stay overnight in Ossuccio, there is a B&B here. Otherwise, Como is only 20 kilometres away.
I had a rental car, and driving really is the most efficient way to get around these parts. However, if you're not too keen on driving along narrow, winding Italian roads, or if you just prefer public transport in general, you can catch bus no C10 from Como.
Como is 40 kilometres from Milan, about 30 minutes by train.
Sacri Monti of Piedmont and Lombardy is a UNESCO World Heritage site.
Here are more UNESCO World Heritage sites around the world.