The #FriFotos* theme this week is shapes. As per usual, I close my eyes and focus on the first thing that pops up. This time, it's the fabulously Gothic Scott monument in Edinburgh.
Wandering along Princes' Street, Edinburgh's main thoroughfare, you can't help but gaze upon this grandiose structure (or bump into it, if you like to walk and read at the same time, as I do). At first you might think it's an alien aircraft, a space ship, left here on Tellus for unknown reasons. Then you have a closer look – and notice that's it's dedicated to Sir Walter Scott, one of Scotland's most famous sons, author of tomes such as Ivanhoe. And Rob Roy.
Why such a mountainous marker, Sir Walter? Well, he wouldn't know, would he? The monument was constructed after his death. Unlike many great artists, Scott didn't have to wait until his death for fame, he was popular during his lifetime. Even the king adored him. A design competition for a monument to this beloved author was held and, interestingly, a self-taught artist submitted the winning entry. I think there's something very egalitarian and, well, likeable about that.
Here's the Scott monument from a different angle: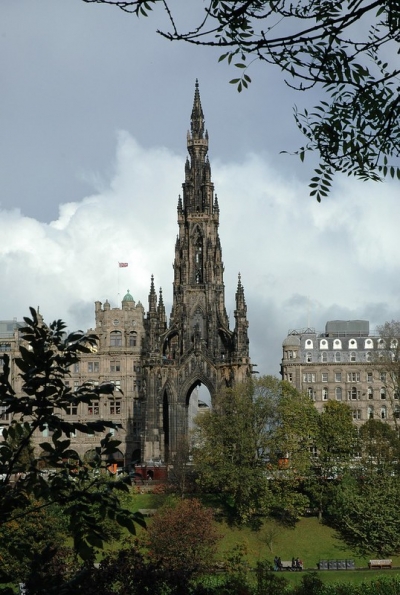 Scott Monument practicals
The monument is 61 metres tall and located in Princes Street Gardens, opposite Jenners (Edinburgh's last independent department store, which sadly threw in the towel about 10 years ago, and is now a part of the House of Fraser group).
For a modest £4, you can climb the 287 spiral steps to the top for fantastic views of this gorgeous Georgian city.
Does any author (or indeed, any artist) anywhere, have such an ostentatious monument in their honour?
*FriFotos is a weekly Twitter chat where travellers share their favourite photos. Each week has a theme.