The city of Worms is first and foremost famous (though perhaps infamous is a more apt description) for a formal assembly in 1521, known as the Diet of Worms. Called by Holy Roman Emperor Charles V, one Martin Luther was summoned to defend his views on the Catholic Church. As you may recall, those were not favourable views. Martin was steadfast. 'I recant nothing,' he said. As a result, the emperor issued the Wormser Edikt, a decree whereby Luther was convicted of being a heretic and banned. He got a 20-day grace period, after which he was considered an outlaw. Not only that, but also
…we forbid anyone from this time forward to dare, either by words or by deeds, to receive, defend, sustain, or favour the said Martin Luther. On the contrary, we want him to be apprehended and punished as a notorious heretic, as he deserves, to be brought personally before us, or to be securely guarded until those who have captured him inform us, whereupon we will order the appropriate manner of proceeding against the said Luther. Those who will help in his capture will be rewarded generously for their good work.
We all know how that ended. Martin prevailed, kept on campaigning and changed the world.
He was no coward. Nor was he very tolerant. In fact, he had no respect for other faiths at all; he abhorred Catholicism, Judaism and Islam. The Catholic Church was antichrist itself, Muslims were the 'scourge of God', and Jews were 'Christ-murderers and liars'.
It was therefore an interesting contrast that on a journey in Luther's footsteps, I stumbled upon Heiliger Sand, here in Worms. Wandering through town, just outside the medieval city walls, I walked past a large cemetery with what looked to be ancient tombstones.
Cemeteries interest me. Stone memorials for people who once walked just these streets, and probably also stood by these gravestones, thinking similar thoughts. Lots of stories are buried here. Fodder for the imagination.
A quick search told me this is the oldest Jewish cemetery in Europe and holds about 2500 gravestones – 1300 in the old part (nearest the entrance) and 1200 in the new part – meaning they are from after 1689, so not necessarily all that new. The oldest ones have inscriptions in Hebrew, whereas the newer ones have inscriptions in German and the dates are written according to the Christian calendar.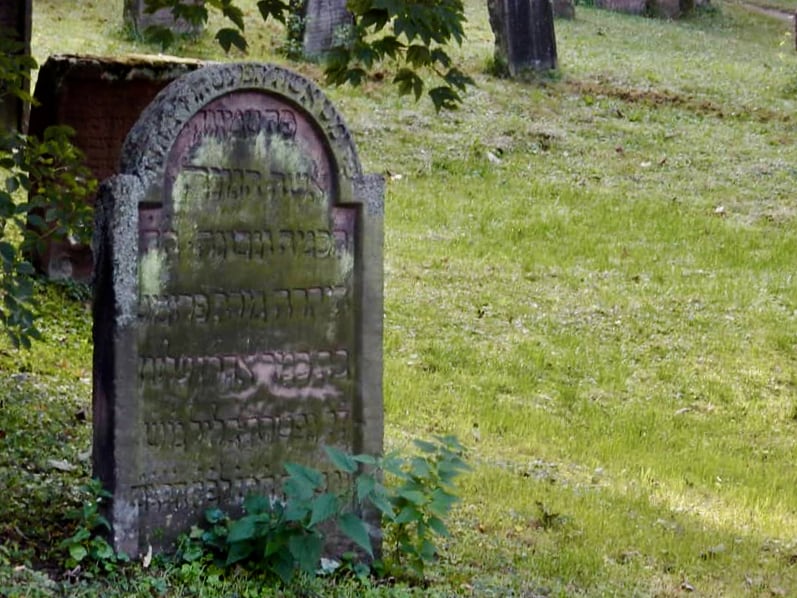 The oldest one dates back to 1058, nearly 1000 years ago! At the other end, the newest is from the early parts of the 20th century. Heiliger Sand closed in 1911. It's spacious grounds, a whopping 1.6 hectares (almost 4 acres), and quite atmospheric. Less gloomy than the Jewish cemetery in Warsaw.
As of July 2021, Heiliger Sand has been added to UNESCO's World Heritage list as part of the serial ShUM sites, referring to three 11th century Jewish communities. ShUM represents the Hebrew initials for the three cities:
Sh = Shpira (Speyer)
W (i.e. U) = Warmaisa (Worms)
M = Magenza (Mainz)
These three cities were centres of Jewish knowledge and learning, important especially in Ashkenazi Judaism. Many of the doctrines and traditions that first appeared here, are still in effect in Orthodox Jewish societies today.
World at a Glance is a series of short articles here on Sophie's World, with a single photo (sometimes more), portraying curious, evocative, happy, sad or wondrous, unexpected little encounters.
Disclosure: I was in Worms as a part of the campaign #LutherCountry, created by iambassador in cooperation with the German tourist office. Any opinion is mine, all mine. As always, as ever.
ShUM Sites of Speyer, Worms and Mainz is a UNESCO World Heritage site.
Here are more UNESCO World Heritage sites I have visited around the world.