About halfway between Konstanz and Schaffhausen, set amongst meadows and castles along the most beautiful stretches of the river Rhine, is Stein-am-Rhein, one of the loveliest and best kept medieval villages in Europe.
I hadn't even heard about it until yesterday. Finding myself with an entire day completely open before a late flight home from Zurich, I was idly leafing through a book about Bodensee in a kiosk. And just like that, entirely at random, it opened on the page about Stein-am-Rhein. I knew immediately I had to see it, and hopped on the first train going that way.
Stein-am-Rhein is home to 3 000 people. On this sunny September Sunday, it feels as if twice as many are here. And sure enough, I soon learn that a million people pass through this little gem of a village every year.
To get from Stein-am-Rhein's railway station into the village, you must cross the Rhine. Crossing the river to the medieval village, I noticed old colourful half-timbered houses lining both banks. Boats of every kind were moored along the stone piers. Two elderly women in straw hats deftly manoeuvred a little boat with an outboard engine along the lively, fast-flowing river. A family of four in a canoe paddled furiously and the two small children seemed to enjoy it immensely. An old wooden barge docked at the quay, tipped precariously on top of a wave.
Luckily, I took a roundabout route – exploring the riverside and the quaint little alleys before I discovered Rathausplatz. After seeing that, it would have been hard to appreciate anything else. The little square is considered the most picturesque in all the land. In Switzerland, that's saying something. Ancient buildings with oriels and covered in colourful, intricate sixteenth-century frescos surround the square. One house is more beautifully decorated than the next.
I ambled about staring, frequently bumping into strangers. Fortunately, they were as distracted as I was. Everywhere, cameras buzzed and clicked. Like a celebrity had suddenly appeared in an oriel window.
All the houses tell stories and it's worth taking time to examine each one in detail. As I was sitting at no. 9, Altschweizerische Weinstube Zum Rothen Ochsen – Red Ox, the oldest tavern in town, enjoying a salad and a tiny decanter of the house red, it seemed natural to begin here.
The facades have frescos illustrating the name of the house. Zum Rothen Ochsen has a red ox fresco natch, as well as several medieval village scenes. Next to the ox, a group of women in medieval dress are chatting on the square. One of them is busy conversing with God, who holds up his hands in a gesture of either 'I bless you', or 'OK OK, you win'. The woman seems quite determined, so my money is on the latter.
To the left, a well-rounded woman with long, blond tresses, dressed in nothing but a gold penchant carries a piece of white cloth attached to a wooden triangle – as a parasol, perhaps.
Underneath the windows, bottom left, is Sapientia, a woman all buttoned up, looking serene with a book in her hand, probably the Bible – and the words Soli Deo Gloria (Glory to God alone) next to her. On the other is Melancholia, in skimpier dress, head in hand, looking rather, well, melancholic. No doubt which one I'm meant to emulate.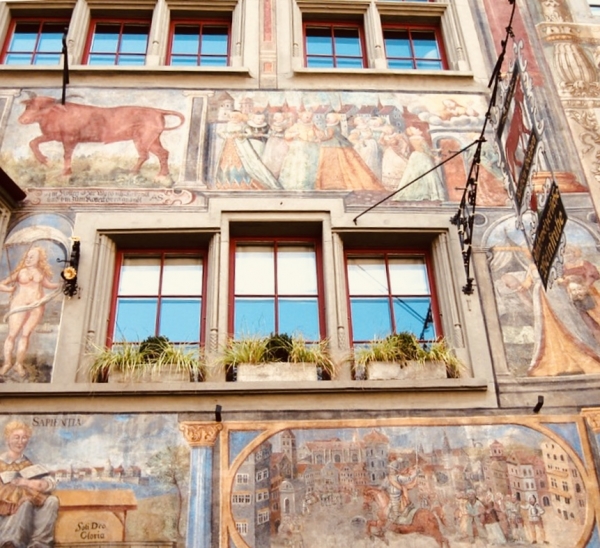 On the right side of the three windows, two women chat in an everyday sort of way, never mind the fact that one of them is holding a dagger in one hand and a man's severed head, tongue protruding, in the other. I imagine their conversation must have been something along these lines:
– What's that in your hands there, Elsie?
– Oh, nothing really. Just got tired of Wilhelm never bothering to shave, so I decided to give him a hand. I got the knife, grabbed his head, and oops… had no idea that thing was so sharp.
– Oh dear. You should be more careful, you know. You could have cut yourself.
– Oh, I know.
– Won't you get rid of it, dear? That congealed blood is starting to smell. Must be this warm weather we're having.
– Of course, I was just about to dump it in the river here. 
Splash.
– So, how are the children, by the way?
– Well, yesterday, would you believe…
Voices fade as they walk away.
Bottom right is the medieval square, where a knight has just arrived on a rearing horse, raised sword in hand. Everyone looks at him but doesn't seem overly impressed with the bravado. I must say, though, after a few glasses of the Red Ox red, he looked kind of cute, armour and all.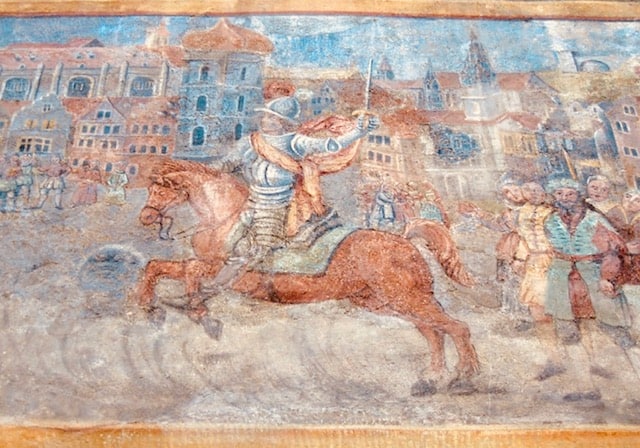 Next to Rothen Ochsen is no. 7 with the high red gable, the tallest building on the square. This is Zur Vorderen Kronen, The Foremost Crown, sporting a fresco of a large golden crown, carried by two chubby curly-haired cherubs.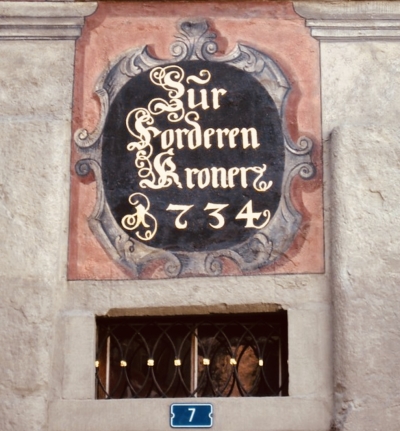 On the other side, at no. 11, is Steinerner Trauben, Stony Grapes. The main fresco on this house is of two grey-haired men in ancient Greek dress, carrying a large and obviously heavy vine of juicy, purple grapes between them.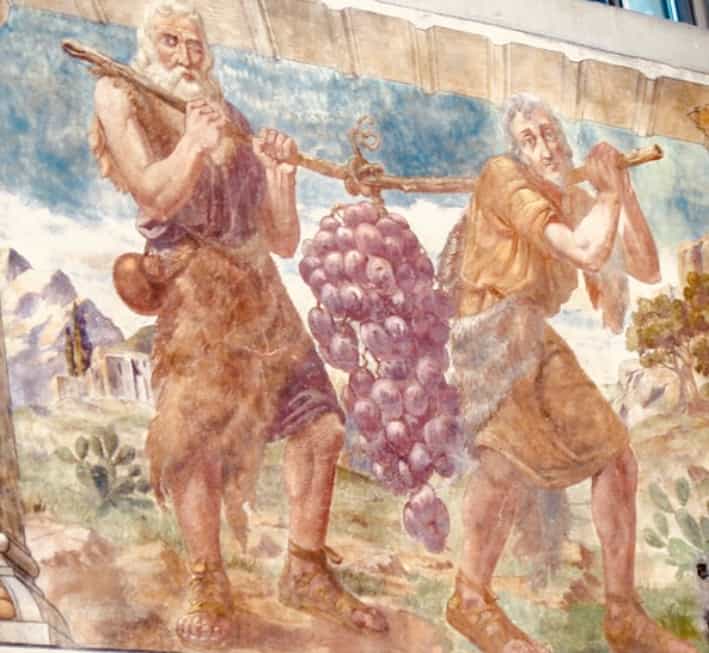 Further along, at no. 13, is Hotel Sonne, the oldest hotel in the village. The main feature here is a huge, laughing sun overlooking a man trying to hide in a barrel while being interrogated by soldiers.
At the front of the square is City Hall. With its half-timbered top floor and scenes from Stein-am-Rhein's history, it's just as gorgeous as the rest. From the tower, bells chime every hour.
On the opposite side of the square is Hotel Adler and next door, at no. 14, Zum Weissen Adler is considered to be the most beautifully decorated building in the village. It is from 1520, with a white eagle as the centre piece (hence the name).
Above the eagle, a young man in a musketeer-type outfit, complete with huge, flowing feathers in his hat, seem to be using an old bearded man, hands and feet tied, for target practice. The king looks on sternly, a crown in his hand, probably saying: Now now, lad, I know you need to let off steam, boys will be boys. But let's leave that poor man alone, shall we?
Below to the left, a young naked couple, the woman obviously pregnant, is tied to a pole, perhaps waiting to be burned at the stake? They look a bit down at the mouth. Being punished for having a bit of unmarried fun, I shouldn't be surprised.
Below to the right, a scene shows a young man lying prostrate at an odd angle, no doubt dead. An older man on a white horse is speaking to a sad young maiden with long, flowing, brown hair: Now, daughter, he really wasn't good enough for you. Someday, you'll thank me for taking him out. Just you wait and see.
Below them again, a naked, voluptuous woman with long blond hair is carrying a child. An endearing scene… until you spot her hooves and the tail sticking out from her plump bottom.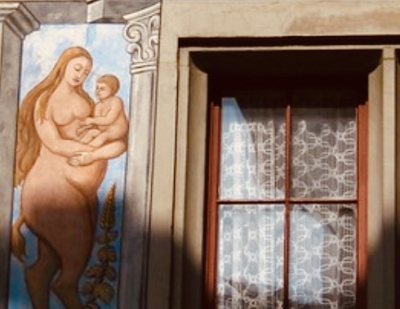 I had planned on staying an hour or so. Four hours later, I was still walking around, bumping into people. Sadly, I had a plane to catch. Otherwise, this would have been a wonderful place to spend the night, living behind the facade frescos of Hotel Adler, hanging at the Red Ox, drinking wine and letting the imagination run wild. Stein-am-Rhein is bound to be very atmospheric at dusk. I suspect stories would just leap out from the walls by then; I wouldn't have to make them up.
When you're in town, take your time examining the frescoes in detail. I promise you're in for delightful surprises.
I originally wrote this piece for Boots'n'All, now ever so slightly reworked and more photos added.