Italy's largest sea port was once known as a rough and rowdy city. Yet, more than 100 palaces and grand residences line the splendid streets of Genoa.
A beauty that tears the soul
The Ligurian coast seems to have had a magnetic draw on artists. Poets, musicians, painters, they all flocked to these shores. Percy Shelly and Lord Byron loved this part of Italy. So did Rubens. And Charles Dickens. And Gustave Flaubert. According to the French author, Genoa was
…a city of marble, with gardens full of roses. A beauty that tears the soul.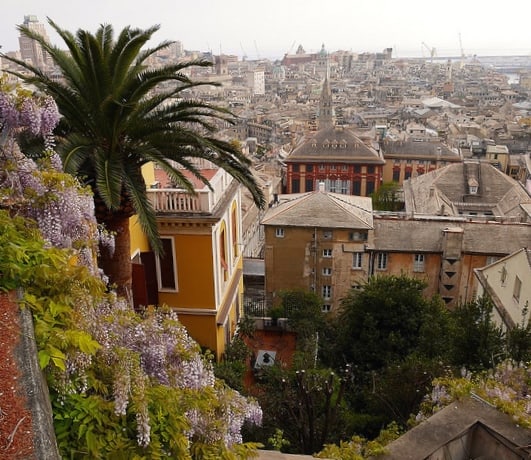 or German composer Richard Wagner
I have never seen anything like this Genoa! It is something indescribably beautiful, grandiose, characteristic.
Mark Twain, however, was more impressed by the fair sex:
"Genoa the Superb" would be a felicitous title if it referred to the women.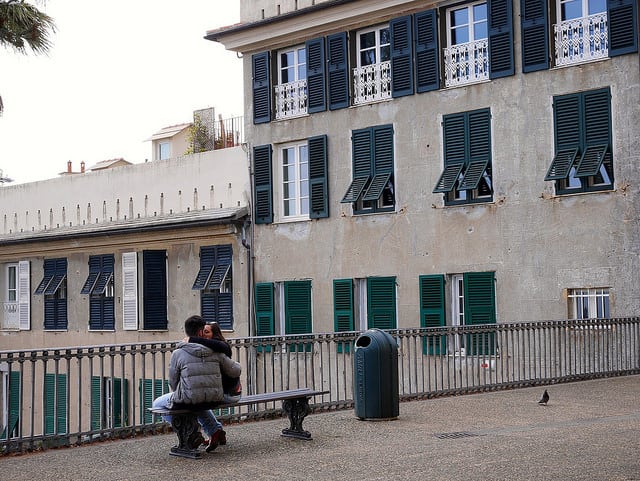 Genoa, Marseilles, Rotterdam, Hamburg – to my mind, these port cities have always seemed a bit scruffy. I remember visiting Rotterdam and Hamburg in the 80s. The cities – and not just the port areas – appeared seedy and perilous in an intriguing sort of way, at least to an impressionable youngster.
On recent re-visits to Rotterdam and Hamburg I've seen entirely new places: vibrant and innovative cities with exciting, hyper-modern architecture. Renovated, but with their edgy feel kept intact. So when Turismo Liguria invited me to have a look at Genoa, I was curious. Would Genoa be anything like Hamburg and Rotterdam?
The hometown of famous (or infamous, depending on your point of view) 15th century seafaring explorer Cristoforo Colombo does have a little of the contemporary about it, especially around Porto Antico, the old harbour. Here you'll find a large aquarium, a good maritime museum and heaps of pubs, cafes and restaurants. (I tried – and can recommend – I Tre Merli, a cosy trattoria serving regional specialities, such as farinata (a chick pea pancake), cheese focaccia (yum!) and of course Pesto Genovese. You're in Genova, after all.)
But for the most part renewal here seems to have taken a different turn. Instead of encouraging you to envisage the skyline of the future, Genoa invites you to look back to its powerful, palatial past.
More than 100 fabulous Baroque and Renaissance palaces and mansions line the streets of Genoa. Among Italy's most opulent streets, the Strade Nuove ('new streets') epitomises 16th and 17th century urban planning at its most lavish.
Respublica superiorem non recognoscens
Genoa was at the height of its power then, and it was not just a city, oh no. For centuries, Serenissima Repubblica di Genova – the Most Serene Republic of Genoa – was one of Italy's two maritime superpowers (Venice was the other). Its motto was Respublica superiorem non recognoscens – a republic recognising no superior. I think I might just adopt that motto myself.
Such an important territory naturally attracted visiting dignitaries, so the Palazzi dei Rolli was designed as a public lodging system: private noble residences for hosting state visits. A medieval system of snazzy B&Bs for VIPs, you might say.
As you wander along the swankiest street of them all, Via Garibaldi, you'll pass one posh medieval lodging after another: here's the brilliantly bright red Palazzo Rosso, there's the elegant Palazzo Bianco; both serve as art galleries today. Further along is the intricately decorated powder blue Palazzo Lomellini, Nicolosio. And there's 100 more.
Just around a corner, on Piazza San Lorenzo, the 1000-year-old Duomo appears, Genoa's Gothic cathedral with the unusual black and white stripes. The city is full of surprises every which way you turn.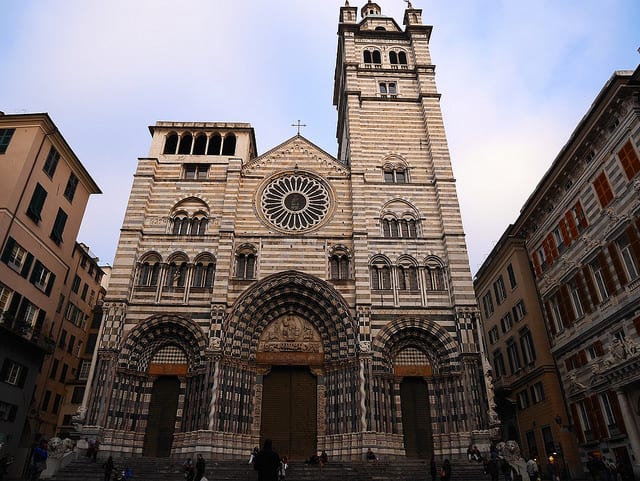 The old town is about colours and contrasts: an alluring mix of caruggi and palazzi – twisting, narrow, shady streets and large, luxurious palaces – that might leave you a bit breathless.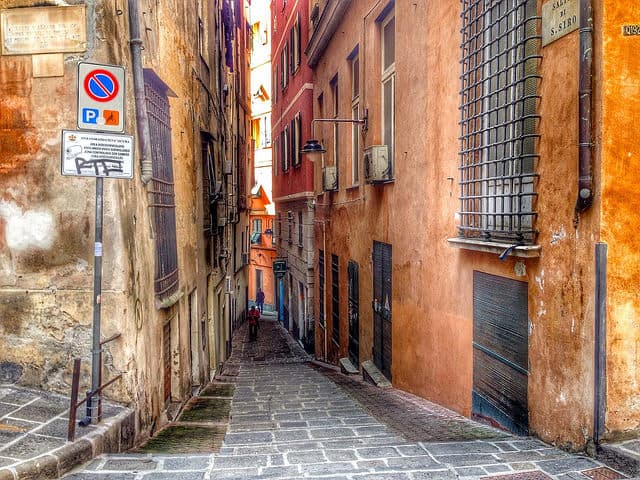 Have you visited Genoa? Ever considered it?
Genoa: The Strade Nuove and the System of the Palazzi dei Rolli is a UNESCO World Heritage site. Here are more UNESCO World Heritage sites I have visited around the world.
Disclosure: I was in Genoa as a guest of Turismo in Liguria. As always, I retain complete freedom to write about all or nothing, whatever takes my fancy, good or bad… you know the drill.